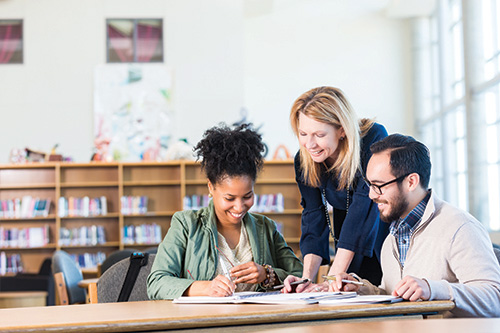 The Teacher Leader Endorsement program is available to students who have an existing Ohio teaching license and must have a completed or be in progress towards a master degree. Our endorsement program allows teachers to engage in real-time integration of learning and enhance their professional work.
The Teacher Leader endorsement allows teachers to pursue leadership roles in their school settings. Roles could include mentoring other teachers, leading professional development, and participating in decision-making opportunities.
9 credit hours – can be completed in 2 semesters
3 classes
All online!
Classes begin in May 
Must have a completed or be in progress of a master's degree
For more information contact Graduate Admission at GraduateAdmission@msj.edu.
No matter where you are in your career, Mount St. Joseph University has fully-online endorsement programs to help you make the biggest impact. Let us know which program interests you and someone from our School of Education will follow up with you soon.


Loading...
BE THE CHANGE Program
The BE THE CHANGE program at Mount St. Joseph University is designed to make earning a bachelor's degree and teaching license more accessible for those who already have already completed two years (or equivalent) of higher education coursework at a community college. Learn more about BE THE CHANGE here.
For more information, contact the School of Education at 513-244-4801.
INSTAGRAM NEWS
RECENT NEWS