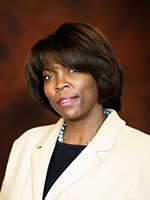 Ertharin Cousin
Commencement Speaker
Honorary Degree Recipient
Ertharin Cousin has witnessed hunger in America and across the globe. She has shared her leadership and skills to address urgent food needs, and she is a global advocate for lasting solutions to food insecurity and hunger. From her professional leadership in the White House, the United Nations, and internationally, Ms. Cousin has forged relationships, emphasized practical problem solving, and addressed hunger and food insecurity for vulnerable populations in America and throughout the world.
From 2012 to 2017, Ms. Cousin was Executive Director of the United Nations World Food Programme, the largest humanitarian organization in the world. She oversaw operations for 14,000 staff serving 80 million beneficiaries in 75 countries. She built relationships with global government, business, and community leaders to seek long-lasting solutions to world hunger.
In 2009, Ms. Cousin was nominated by then President Obama and confirmed by the Senate as the U.S. Ambassador to the United Nations Agencies for Food and Agriculture in Rome. Ambassador Cousin represented the United States for all food, agriculture, and nutrition-related issues, and in discussions with global leaders regarding humanitarian and development activities.
Prior to these appointments, Ms. Cousin helped lead the U.S. domestic fight to end hunger while serving as Executive Vice President and Chief Operating Officer of America's Second Harvest-now Feeding America. Earlier in her career, Cousin served as Senior Vice President for Alberton's Foods and on the Board for International Food and Agriculture Development. For her accomplishments as the White House Liaison to the State Department under then President Clinton, she received the Department's Meritorious Service Award for expeditiously and successfully addressing foreign policy issues that arose when the U.S. hosted the Atlanta Olympics.
For her international reputation as a leader with visionary thinking, Ms. Cousin was chosen as the Payne Distinguished Lecturer for Stanford University's Freeman Spogli Institute for International Studies. She also serves as a Distinguished Fellow in the Institute's Center on Food Security and the Environment, and for the Center on Democracy, Development and the Rule of Law. Ms. Cousin is also a Distinguished Global Fellow on the Chicago Council on Global Affairs.
A native of Chicago, Ms. Cousin is a graduate of the University of Illinois and the University of Georgia Law School. She has published extensively on agriculture development, food security, and nutrition. She has been listed in Forbes 100 Most Powerful Women List, on Time's 100 Most Influential List, and one of the 500 Most Powerful People on the Planet by Foreign Policy Magazine.
Today, Mount St. Joseph University commends Ertharin Cousin for her decades of national and international leadership, her achievements to address world hunger, and her dedication to serve those most vulnerable in society.
May 11, 2019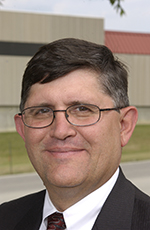 Peter S. Strange
Commencement Speaker
Honorary Degree Recipient 2010
Peter Strange is Chairman Emeritus of Messer Inc., the parent company for Messer Financial Services and Messer Construction Co., a regional general contractor that performed about
$1.1 billion worth of construction in 2018. It is also where Mr. Strange began his career as a co-op student, then upon graduation from the University of Cincinnati in 1972 with a degree in civil engineering, Mr. Strange joined Messer fulltime progressing forward while advancing his career with the company.
In 1989, he led negotiations resulting in the purchase of all outstanding Messer stock by management and employees. In January 1990, at the completion of the buyout transaction, he was named President of the company. He became Chairman and CEO of Messer Construction Co. in 2005 and transitioned to the role of Chairman of Messer, Inc. in 2010. On April 1, 2013, Pete retired but remains "Of Counsel" to the company. In 2014, he authored a book titled "Steerageway: How Employee Owners Set Direction amid the Currents of Change," writing about the Messer story and leadership.
Mr. Strange's leadership in the construction business and in the community has strengthened this region for all who live here. He has served on the boards of more than 30 community organizations and remains involved with The National Underground Railroad Freedom Center; Partners for a Competitive Workforce; National Fund for Workforce Solutions; Ten Thousand Villages of the US; and Public Media Connect. Mr. Strange is also a member of The Commercial Club and the Literary Club.
Mr. Strange has also served the Mount as a leader when he joined the Vision 2000 Campaign Committee in early 1990s. He was appointed to the Mount's Board of Trustees in 1999 and served two terms including his position as Board Chairperson from 2005 – 2007. He and his wife, Ginger, have served as hosts and co-chairs for numerous scholarship benefits for the Mount.
He has been honored with the Carl H. Lindner Award for Entrepreneurial and Civic Spirit; the Martin Luther King "Keep the Dream Alive Award;" the Kinship Award from the Urban Appalachian Council; and received the Distinguished Alumnus Award from the University of Cincinnati College of Engineering. In 2010, Mr. Strange was presented with the Honorary Degree of Doctor of Humane Letters from the Mount for his accomplishments, leadership, and service to the college and the community.
Today, the Mount St. Joseph University welcomes Mr. Peter S. Strange back to campus as the Commencement Speaker.
May 11, 2019