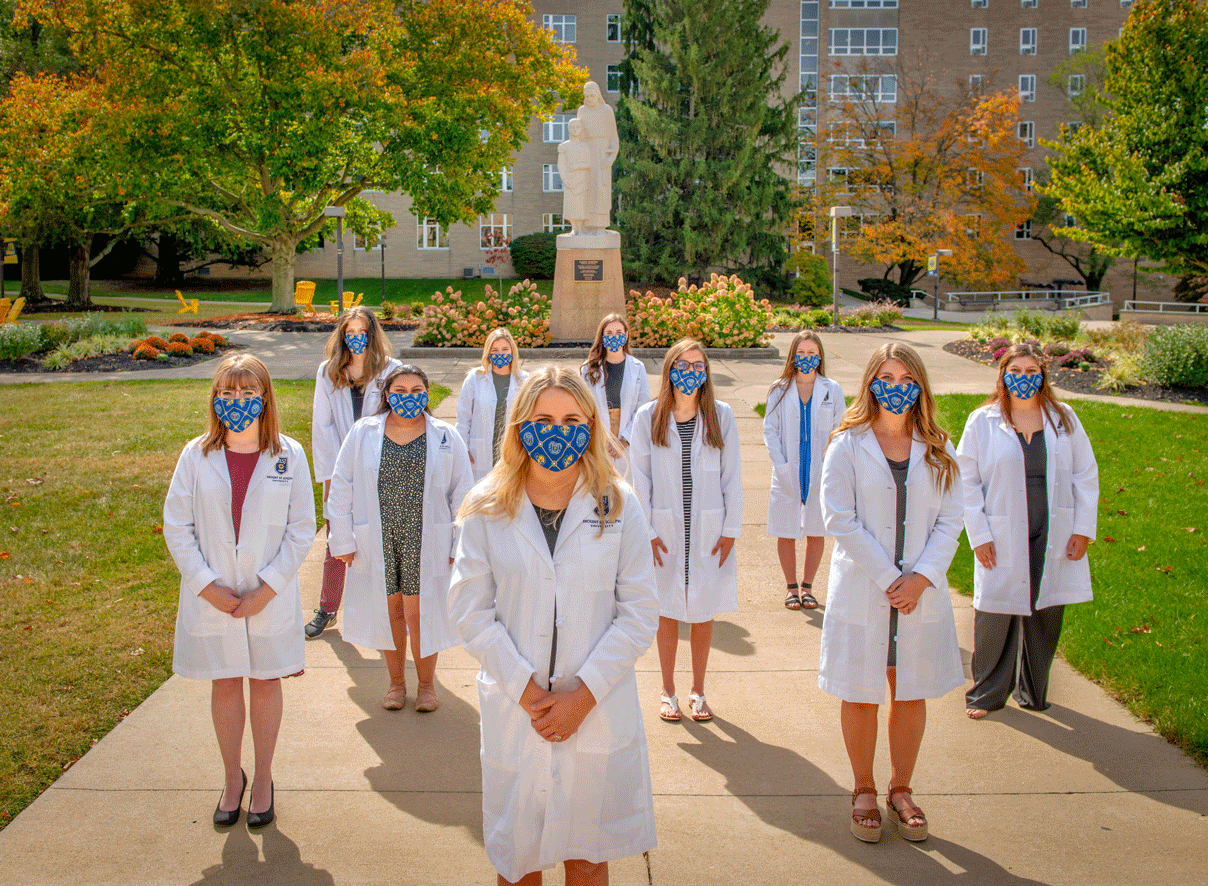 Carrying the education, service, and mission goals of Mount St. Joseph University into the future, and into the world.
In honor of your generous support to Mount St. Joseph University, 1920 Society members receive a number of exclusive benefits, including preferred access to academic and athletic events, unique engagement opportunities with University leadership – including an annual reception at the home of President and Mrs. Williams. Additionally, you receive recognition in Mount News and on the Mount St. Joseph University website, and an annual gift of appreciation.  Learn more about the 1920 Society!
Contact Us
Sydney Prochazka, Vice President for Institutional Advancement
Sydney is excited to be at Mount St. Joseph University sharing our vision and mission, and most importantly, inviting our supporters to partner with the Mount. Sydney enjoys meeting with friends of the University and learning why they love MSJ too.
She, her husband, Chris, and three children live in Delhi Township.
Contact Sydney by phone at 513-244-4611 or via email at Sydney.Prochazka@msj.edu.
Danny Emsicke, Sr. Philanthropy Advisor
Dan Emsicke has been in Advancement for over 22 years, and joined Mount St. Joseph University in 2022.  He started his career with Xavier University and came to the Mount from the University of Dayton.  He has also supported fundraising efforts at Miami University and Northern Kentucky University. Dan is a Xavier alum and resides on the eastside of Cincinnati.  When asked what he loves most about his role at the Mount, Dan said, "I love meeting with alums and friends of the university and talking about our excellent academic programs.  I look forward to partnering with alums and friends on opportunities that will enhance the students experience at MSJ."
Contact Danny by phone at 513-244-4955 or via email at Dan.Emsicke@msj.edu.
Colleen Pfeiffenberger, Director of Advancement Services
A Cincinnati native, now residing in Florence, Kentucky, Colleen graduated from the University of Cincinnati with a B.S. in Criminal Justice and has spent the past two decades of her career working in the non-profit sector. After spending a few years in the business sector, she found her passion for making a difference at Women's Crisis Center in Northern Kentucky, where she worked as a development associate and grant writer for ten years. Colleen joined the Institutional Advancement team at Mount St. Joseph University in 2010 as an office manager, which soon evolved into stewardship manager, and she now serves as the Director of Advancement Services. 
Having grown up in nearby Bridgetown, Colleen is excited to be back to her west side roots, where most of her family still live.  Colleen has a personal drive to live out the Mount mission every day and strives to ensure MSJ donors, alumni, students, faculty, and staff all feel like they are part of an extended family. "I want everyone to feel the love and appreciation we have for them and all they do to help ensure our students succeed." She is a proud mother of two children, one of whom is a recent graduate of the Mount!
Contact Colleen by phone at 513-244-4296 or via email at Colleen.Pfeiffenberger@msj.edu
Morgan Carpenter '20, Director of Alumni Engagement
Morgan Carpenter is a Cincinnati native, who grew up in nearby Ross, Ohio. Morgan graduated with her Bachelor of Arts in Communication and New Media Studies from Mount St. Joseph University in 2020. After graduation, Morgan joined the Institutional Advancement team full-time as the IA Content Specialist where she began working with the Office of Alumni Engagement,  and where she now serves as the Director of Alumni Engagement. She loves being able to interact with the Mount community and fellow alumni daily through social media, Alumni newsletters, and alumni events. 
Contact Morgan by phone at 513-244-4298 or via email at Morgan.Carpenter@msj.edu
Jimmy-Dan Conners '12, Database Manager
A 2012 MSJ grad, Jimmy-Dan has joined the IA team to improve the background processes to which assist the IA team reach out to all alumni and donors. "The possibilities are endless to enhance how we contact our alumni and donors, I am so excited to be on this journey and for it to be with MSJ just makes it that much more exciting."
Contact Jimmy-Dan by phone at 513-244-4329 or by email at JimmyDan.Conners@msj.edu. 
Mikayla Courtney, Manager of Alumni Relations and Annual Giving
Mikayla Courtney received her Bachelor of Business Administration in Marketing from Eastern Kentucky University (EKU) in 2020. While a student, Mikayla worked as a Student Liaison in the EKU Office of Alumni Engagement and served as President of the EKU Student Alumni Ambassadors -- a student organization designed to serve past, present and future EKU students. After graduation, she worked as a Marketing Specialist for Eastern Kentucky University's online academic programs.
Originally from Florence, Kentucky, she has returned home to the Cincinnati area joining the Mount as the Manager of Alumni Relations and Annual Giving. "I am so excited to be a part of the close-knit community here at the Mount, and I am thrilled to be able to share in the mission of the university through serving alumni."
 Contact Mikayla by phone at 513-244-4359 or via email at Mikayla.Courtney@msj.edu.
Tricia Sarvak '97, Philanthropy Manager
Tricia Sarvak '97 is in her fifth year working at the University, but has been part of the Mount community for many years. She received her Bachelor's Degree in Graphic Design from MSJ and is currently in the Mount's Masters of Science in Organizational Leadership program. After several years of working as a graphic designer, In 2017, Tricia came "home" to work in Communications & Marketing, then the Office of Student Affairs, prior to joining Institutional Advancement in 2021. Engaging with the students and fellow Alumni is her favorite part of working at her alma mater.
Contact Tricia by phone at 513-244-4330 or via email at Tricia.Sarvak@msj.edu. 
Tammy Arthur, Stewardship Manager
Tammy makes sure that everyone she crosses paths with feels like part of the Mount family. She has a personal commitment to the Mount's mission and exhibits the Heart of a Lion each day. "I love working with others that are driven to make a difference in the lives of others.  The sense of community here at MSJ creates a home away from home atmosphere.  The commitment in which instructing students to live a life in service to others is commendable."
Contact Tammy by phone at 513-244-4871 or via email at Tammy.Arthur@msj.edu