As soon as Ashley and Guerin met, they knew their connection would last for years to come.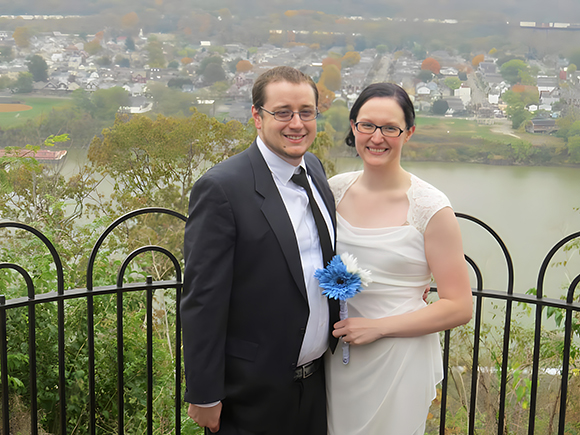 It was not until the final semester of their senior year in 2013 that Ashley and Guerin Harris finally met—as Guerin arrived at the Mount later in his education as a transfer student.
Ashley, a Psychology major, was looking to fulfill her final required history credit, while also adding on an English elective out of pure interest.
"I've always been a self-described nerd, so when I saw that the Mount offered a science fiction class, taught by a professor I had before and really liked, I decided to add on yet another English elective," Ashley explained.
Guerin just so happened to take these same classes, at the same time, on the same day.
Constantly seeing each other led to small talk and a blooming friendship. "We found ourselves chatting between the classes, me mostly grilling him on if I sounded ridiculous during my presentations," she laughed. "I thought he was cute!"
After weeks of innocent conversation, Ashley worked up the nerve to make the first move by asking for his number. "On our first date, we went to get my favorite ice cream," said Ashley. "He told me later he was so nervous, but I wasn't. I was comfortable just being myself around him already."
While Guerin worked in the dining hall and Ashley was a student athlete, it was difficult to make time for each other. But their dedication to each other made the relationship continue to flourish. "When we were able to carve out time, I always got butterflies when our eyes met. I still do."
The pair would do everything together: going hiking, hanging out with friends, reading comics, and introducing each other to their favorite video games. Even though they were two hard-working students being pulled in different directions, their relationship was one of the highest priorities.
"We were a team," said Ashley—who at first wasn't used to Guerin's unfaltering commitment to their relationship. "A lot of relationships in college are short-lived. Relationships of convenience were the most common denominator for myself and a lot of my friends," she explained. "However, Guerin was different."
"After a while, I became comfortable and felt secure knowing that whatever came our way, we would work through it."
Building a Life Together
The couple had a quiet, private proposal at home—an action perfectly in line with their simplistic and happy relationship.
"When Guerin proposed, I didn't believe him! I asked him if he was serious about 14 times before saying yes," Ashley reminisced.
Their wedding also followed this tune, as they celebrated with Kroger cake at their favorite college bar with close friends and family. "We're simple and just happy with each other."
Ashley and Guerin have also welcomed two sons into their lives: Connor and Roland. She laughed, "they were both named after video game characters, so yes, we're still huge nerds!"
They have also welcomed a menagerie of pets into their home: a bearded dragon, chinchilla, zebra finch, hairless guinea pig, corn snake, and dog. "The pets, along with our kids, keep us very, very busy, but it's a chaos that we love," said Ashley.
Today, Guerin works full-time in medical linen supply, with Ashley going back to part-time work after being a stay-at-home mom for years, taking care of her sons and pets.
All Thanks to the Mount
Without both Ashley and Guerin choosing to enroll at Mount St. Joseph University—and choosing the same two classes, their lives would be fundamentally different.
During their higher education journey, the couple has been blessed with many professors that helped them along the way, specifically Dr. Jen Morris, a history professor.
"Dr. Jen Morris actually knows Guerin's parents, so we've been close through the years! She is so supportive of us, loves us together, and has met our sons! She has been an integral part of our relationship and makes me wish I could be back at the Mount again," expressed Ashley.
Whether it is fate or pure coincidence, the only thing that matters to Ashley and Guerin is that they are together.
"We have held on to our childhoods and love watching our sons grow into their unique personalities," said Ashley. "Guerin is my best friend. And he still buys me my favorite ice cream."
---
Want to share your own MSJ Love Story with us? Fill out our form here!