Jalissa Cornwall recounts the first time she was asked to coach cheer at one of her old gyms. She helped choreograph a gymnastics routine for a group of 10-year-olds and helped with their tumbling skills.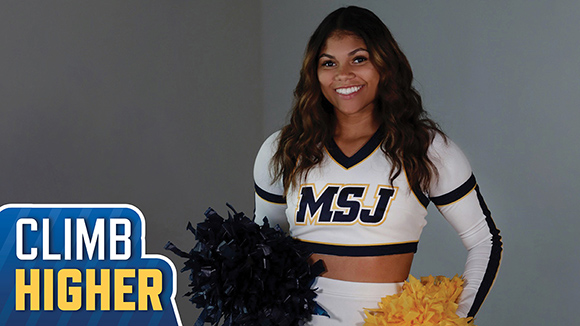 "When I would work with them, they were great! It was nice to be someone older to that they could look up to and be excited to learn from. I really loved their excitement on their faces when they would learn a new skill and succeed at it!"
It was through tumbling and cheer that Jalissa knew being a part of young people's lives was her path to enthusiastically embark upon—but where to next?
When the time for college arrived, Jalissa realized a large college setting was no longer the experience she imagined for herself.
She transferred from a large division 1 school to a smaller, personalized setting with compassionate faculty at Mount St. Joseph University, and what soon awaited, was a sense of home. "I wanted to feel that I was more than just a number," Jalissa recalls.
"When I visited the Mount, I finally felt welcomed and valued as a student of color. I wanted to leave a place where I was struggling academically, and I wanted to be at a place where I would feel more welcomed and cared for. I decided to apply to the Mount because the campus was smaller, and I knew I would get the one-on-one attention I needed to succeed in the classroom."
Belonging, Connection, and Community
Her acceptance letter to the Mount emerged for her a new life chapter, welcoming her with a plethora of opportunity and involvement to thrive. Connecting the dots on her interest to be a positive role model in children's lives, Jalissa '24 chose to major in Middle Childhood Education to show students in grades 4-9 that learning can actually be enjoyable, alongside making an impact in her community.
"The older I have gotten the more I started to realize I wanted to teach middle school because that is the stage they are finding out who they want to be and who they are as people. When I was that age, I remember a teacher being someone that helped me with the battles and difficulties of finding myself and being who I am, and I want to be that person for them."
While transferring colleges can often feel overwhelming at times, Jalissa's transfer experience to the Mount was made simple with a smooth, easy transition.
"The Mount made me feel well informed when I was on tour, and I had a lot of meetings on my visit with different advisors to make sure my credits would transfer. Then once I left the tour, my transfer advisor Amy Wolf kept reaching out to make sure I understood the next steps. She was very helpful and made an impact on my decision on where to transfer to."
Feeling welcome in a friendly, inclusive environment at the University where her voice mattered allowed Jalissa to represent herself authentically within the classroom and beyond. She emphasizes the many events on campus that represent diversity & inclusion. "The people around the community make everyone feel a sense of belonging," she asserts.
Having grown up in tumbling and cheer, she couldn't wait to become a part of cheer at the Mount, where she continues to feel a strong sense of community. "It has been amazing so far," she says. "I've felt welcomed by the team—I have loved to show school spirit, and I am proud to be a lion!"
As for the caring faculty, Jalissa takes note of how invested MSJ professors are to ensure their students' wellbeing. Whether noticing if students are struggling academically or with personal matters, her professors have made time to ask appropriate questions with compassion and concern to get to the heart of the matter to find solutions. These acts of kindness and social responsibility have demonstrated a guide for Jalissa in facilitating matters within her own classroom.
"This teaches me to make sure to take the extra step to get to know my students and to help them succeed regardless of their struggles," says Jalissa.
Sights Set on Service to Others
Like any arrival to a new atmosphere, challenges do arise, but Jalissa believes positive thinking is at the heart of overcoming any barriers to reach her vision to make meaningful impact in classrooms after graduation.
"During challenging times, I just continue to stay positive and think about the life that I want to make for myself. I remind myself of the end goal," she affirms.
Whether new students are traditional freshman or adult students familiarizing themselves with the Mount, Jalissa recommends that students get out of their comfort zones by becoming involved in the Mount's many offerings to grow mentally, spiritually, and physically.
Next year, Jalissa will graduate with her Bachelor of Arts in Middle Childhood Education & Licensure (grades 4-9) and will begin the process of applying to various positions within communities she finds herself as the best fit.
Through her dedication to serve as a role model to youth while advocating for a sense of inclusion and belonging, she also serves as a role model to her peers at the Mount by showing up, listening, and supporting them in their classes. "I understand that I need to be on time to things and to always give 100% at all times, because there are others who are leaning on me to be their number one support system in the classroom."
BE THE CHANGE Program
The BE THE CHANGE program at Mount St. Joseph University is designed to make earning a bachelor's degree and teaching license more accessible for those who already have already completed two years (or equivalent) of higher education coursework at a community college. Learn more about BE THE CHANGE here!