Lauren Boland, Health and Wellness major and Exercise Science and Fitness minor, class of 2023 has been recognized as an Honorable Mention National Undergraduate Scholar Award winner by the American Kinesiology Association (AKA).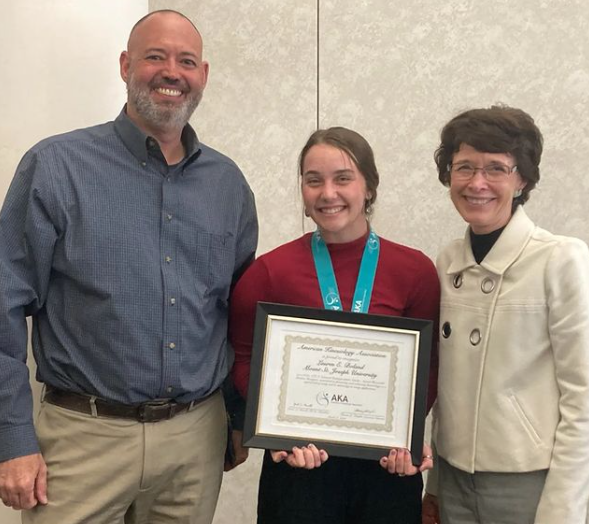 AKA NATIONAL SCHOLAR AWARDS honor a select number of students from member departments and institutions recommended by department faculty, whose academic and leadership records are distinctive.  Mount St. Joseph may nominate 1 student for the Undergraduate Scholar Award annually.  The number of nominees varies by year, but typically numbers between 50 and 80 nominees in the UG category. Graduate program sponsoring institutions may also nominate Masters and Doctoral Scholars Award recipients.    
Nominated MSJ students are competing in the UG category against all kinesiology programs nationally, including the largest public flagship universities (OSU, Michigan, UConn) and highly selective private universities with legacy programs in exercise science (Rice, Springfield).
The awards are intended to recognize and promote academic excellence, to further the professional competence and dedication of academically accomplished students, and to promote kinesiology and its related fields.
Students are evaluated by the AKA Student Awards Committee on academic performance, scholarly interests/accomplishments, leadership, and service to the profession.
The AKA selects one (1) national award winner among UG students and between 5 and 6 honorable mentions annually from the pool of 50 – 80 students.  
Lauren is the first student from MSJ to be recognized as an Honorable Mention recipient.
In addition to her 4.0 cum. GPA, she has served in the following projects and efforts on and off campus: 
The first class of Mission Ambassadors
4-year Soccer Player
2 years ESIH Social Media and Admissions Ambassador
Service Learning and Research Project with Delhi Fire Department
The leadership team for FCA
The leadership team for West Catholic Students Youth Group
She will be attending the University of Dayton this summer for the Doctor of Physical Therapy degree and is currently up for consideration for a research assistantship.