Passionate, committed, and student-focused, Annie Kandra '18 Lights the Way for her second-grade classroom in Cincinnati, Ohio.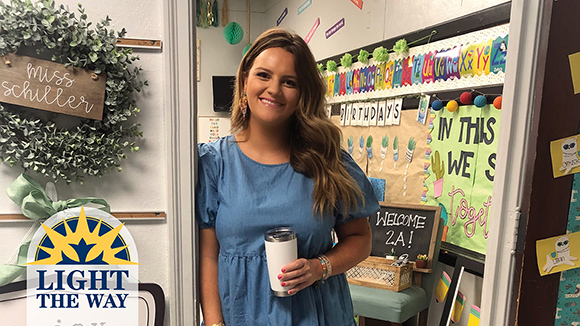 Since she was young, Annie felt in her mind, body and spirit that she wanted to become a teacher, despite its potential challenges. She explored other career avenues in high school and early college, but her heart was ultimately aligned to make transformative impact among a diverse group of children to help them reach their potential.
Annie graduated from the Mount in 2018 with a degree in Inclusive Early Childhood Education, preparing graduates to teach, change lives, and impact their communities. Going on her fifth year teaching second grade at St. Dominic School, Annie walks into work every day to welcome a room full of children that she has the honor and responsibility to teach. 
"So many teachers inspired me to follow this career path, and I am so glad I wasn't discouraged. I truly enjoy going to work every day, and feel a great responsibility in shaping the minds of children today," says Annie.
Annie currently teaches second grade in a self-contained classroom—meaning she teaches all subjects throughout the day. She is the school yearbook adviser, and resides on several committees, such as Marketing, Reading, Social Studies, and the Steering Committee to drive their school accreditation. She also plays a special role in helping prepare her students for two sacraments—First Reconciliation and First Communion. 
"I aspire for my students to love learning, love each other, and love God," she says. "I hope my faith inspires them to be the hands and feet of Jesus. Something I teach my kids is when someone asks how they are, they can say, 'I am blessed.'"
While there are numerous stories Annie can recall with her students, she notes a specific event where three of her students became baptized in front of the whole school at Mass. Surrounded by their entire school community and their families, everyone shared in the excitement awaiting the students' symbolic admission into the Christian Church.
To Annie, it's the moments of appreciation, care, and respect her students hold for one another that are the driving forces behind her work's mission to cultivate them into agents of positive change.
"I was taking pictures in the pew with the rest of my class, and one of my students turned around and said to me, 'I am so happy for them.' It made my 'teacher heart' so happy," Annie warmly shares. "It isn't the scores and improvements that mean the most to me, it's the classroom community and relationships that stick with you forever."
Great teachers cultivate great students, and Annie saw first-hand the care and concern represented from the Mount's education program on a mission to prepare collaborative and effective leaders.
"I had the most incredible professors and instructors at the Mount. Dr. Saylor, Cyndi Shibinski, and Beth VanWassenhove to name a few! They were so knowledgeable and helpful, and had so many helpful experiences to share. Their love of teaching is contagious, and they always made me feel like what I was doing in this world mattered."
The Mount completely changed her life and prepared Annie to serve her students and her community. She feels fortunate to live in an area that offers immense opportunities to serve others. As much as she loves teaching, Annie also acknowledges the many facets of her identity and the importance of being present with others within those roles. Someone recently told her, "be where your feet are."
"This meant a lot to me, because it made me realize that as much as I love my job, my identity does not lie in only being a teacher," Annie asserts. "I am a wife, daughter, sister, friend, community member, and so much more."
Annie, informed by her multi-faceted identity, teaches beyond the curriculum, demonstrating to her students how to live meaningfully, just as her parents taught her. 
"I have the most amazing parents who have always taught me to love and accept everyone, and always lead with kindness, because everyone is going through a struggle that we can't see."
About our Education Program: In-person and Online Options
The School of Education faculty prepares students to transform into competent, collaborative, caring, and reflective practitioners. Nearly 98% of surveyed education graduates were employed or enrolled in graduate studies after graduation, and are giving back in big ways.
Interested in learning more? Check out our School of Education page to see our majors and licensures, with both in-person and online options.