Like carrying on a torch, McKenzie Custer '23 is inspired by her brother to seek a Master of Science in Nursing degree.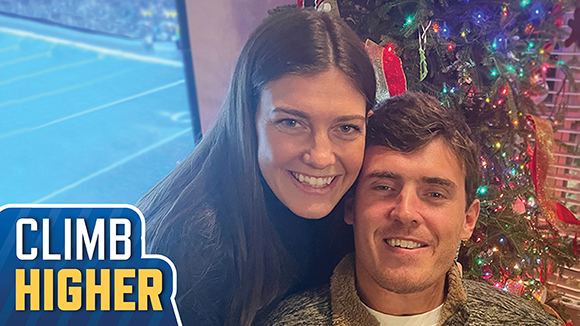 After her older brother's accident in April 2017, McKenzie's dream of becoming a nurse fully materialized. The accident, which had left her brother Ryan paralyzed from the chest down, meant that he would require around-the-clock care—a role McKenzie adopted immediately.
Despite taking on such a commendable task, McKenzie does not consider herself the one who ought to be looked up to in this situation: "My brother serves as a role model to me in so many ways. He wakes up every morning with a smile on his face and a strong mentality to fight another day. I am not sure how he does it, but it is inspiring to say the least. He is the reason I went back to school with the goal of pursuing my dream of becoming a nurse. He pushes me to be a better person, fight like never before, work hard, and smile, regardless of what life throws at me."
McKenzie's love, admiration, and care for Ryan is what led her to pursue nursing at the Mount. Growing up in Cincinnati, she heard plenty of praise for the Mount's committed professors, small class sizes that foster meaningful relationship-building, and an incredible, four-semester entry-level nursing program for graduates. This program, known as MAGELIN, spoke to McKenzie, and also allowed her to stay close to her friends, family, and, of course, her brother.
"He is such an inspiration," McKenzie extols, "and is the reason I ultimately want to live my life and practice a career where I am able to help and serve others every day, and the Mount is able to help me fulfill that dream! Seeing the impact nurses and caregivers has been on his life has made me want to be able to return the favor to not only him, but the thousands of lives out there that I will be able to touch in some way."
Now 24 years old, and expecting to graduate in May of 2023, McKenzie plans to stay in Cincinnati post-graduation. "Having Ryan at home makes the decision a no-brainer," she says. With so many great hospitals in her hometown, McKenzie knows that she can embody that force necessary to begin creating a macrocosmic improvement in the health of her fellow Cincinnatians.
Encouraging anyone looking into the MAGELIN program to give it a chance, McKenzie serves as a source of altruistic awakening and motivation for self-improvement.
"​I think the greatest advice would be to follow your dreams and work hard," she teaches. "Anything is possible if you surround yourself with people who support you, encourage you and push you to to be the best version of yourself. Anything you set your mind too is attainable with some hard work and a great support system. Follow your dreams, work hard, and smile, even when the world is giving you 100 reasons not too!"
McKenzie shines with inner brightness, just as her brother shows her every day, and spreads that light by passing the proverbial torches on to others as well. She climbs higher by urging us to do the same, revealing to us the path by having traveled it first.
Feeling that the Mount is a perfect fit and unable to imagine living anywhere other than Cincinnati, McKenzie knows she is right where she belongs. Her love for her brother, who is only a little over twelve months older than her, which contributes to their closeness, is the basis for stoking that existential flame that is living, smiling perpetually, and enhancing the lives of those around us.
"My brother carries the day for me and my family with his positive attitude and will to carry on and fight. He puts life into perspective. Suddenly, the little things that would bother me in the past seem so minimal now when you look and see all of the things he has to go through with on a daily basis. You realize the things you take for granted, such as brushing your teeth or getting out of bed without assistance. He is simply amazing, and there is no other way to describe it​. Regardless of the cards he was dealt, he makes the most of every single day. I am so grateful to have an amazing brother and awesome role model who I am lucky to call my best friend."
______________________________________________________________________________
About our MSN program
Students in this program are offered two specialized tracks: administration and education. With expert faculty and small class sizes, students are able to develop skills to communicate professionally and improve health care outcomes. This program was also ranked the #1 best small school MSN program in Greater Cincinnati by U.S. News!
Interested in learning more? Check out our MSN program page here.
About MSN-MAGELIN
The MSN-MAGELIN program offers the shortest path for college graduates who want to enter the field of nursing. With a 2-year career outcome rate of 100%, this program provides plenty of opportunities from a dedicated nursing faculty.
Interested in learning more? Check out our MAGELIN program page here.