From March 1st to 3rd, the Spring 2023 Career Fair will bring a plethora of opportunities to students.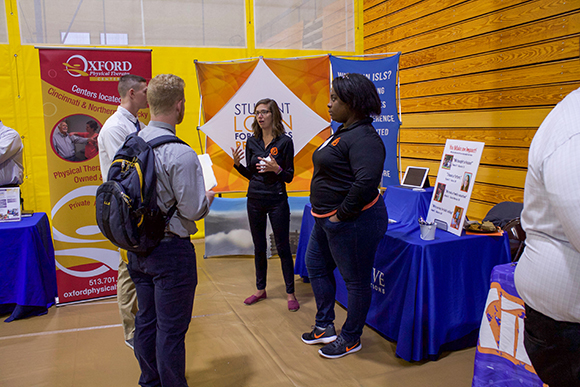 The Spring 2023 Career Fair will be held in Seton Lobby, the Aretz Room, and the Molloy Room from March 1st to 3rd at Mount St. Joseph University. All students and majors are welcome to attend.
Each day of the Career Fair will pertain to particular majors to maximize the amount of opportunities available. Here are the list of events: 
Throughout the three-day fair, students will be provided a variety of ways through which they can begin making progress professionally and getting their foot in the door when it comes to their potential careers.
"These career fairs are the best place for students to learn about co-op/internship positions (summer and fall), full-time roles, community service opportunities, etc. and to explore career options," says Director of the Career & Experential Education Center, Amanda Meeker. "All students are invited to all three events, regardless of major, school year, etc."
Cincinnati Children's Hospital, Boys & Girls Clubs of Greater Cincinnati, Mercy Health, TriHealth, UC Health, United States Army & Army Reserve, Sisters of Charity of Cincinnati, Kroger, ArtWorks, and the Anthony Muñoz Foundation will be some among many of the employers and non-profits attending the event. View a full list of the employer directory here.
With so many local companies appearing at this term's Career Fair, close-to-home job opportunities are likely present and available.
Don't forget! If you plan to attend, bring copies of your resume and dress in either professional or business casual attire.
___________________________________________________________________________________
Contact
For more information, please contact Amanda Meeker, Career & Experiential Education Center Director at Amanda.Meeker@msj.edu