For more than 22 years, MSJ Education alumna Angela Frith '96 has advocated for the deaf community at St. Rita, and now leads as a champion and guide for teachers in their impactful work.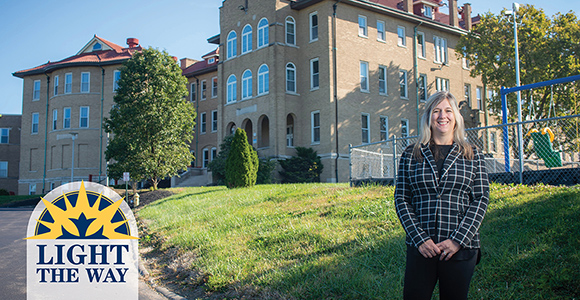 The MSJ education alumna started as a substitute teacher in the classroom, then moved into Development, working in public relations, marketing, and donations. She then became associate executive director, and in 2018, was appointed by the Archdiocese of Cincinnati to lead the school as the executive director.
Even before her career started at St. Rita, Frith had strong ties to the school. Her mother, who is part of the deaf community, graduated as a student from St. Rita. And as a little girl, Frith frequented the school to visit her father, who worked at the school for 47 years and also served as executive director.
St. Rita opened nearly 108 years ago with 11 students staffed by the founder, Fr. Waldhaus, and three Sisters of Charity. Eventually, it would become the first accredited high school for the deaf in Ohio.
"St. Rita has evolved over the years," Frith says. "Twenty years ago we started accepting hearing students because they need a language, and using our hands and that part of the brain is sometimes easier than spoken English."
Under Frith's leadership, St. Rita has continued to adapt to meet the special communication needs of the students, whether they are deaf or hard of hearing, have apraxia of speech (a speech sound disorder), an autism spectrum disorder, or Down syndrome.
"By having a diverse range of students at the school, we have advocates for deaf children who can share their journey and experiences that others can learn from," Frith says. "Being a member of the St. Rita community has opened my eyes to another culture and world that is a lot of times not recognized. It's been a journey and I've never stopped learning."
For Frith, it's people's stories that really impact what she does on a daily basis.
"There's a lot of education and advocacy that has to happen in order for people to understand [the deaf community]," she says. "The more we talk and share, the more understanding we become."
Her favorite part, though, is seeing the transformation happen within the classroom.
"Our faculty and staff are amazing to me," she says. "They do the hard work. I have the easy job of sharing the story. But they're the ones day in and day out making a real impact and difference."
As a leader, she's adamant about championing the teachers with their work and guiding them in the impact that they make.
"When I get a snapshot of what's happening in the classroom I love to be able to walk away changed," she says. "I then usually send the teacher a note as a reminder that what they do is so important."
The school is growing, and Frith says there are still more great things to come.
"We're more than that building on I-75 that people drive by all the time," she says. "Once you step inside, it's a whole different world. My goal is that when you leave you learn something new that you never knew, that we keep learning and sharing our stories."