On Monday, Jan. 23 at 4 p.m, Gold Star will be presenting a donation of 20 cases of canned chili to Mount St. Joseph University's (MSJ) on-campus food pantry, the Lion's Cupboard.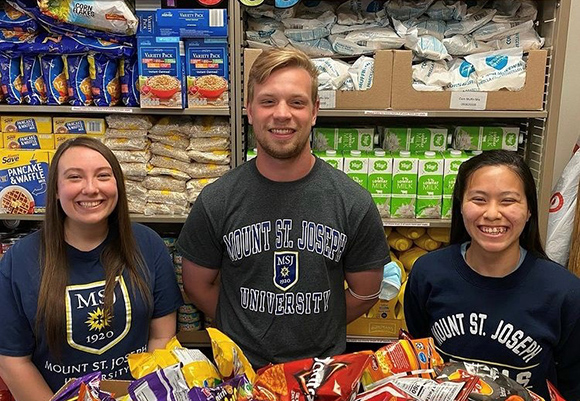 Cincinnati – (January 19, 2023) – Gold Star President and CEO, Roger David, will present President of MSJ, Dr. H. James Williams, and Vice President of MSJ, Sydney Prochazka, with the donation on-campus.
The food pantry opened on March 2021 with the mission to provide non-perishable food items and hygiene products to all full-time and part-time MSJ students, as well as residents and commuters.
According to a 2019 Forbes survey, 39% of students at two- or four-year schools had experienced food insecurity in the last 30 days. Hanne Driscoll, former MSJ student and AmeriCorps member, recognized the common concern of food insecurity on campus, and created The Lion's Cupboard. Anthony Wright, MSJ's current AmeriCorps member, runs the food pantry today.
The Lion's Cupboard and Student Resource Center are housed within the Department of Sociology and Social Work. The Department of Sociology and Social Work is committed to ensuring that MSJ students are able to achieve academic success by assisting them in addressing any non-academic barriers that may be a hurdle to their achievement, including access to food.
"At Gold Star, we value our role in supporting our community, and as a family-owned restaurant, we have joined the fight against food insecurity, ensuring students have the nourishment they need while reaching their higher education goals," said Roger David, president, and CEO of Gold Star. "Mount St. Joseph University has taken the steps needed to end food insecurity on its campus, and we are grateful for the opportunity to help our neighbors thrive."
"MSJ students should not have to worry about where their next meal is coming from, while in pursuit of a higher education, which is why the Lion's Cupboard is so vital to our campus," said Dr. Williams, president at MSJ. "It is essential for us to have the support of our community as we take on food insecurity, and we are so appreciative of Gold Star and their willingness to join us in this cause."
The 240 cans of Gold Star Chili included in the cases are projected to keep the Lion's Cupboard stocked for up to six months. To learn more about the Lion's Cupboard, click HERE.
###
ABOUT GOLD STAR
At Gold Star, we've been serving our guests delicious Cincinnati-style Chili since 1965 when the Daoud brothers bought a restaurant in the Cincinnati neighborhood of Mt. Washington. They wanted to make chili the right way: always fresh, never frozen and made in small batches to ensure quality. Crafted from our founders' secret family recipe of 13 perfectly blended spices to make Cincinnati's classic chili favorites the Cheese Coney, and 3-, 4- and 5-Way Chili Spaghetti. Our menu offers something to make everyone happy from fresh grilled-to-order burgers, southern-style chicken sandwiches, vegetarian chili, double-decker deli sandwiches to loaded French fries, hand-tossed salads and 100% real ice cream shakes. It may not be what you would expect from a neighborhood chili parlor, but we're not big on labels anyway. We invite all of our guests to come as you are, like what you like, and follow your own recipe.
Today, Gold Star has 65 corporate- and franchise-owned locations throughout Ohio, Kentucky and Indiana and is actively developing new franchise opportunities in the region. For more information, visit www.goldstarchili.com. Gold Star is hiring for all positions with competitive pay and benefits; apply to join our team at: https://www.goldstarchili.com/careers. 
ABOUT MOUNT ST. JOSEPH UNIVERSITY
As a Catholic institution rooted in the values of the Sisters of Charity, Mount St. Joseph University excels at serving the common good. Undergraduate, graduate, and doctoral students at the Mount are inspired to think beyond the classroom and redraw the bounds of what's possible for their futures. This is accomplished through individualized educational experiences, a safe, secure campus environment, and an all-in commitment from faculty and staff to inspire students to reach their highest potential. The Mount fosters life-long learners who serve, care, and contribute to the world beyond their front doors.