Softball athlete Casey Kemp transferred to the Mount her sophomore year, with no limits as to what she could accomplish the following year.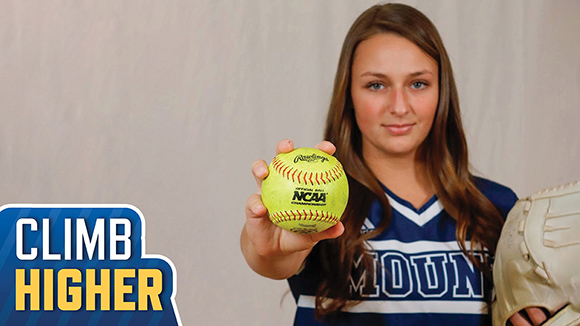 Spring evenings are a special kind of memory.
Gentle breezes sweep over the surroundings, offering a break from the earlier blast of mid-day Cincinnati heat. The stadium's crowd cheers with adrenaline and optimism during the tie in the seventh inning. Suddenly, Little Miami High School's softball club team just scored. The orange sun is aglow, casting the players as mere silhouettes while they congratulate each other a job well done.
Casey Kemp eagerly awaits the trip in her uniform to get ice cream with her now life-long friends.
For Casey, the game of softball struck the perfect balance. She enjoyed how the game could be relaxing and fun to play, yet woven with tense moments and focus. She realized she loved to pitch, and enjoyed being able to control the speed of the game.
She loved softball, and knew she wanted to play after high school. But it was simply a matter of where.
There's No Place Like Home
Going into her freshmen year of college, Casey was set on attending a university in West Virginia to play softball, and after getting accepted, she settled into a new life there; however, after some struggles assimilating to the athletics program, she searched for another option.
Now entering her sophomore year, she had her eye on a college back home. "MSJ was a great fit for me. It was closer to home, had a successful softball program, and a great nursing program," she says.
The hardest part of an ending is often starting over, and luckily, the Mount made the transition easy.
Casey was even able to attend a few softball games before committing to the Mount, which helped her see what the softball team and program were all about. As for her interest in the Bachelor of Science in Nursing (BSN) program, the Office of Admission and expert professors stood ready to assist with Casey's questions and needs.
"The admission staff did a great job responding quickly and doing their best to speed up my transition process. They helped me prepare my schedule for the Mount, apply, and get accepted into the BSN Nursing Program, and get my previous credits from previous University transferred successfully to the Mount," she says.
"My professors were also very helpful. I had many questions and they were always eager to answer them and help me with anything that I needed. All of these things let me know that I was making the best decision for myself. Both academically and athletically the Mount has been a perfect fit for me."
When looking to join the MSJ softball team, Coach Beth Goderwis and Coach DeeDee Morris showed genuine care and concern for her first-year softball experience. They were consistently there to help her through the process, and reached out frequently to check on her throughout the transition. "The coaches, players, and parents were all very friendly and supportive," says Casey.
Making MSJ Softball History
After the move back home and acceptance to the Mount, Casey worked hard on and off the field. Nonetheless, she had achieved the softball success she was looking for since pitching on Little Miami's high school field.
On May 15 2022, the softball team made serious strides.
They won the conference tournament, sending them to the Regional Tournament for the second year in a row, this time held in Geneseo, New York.
"It was a very close game the whole time," Casey asserts. "Both teams were doing everything they could to score more runs. This was it. It could be your last game, or it could send you even farther in the tournament. Either way, we were giving 110%."
Finally, the game came to an end. The Lions claimed their first softball Regional Championship.
"It is the most indescribable feeling. There were tears, laughter, and more tears. We had finally done it. All of our practices, extra hours, extra reps, 5 o'clock a.m. practices, all of it was worth it. It felt as though we had all played with each other and known each other our whole lives, but it had just been one season. It is crazy the things a team can do when they put in all of their trust and belief in their teammates."
A Heathcare Calling
In addition to her softball passion, Casey always wanted to provide a helping hand for others. She knew she would be able to help people every day if she pursued a career in nursing, particularly in urgent and critical situations.
Currently an ER Technican at a local hospital, she assists doctors and nurses in the ER. She says she hopes to stay local with work, but is open to new opportunities. "The Mount has a very strong nursing program. Every nursing program is difficult, but the Mount has very high standards for their nursing students. I think this is a great thing. Some classes are more difficult than others, but all of the classes are purposeful and helpful to the journey of making great nurses."
The Mount as a whole has prepared Casey as an individual, providing many lessons through both her nursing classes and spot on the softball team that she wouldn't have received anywhere else. Her coaches ensure her academics come first.
"It is very special to be part of the MSJ softball team," she reflects. "My coaches help prepare my teammates and me for the real world. They make sure we focus on our academics before we focus on softball. They truly want the best for us, which is a great feeling. You know that no matter what happens, you will always have your coaches backing you up and all of your teammates. We are all very supportive of each other on and off the field. We love to have fun, but also enjoy pushing each other to be better individuals and athletes."
Currently, Casey is developing new skills every day to help prepare her for life after college. She has learned to not procrastinate, stay organized, and prioritize time management for success upon graduation.
​Her biggest motivator during challenging times? Her family. She says it helps to have a big support system to get her mind off of schoolwork, and to take a mental break.
After graduating next year, Casey plans on becoming an ER/Trauma Nurse.
"My advice to other transfer students new to the Mount would be to be open to new opportunities and experiences. You will meet many new people and friends. Be social and go to events. It will only benefit you in the end. Always try your hardest and do not be afraid to ask for help. Everyone is very friendly and would love to help!"
__________________________________________________________________________________________________
About our Nursing Program: Interested in Learning More?
The Department of Nursing at Mount St. Joseph University has an outstanding reputation built on a century of educating nurses. Career paths include critical care/intensive care, management/administration, maternal/newborn nursing, and pediatrics.
Plus, nursing is among the degree programs with the highest return on investment for students. Nursing is among 11 programs analyzed in a study conducted by the US Department of Higher Education that enables graduates to recoup their educational investment within 5 years or less. Visit the Mount's Nursing page here to check out its offerings!