Mount St. Joseph University's Department of Athletics & Recreation announces Casey Monahan as its new Women's Lacrosse Head Coach!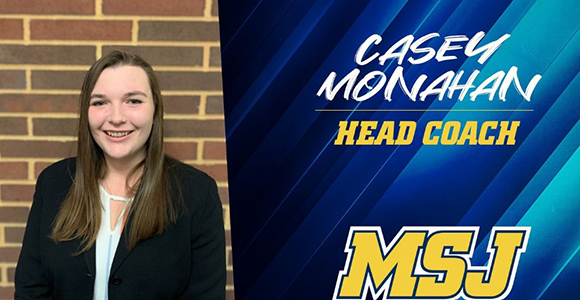 CINCINNATI, Ohio – Mount St. Joseph University has found its new women's lacrosse head coach. The new head coach will be Casey Monahan as announced by Director of Athletics Melanee Wagener today.
"We are excited about bringing Casey in to lead the women's lacrosse program" Said Wagener.  "We are confident she will do a fantastic job leading that program."
Casey comes to the Mount after a standout playing career at Marian University. Over her four year career she registered 476 saves over 51 starts in goal.  She holds both the career and single-season record for saves for the Knights.
She graduated from Marian in 2020 with a Bachelor of Arts after majoring in Communications and minoring in Psychology.
After her time at Marian she moved onto Earlham College, where she worked as an assistant coach while pursuing a Master's Degree in education. During her time at Earlham she managed the team's social media accounts, aided in the recruiting and retaining of student-athletes, helped manage student-athletes academic success, and even served as the interim head-coach for a period of time.
"I am beyond grateful and excited to be named as the head women's lacrosse coach at The Mount. Having coached in the HCAC before, I was given a glimpse of this team and what they can accomplish. I am eager to see how far this group can go in the future and to grow this program! This team is capable of accomplishing big things, so to be given the opportunity to lead and develop them both on and off of the field is an honor" Said Coach Monahan.
Colleges with Best Athletic Facilities
With cutting-edge athletic facilities, the Mount has become a conference and regional powerhouse in several sports, and has received national recognition in volleyball, football, men's basketball, softball and wrestling. Mount athletes are regularly included on all-academic teams at the conference, district and national levels. 
To learn more about our athletics programs and facilities at Mount St. Joseph University, visit msjlions.com