Mount St. Joseph University (MSJ) has announced that MSA Sport, a Cincinnati based architectural firm will design their new home baseball field.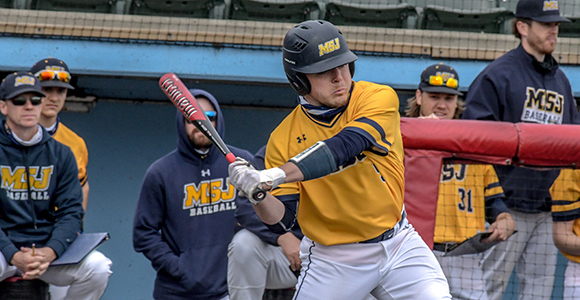 CINCINNATI, Oh. – In May, MSJ signed a letter of intent with Delhi Township to build a home field for the MSJ Lions in Delhi park.
"We are extremely excited that MSA has been chosen to design our stadium considering their impressive experience in baseball stadium design around the country," said Melanee Wagener, athletic director at Mount St. Joseph University. "We are even more excited to take this important step in the process, moving us that much closer to having a permanent home for our MSJ Lions."
MSA is one of the top 15 sports architects in the country and considered experts in designing baseball stadiums. They are also the largest sports architecture practice in the region and the official architect for the Cincinnati Reds. Some of their projects include Major League Baseball stadiums such as Cincinnati's Great American Ballpark, Houston Astros Minute Maid Park, and the Miami Marlins LoanDepot Park. They have also worked on many leading community and collegiate baseball venues at the University of Cincinnati, Xavier, Northern Kentucky University, Centre College and more.
"We are excited to extend our 20+ year relationship with MSJ that began with the design of Schueler Field and the River Road Athletic Complex on their campus," said Bill Baker, principal and owner at MSA Sport. "This newest home field advantage for MSJ will provide a first-class competition and practice environment to allow their student athletes to train, compete, and succeed at the highest level. This project affirms MSA's passion for working with institutions that have an enduring impact on our community, like MSJ."
MSA is currently beginning the design process. Plans include modeling the baseball stadium after a minor league ballpark experience. It would include an all-synthetic turf field, lights, stands, dugouts, a press box, team lockers, storage, parking, a concession stand and a video scoreboard. The final design and amenities will be based on available space and funding.
Brian Baker, an architect at MSA who will be serving as Project Manager on the MSJ baseball project, has deep roots in Delhi and says this project hits close to home. "My roots are in Delhi. I grew up just a couple of blocks from the park and my favorite childhood memories revolve around spending my summers there," said Baker.
"Being able to bring a first-class baseball facility to the University and the Delhi community is such an exciting opportunity for me. This new stadium will not only be a game-changer for the student-athletes who will call this place home, it will also inspire and impact Delhi residents and little league players, like my son, who will have the opportunity to play on a premier baseball field in Delhi Township."
Jeff Briggs, chief financial officer at MSJ added, "We are proud and committed to partnering with Delhi Township on the creation of our state-of-the-art baseball stadium. It will be a community asset for years to come."
About the Mount
As a Catholic institution rooted in the values of the Sisters of Charity, Mount St. Joseph University excels at serving the common good. Undergraduate, graduate, and doctoral students at the Mount are inspired to think beyond the classroom and redraw the bounds of what's possible for their futures. This is accomplished through individualized educational experiences, a safe, secure campus environment, and an all-in commitment from faculty and staff to inspire students to reach their highest potential. The Mount fosters life-long learners who serve, care, and contribute to the world beyond their front doors. 
About MSA Sport
MSA Sport is a division of MSA Design focused on the programming, planning and design of sports facilities. Since 1997, MSA Sport specializes in sports facilities design, stadium enhancement and fan engagement, while remaining a national leader in planning and designing of athletic facilities. Through novelty and technology, we craft unique brand identities at the professional, collegiate, community recreation, and high school level. To view our past work, visit: msaarch.com.
###