On Tuesday, Oct. 4, Mount St. Joseph University hosted its Fall Career Fair from 1-4 p.m. in the Centennial Field House.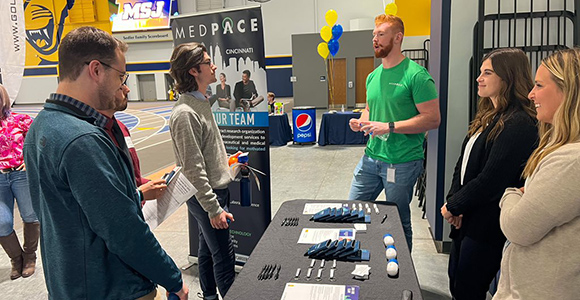 Whether you're a sophomore looking for a co-op, or a senior navigating the job search, there are hundreds of opportunities available for you!
On Oct. 4, students of all majors were invited to attend the Fall Career Fair to meet with various employers face-to-face.
Over 30 employers throughout the Tri-State were present at the event to meet students to discuss their co-op, internship, and full-time career opportunities. This event presented unique opportunities for students to talk with representatives from dozens of companies throughout the region from the comfort of the Mount's campus.
"Employers represented a variety of industries including healthcare, finance, sports/leisure, social services, and construction," says Amanda Meeker, Career & Experiential Education Center Director. "Over 200 students attended to share their stories with these employers.
This career fair provided students with the opportunity to explore career options, build their professional networks, and engage in their careers.  Students can continue to build connections with these employers by using Handshake, our online college-to-career network."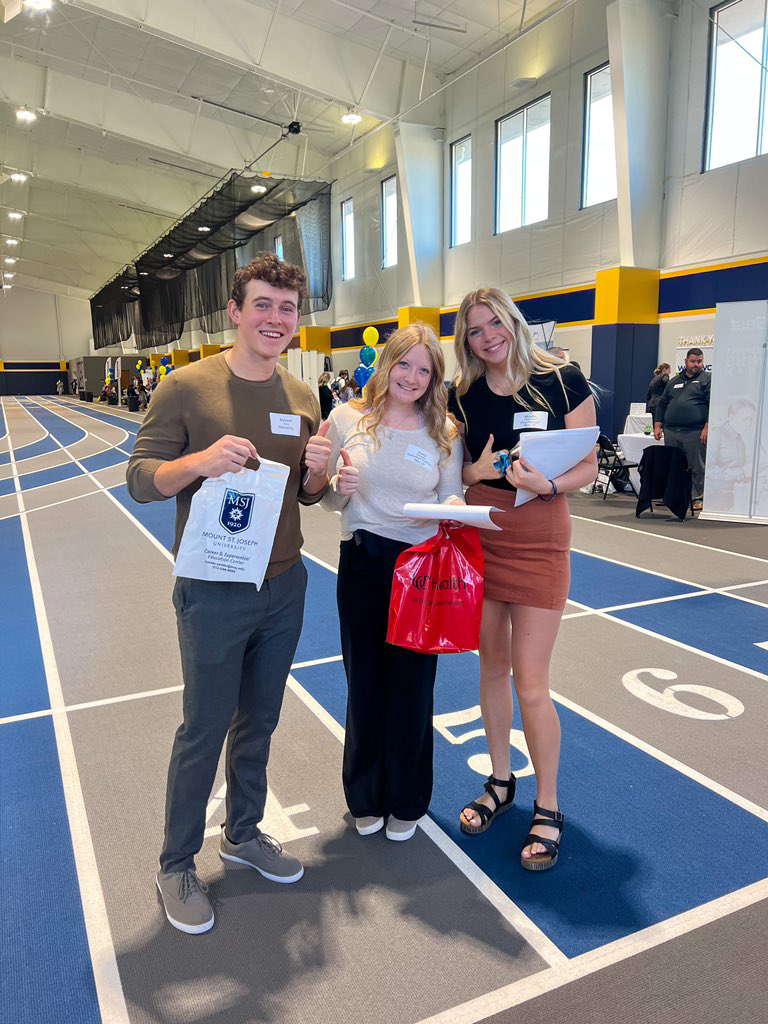 Photo: Students at Fall Career Fair in Centennial Field House.
Student Testimonials
"Something that I learned about the Career Fair was that they [employers] are more willing to hire than we think."

    -Braxton Young

"The Career Fair is a great opportunity because it's right here in our backyard and you don't really have to prepare for it, but you are able to walk through the tables and meet face to face with a bunch of employers from a bunch of different industries and fields. Apart from gaining that knowledge and making those connections, it gives you the practice just talking with other employers and developing questions you might want to ask and also learning your interests in what you want from a job."

    ​-Brody Gray
Employers (to name a few) Who Attended Include:
ArcBest
Barnes Dennig
CareStar
Cincinnati Children's Hospital Medical Center 
Cincinnati Insurance Companies
Cincinnati Sports Club 
City of Cincinnati
Divisions Maintenance Group
Education at Work 
FC Cincinnati 
Fifth Third Bank
Interested in Activating a Handshake Account?
Students, alumni, and employers can create or activate their Handshake accounts here to begin utilizing its many features.  For questions about the platform or professional development inquiries, please contact career.center@msj.edu.