Mikayla Davis '24 excels, leads, and serves her community beyond the Mount's front doors.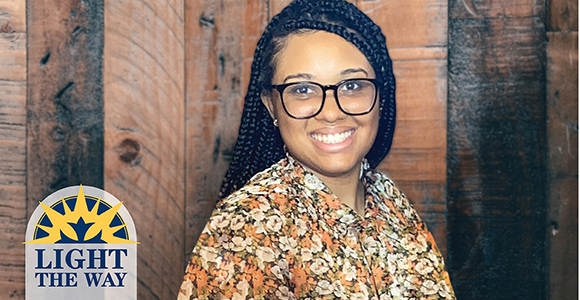 The moment Mikayla Davis decided she wanted to become a teacher, she was nearly five years old, gathering action figures and dolls alike to entertain her pretend classroom.
"I would do what most children would do when they enter kindergarten, role play!" she exclaims looking back. "For me, I would collect all my stuffed animals, barbies, bratz dolls, and my brother's action figure toys [to have boys in the classroom", she giggles.] I would stack my shoe boxes in a row like desks, set my toys up as students, grab a pencil and paper, and start teaching. Playing school was an outlet for me to express myself the best way I knew how as a child."
While Mikayla says she grew up shy, playing school allowed her to become as outspoken as she wanted. She often thought, "This is how I want to be when I grow up." Over the years, she certainly blossomed into the persona from her pretend classroom, into a real-world classroom setting.
"Teaching and helping others are important to me because I genuinely enjoy helping and taking care of others. It is important that the youth today experience a nurturing environment that allows them to express themselves." 
A current MSJ junior and transfer from Cincinnati State, Mikayla is majoring in Early Childhood Education at Mount St. Joseph University. Since her time in Education at the Mount, she has had several opportunities to work in real classrooms to build teamwork, apply strategies, and instill confidence in her students.
It's a Team Effort
Currently, Mikayla gives back in her current practicum at C.O. Harrison Elementary. Mikayla's instructor Lucie Collier provides the practicum the tools and knowledge they need to help teach students different strategies of understanding math in a third-grade classroom.
"I have lots of interactions with the students; we work on assignments together, lesson planning, and have small talk to get to know one another," says Mikayla.

Nonetheless, Mikayla has lived out several instances of Lighting the Way through her teaching experiences.
During her first small group lesson plan with the kids, this was Mikayla's first time ever teaching children math, and she had concerns about this new effort; however, the children at C.O. Harrison made her feel welcomed, encouraged, and safe.
"I made a mistake during my lesson plan and they all chimed in saying, 'mistakes happen', 'even adults make mistakes', and 'we have fun with you'." This gave Mikayla the confidence to move forward with her lesson plan to do her best with her little teammates. "A light bulb moment for me, it made me realize a teacher and their students are a team. We are all helping each other to reach the goal of being successful in school!"
Prior to her practicum, this past summer Mikayla worked as a camp counselor through an extension of KinderCare, called Champions, where she taught children from diverse backgrounds.
Since the pandemic, these children were in need of attention, were vulnerable, and were secluded from others. Some challenges Mikayla faced with them were a lack of communication, lack of interest in learning, and a sense of loneliness.
Mikayla was eager to facilitate social emotional bonding activities for the children, leading her to include cards sets with question prompts, like 'With your buddy, discuss an escape plan if it was the end of the world,' etc. to invigorate them.
These activities tremendously helped the children to feel relaxed, and open up with their peers. Mikayla says her learnings from the Mount have helped her feel more comfortable with how she approaches her teaching methods.
"The Mount is giving me the proper skills and knowledge on what to teach the children and how to pace myself. Also, it is teaching me on how to incorporate those teachings with my style."
Given the Faith to Succeed
Throughout her life, Mikayla has met a handful of people who have helped her become the person she is today, so that she can continue striving in the classroom for future generations. She credits her parents for giving her the tools of respect for others, her siblings for teaching her self-acceptance, her daughter for teaching her patience, and her significant other for always offering support and encouragement.
Academically, Cincinnati State and MSJ faculty also provided faith that she would be a great educator. "Having all that support has motivated me to always have faith and trust in myself. This way, I am able to give back to others in a meaningful way because people have given me back to me," she reflects.
Ultimately, this newfound journey led Mikayla to believe in herself. Even when obstacles arise, she makes small everyday strides that equal big wins for achieving her goals as an educator.
"I take my role in education seriously, I want to give back to the communities through sharing my joy. I have a passion to learn more about the ins and outs of education and how we can help our future generation grow."
__________________________________________________________________________________________________
About our Education Program: In-person and Online Options
The School of Education faculty prepares students to transform into competent, collaborative, caring, and reflective practitioners. Nearly 98% of surveyed education graduates were employed or enrolled in graduate studies after graduation, and are giving back in big ways.
Interested in learning more? Check out our School of Education page to see our majors and licensures, with both in-person and online options.