Lexie Cash `22, accelerated Master of Arts in teaching graduate Lights the Way in a classroom overseas.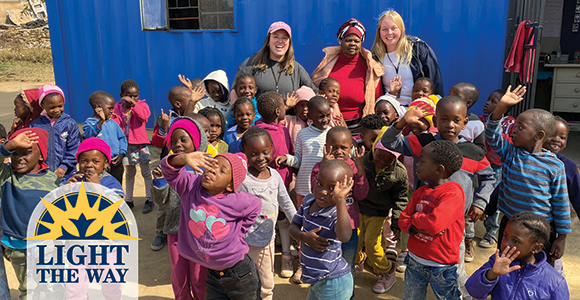 A 5th grade math, science and religion teacher at St. Mary School Hyde Park, recent MSJ graduate Lexie Cash ventured to South Africa for ten days, where she broadened her global perspective by extending a helping hand overseas in a non-profit organization called Build The Future.
Build The Future works to build preschools across South Africa from the ground up, to provide children the environment they need to learn to thrive and grow. For this partnership, the organization opened a pre-school in an extremely impoverished area in South African city, Johannesburg, called Kya Sands.
Attending with 33 people from her church, Lexie was inspired to get involved with Build the Future because of their mission to educate children in an impoverished community. "Serving others is important to me because I always come away from the experiences learning something new about myself, others and the world," she says.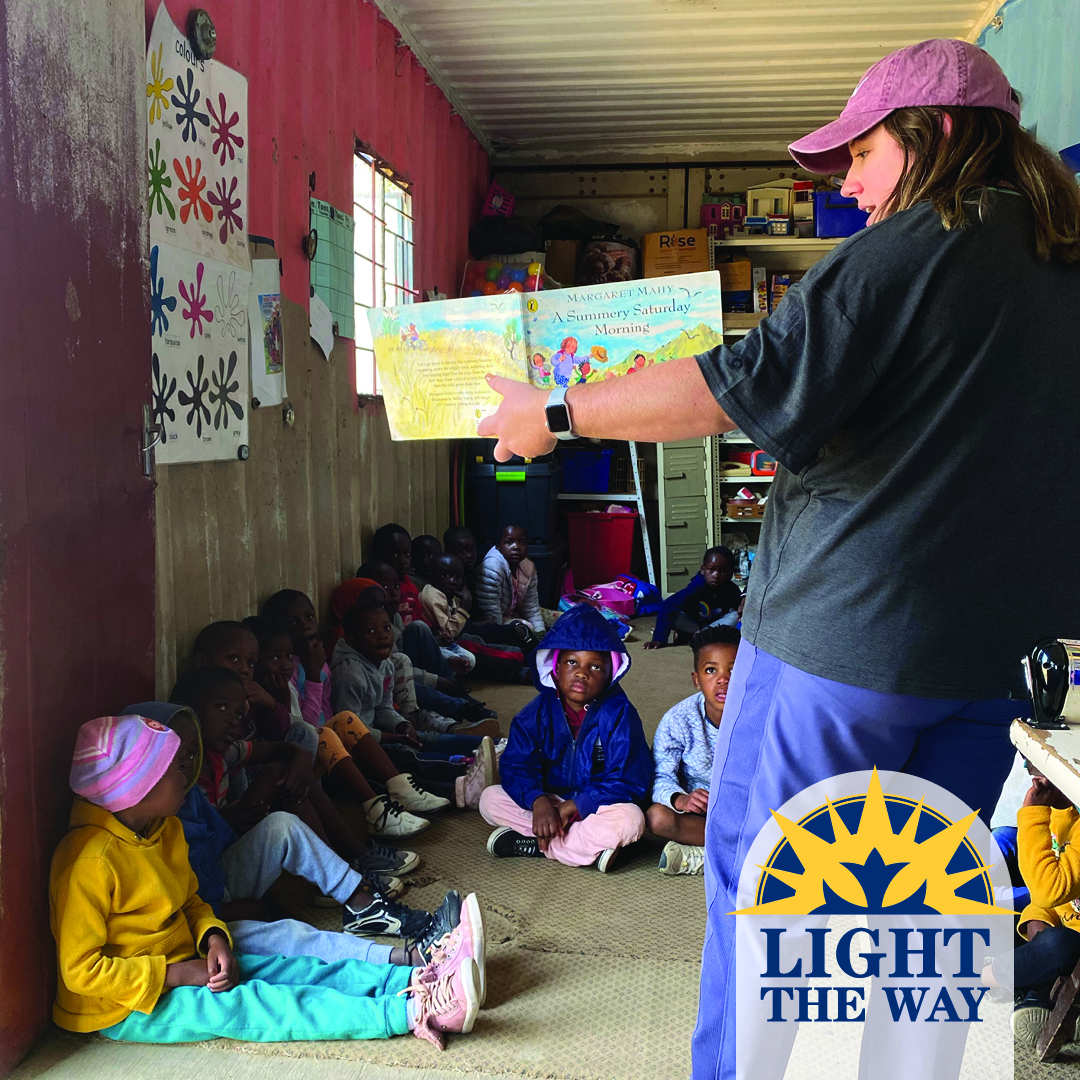 Photo: Lexie reading to South African children in pre-school classroom.
Providing Hope and Compassion
When they arrived, Lexie spent much of her time working with the teacher in the 6-year-olds' classroom. She helped the teacher with phonics skills, how to teach certain lessons, helped with daily routines in the class, as well as feeding the students.
The children from the community they served in face the challenges of poverty daily. They have unstable housing, access to running water in only six places in their large community of 35,000 people, food insecurity, lack of employment, lack of plumbing, proper roads, and no electricity.
It was through Build The Future's current programs and Lexie's educational background from the Mount that led her to make a difference working within the pre-school.
"As a volunteer, I was able to help serve the students three nutrient dense meals a day, help implement lessons in the 6-year-old classroom, and help train the teacher I worked with," says Lexie. "These programs were in place before I came, and it was amazing to be able to be a part of it for a small chunk of time and see how the community is impacted by Build The Future's vision."
While Lexie says there were many moments that were rewarding to her, one specific moment that stuck out was an interaction she had with the teacher whom she was partnered with. The teacher asked Lexie for help with teaching phonics, so Lexie spent some time teaching her some sound drills she can do using materials she had.
"As the week went on, I was able to watch and coach her as she implemented the skills I taught her, and it was amazing to see how she used the skills we worked on in real time; Then of course, it was amazing to see the kids learning from the drills she was using!"
Everyday Acts of Kindness
In Lexie's current job, she gives back by serving the students in her own classroom daily. Not only is she their teacher, but she is consistently teaching and instilling in them how to love and serve themselves, others, and the world, better. Some days, content is even pushed aside in order to meet and serve the needs of the students in her class who are struggling. 
Lexie reflects on those who have impacted her to grow personally and professionally, so that she can Light the Way for others who face challenges everyday.
"My mom and grandma have always loved people really well, and given to the people around them. At the Mount, every professor I had was passionate and taught me so much about how education can be a way to give back, and they absolutely impacted me as a person and an educator."
________________________________________________________________________________________________
About our Education Program: In-person and Online Options
The School of Education faculty prepares students to transform into competent, collaborative, caring, and reflective practitioners. Nearly 98% of surveyed education graduates were employed or enrolled in graduate studies after graduation, and are giving back in big ways.
Interested in learning more? Check out our School of Education page to see our majors and licensures, with both in-person and online options.