Our BSN program at the Mount offers direct admission, allowing incoming students to know they have been selected.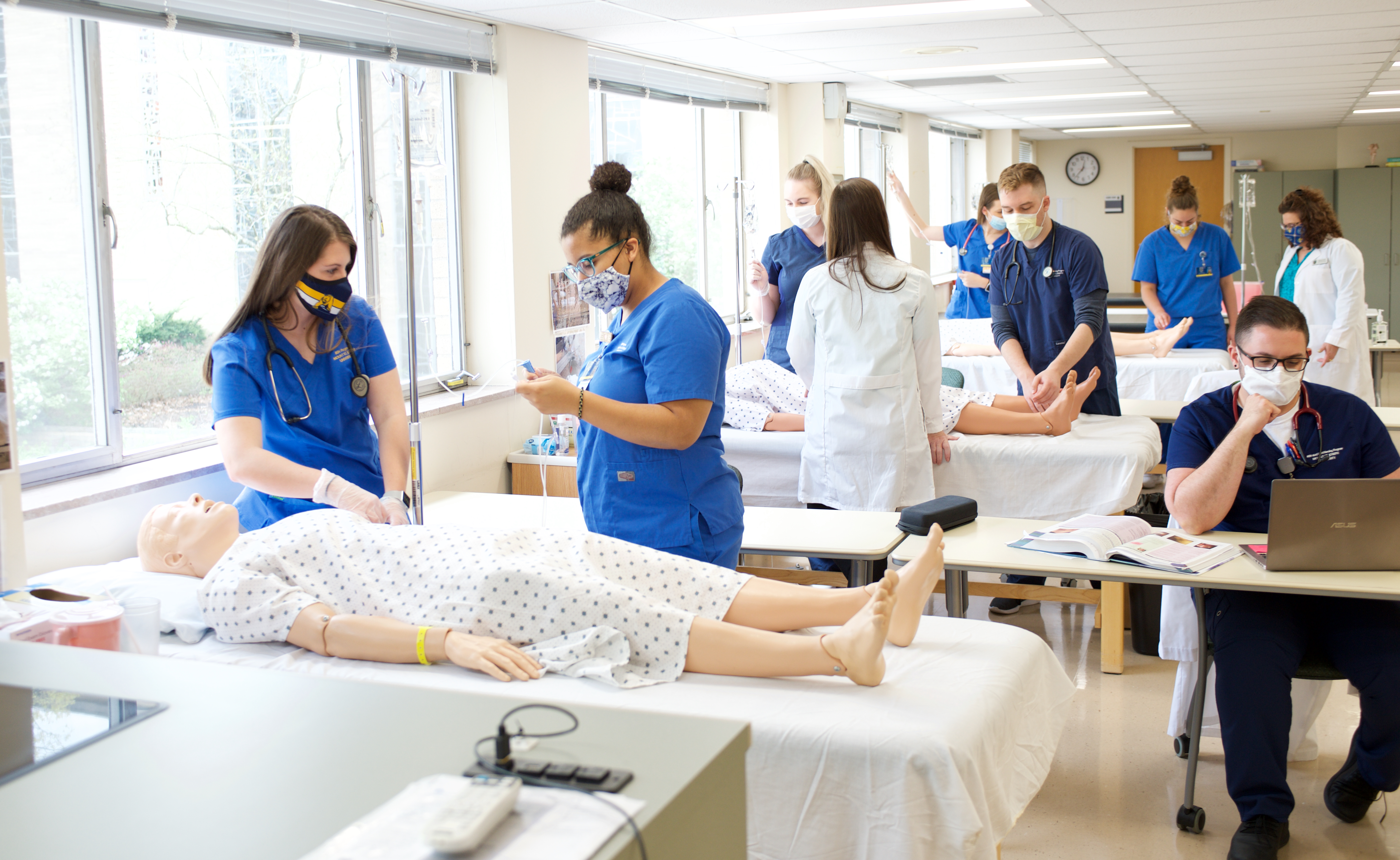 The Mount's Department of Nursing has been offering quality nursing education for over a century! The University offers a state-of-the-art nursing lab and simulation center to help develop students' skills in a practice setting that will better transfer to the clinical field. The Nursing faculty features highly qualified individuals that help produce well-prepared, knowledgeable, and caring graduates to enter the dynamic environments of the healthcare industry.
The BSN Bachelor of Science in Nursing program requires 95 credit hours in pre-clinical nursing courses, clinical nursing courses, and cognate courses. Featured courses include Anatomy and Physiology, Biochemistry, Chemistry, Psychology, Patient-Centered Nursing Care, Medical-Surgical Nursing, Family-Centered Nursing, Pharmacology, Leadership in Nursing, Microbiology, Health Care Ethics, and many more. The comprehensive classes mixed with labs and clinical experiences ensure graduates gain the necessary skills to become effective healthcare providers in a variety of medical fields. Another unique feature of the Mount's BSN program is that we offer direct admissions!
Below, Kerri Getz, the BSN Program Director, will discuss the Mount's BSN program and the benefits of direct admissions:
"While most nursing programs require undergraduate students to enroll in non-nursing coursework before applying to a program, the BSN program at the Mount offers direct admission to highly qualified applicants.
If applicants meet admission requirements, they may be offered a spot in the department's direct admit nursing program.  Provided they meet ongoing curricular course requirements, they can be assured they will graduate with a nursing degree in at least four years. The Mount's program offers direct admission to transfer students, adult first-students, and high school seniors following graduation from high school.
The benefits of the direct admit status are that students are in the nursing program from the beginning of their education, there are no waitlists for progression in the program, and students get an opportunity to connect with nursing faculty at their initial entrance to the University. Combined with 100 years of experience in nursing education and a well-respected reputation in the community, the Mount's direct admit program can help students achieve their career goals in a more efficient, stress-free path."
Interested?
If you are interested in a career in critical/intensive care, management/administrative nursing, maternal/newborn nursing, or pediatric nursing then the BSN program is the perfect fit for you!
Find Out more!
Find out more information by visiting the BSN Bachelor of Science in Nursing program page.
Apply now!
Applications are still being accepted for the BSN Bachelor of Science in Nursing program at Mount St. Joseph University for the fall of 2022. Apply now!