Mount St. Joseph University proudly announces the December "Pride of the Lions" are the Charlotte Schmidlapp Children's Center teachers!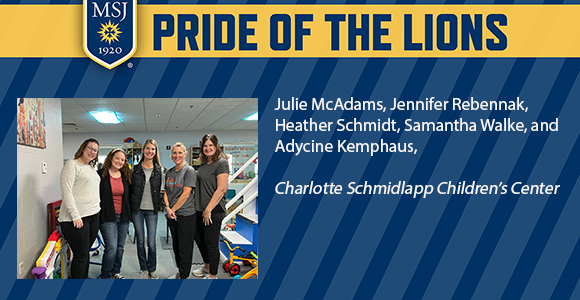 Congratulations to the teachers in the Charlotte Schmidlapp Children's Center, our December 2021 Pride of the Lions! Julie McAdams, Jennifer Rebennak, Heather Schmidt, Samantha Walke, and Adycine Kemphaus have truly modeled what it means to have the heart of a lion! Their work this past semester was done in the service of our youngest community members and was done with humility and grace. Indeed, they have embodied working for the common good.
They were there to meet the challenges that recent transitions brought about and were dedicated and committed to making sure the Center continued to operate as a place where children are valued, nurtured, and loved. Their good work allowed our University students to attend classes and our faculty and staff to continue their work at the Mount, knowing that their own young children were receiving great care. There is no doubt that our campus is a better place because of Julie, Jennifer, Heather, Samantha, and Adycine. Please join me, in thanking them for all they do for the Mount community!
Sincerely,
H. James Williams, Ph.D.
President