Mount St. Joseph University proudly announces the August "Pride of the Lions" is staff member Kristi Bengel!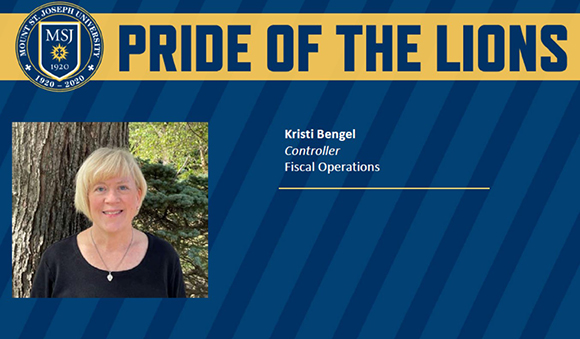 On behalf of the President's Cabinet, Mount St. Joseph University is proud to announce August's Pride of the Lions is Kristi Bengel. 
Starting at the Mount in 2010, Kristi serves the University as the Controller and the Department head of Fiscal Operations. Kristi works tirelessly to ensure the University's accounting and financial records are correct and the University meets its obligations from our banking partners, auditors, granting organizations, and governmental regulations.
In Kristi's words, she thanks her fantastic team for the success of the Fiscal Operations department.  Of special note this summer, Kristi navigated the changing rules of the HEERF program from the Department of Education, the increasing requirements of grants the University has recently been awarded, and new accounting standards.  The University's auditors recently completed the annual financial audit on time and under budget due to Kristi's work and with no audit findings.
Please join the Mount in celebrating Kristi's accomplishments and her outstanding service to Mount St. Joseph University!