From October 4 through November 7, 2021, The San Giuseppe Art Gallery features the Elizabeth Ann Seton: Life & Legacy Art Gallery Exhibition.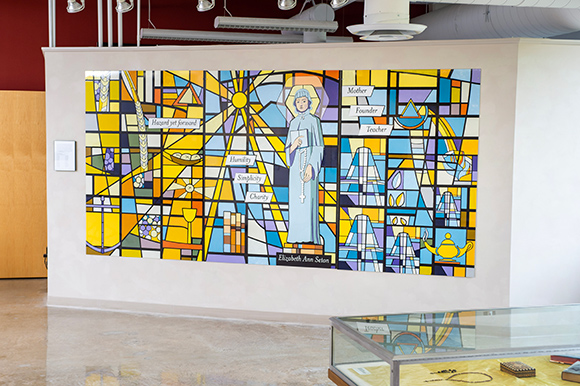 Mount St. Joseph University presents the Elizabeth Ann Seton: Life & Legacy gallery exhibition of works from October 4 through November 7, 2021 located in the Studio San Giuseppe Art Gallery, celebrating the life and legacy of Elizabeth Ann Seton.
Elizabeth Ann Seton led a dynamic life and served those around her despite countless challenges. She was a strong woman of firsts: founder of the country's parochial school system, and founder of the first American congregation of women religious – the Sisters of Charity, the congregation that established Mount St. Joseph University in 1920. The exhibit commemorates the 200th anniversary of St. Elizabeth Ann Seton's entrance into heaven.
Participating artists include the Sisters of Charity (Cincinnati), Seton High School, DePaul Cristo Rey High School, and the Art Guild at Mount St. Joseph University, a hands-on art making experience where members of the class complete public art projects both on and off campus.
"Sister Karen Elliott and Michelle Arnold from Mission Integration shared with me that they were planning a series of celebrations for this anniversary, and asked if I might have a few artworks in the gallery," says Velma Dailey, Studio San Giuseppe Art Gallery Director. "That initial request inspired me to develop an entire exhibition dedicated to Elizabeth Ann Seton. The highlights artifacts from the archives of the Sisters of Charity (Cincinnati), student works from Seton High School and DePaul Cristo Rey, and the Seton mural by the MSJ Art Guild."
Art Guild Brings the Mural to Life: MSJ Team Effort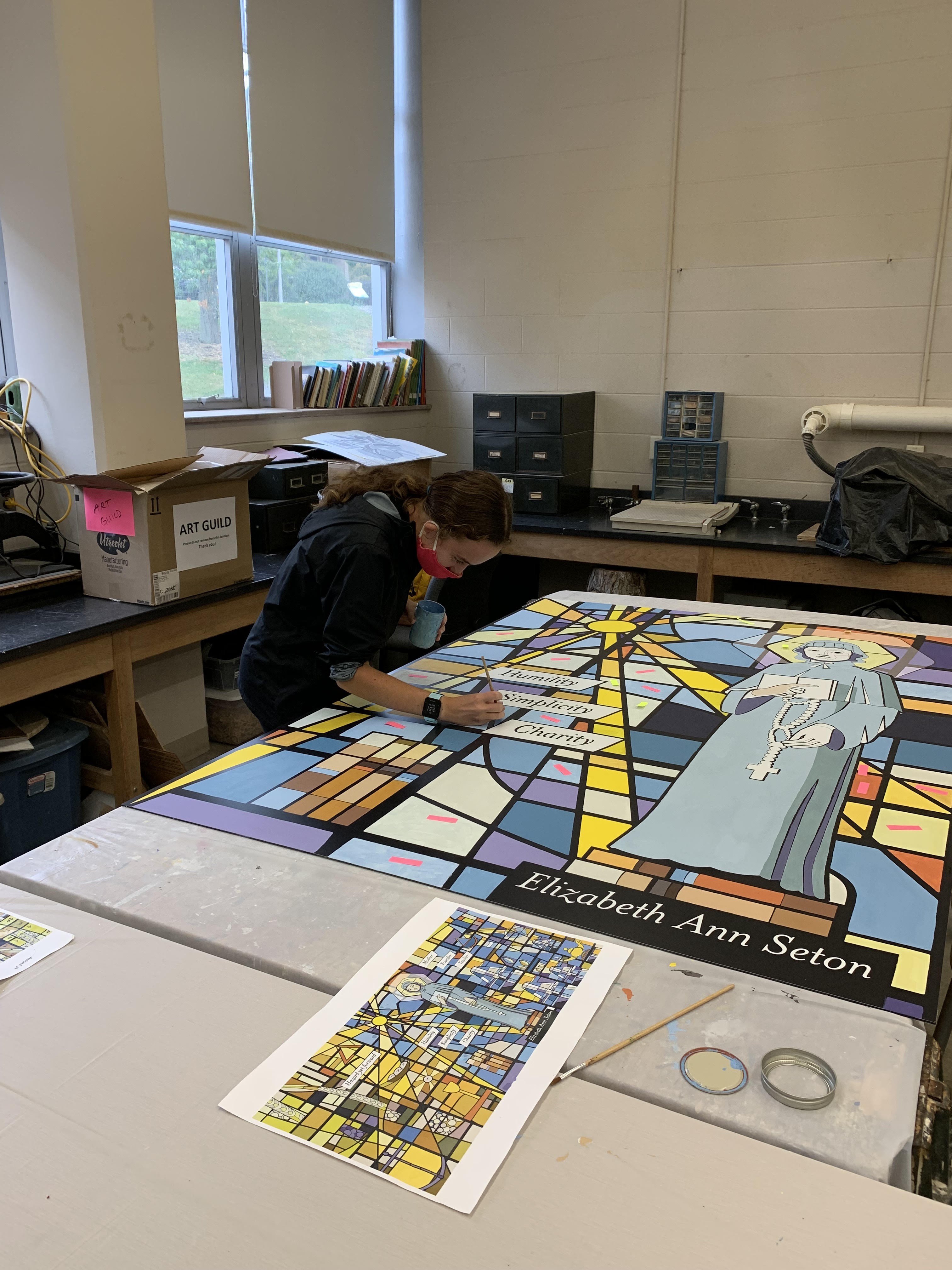 The Elizabeth Ann Seton mural, created by the MSJ Art Guild, was inspired by the desire to showcase the artistic commitment of MSJ students to the mission of the Mount as participants in the Seton exhibition.
After Dailey and Arnold took a walk over to the Mater Dei Chapel, inspiration struck for them drawn from the symbolism in the Chapel's artwork designed by retired faculty member Sister Augusta Zimmer and her art students. "The fact that Sister Augusta had such passion, vision, and commitment to the arts and education is a continual fire for me," Dailey reflects. "And this serves as a constant reminder and drive to encourage our current students to create amazing things that can leave such a legacy."
Dailey took digital photos of the stained glass windows in the Mount's Chapel, while Arnold provided guidance on significant themes of Elizabeth Ann Seton's life in choosing which symbols from the Chapel would be used for the mural.
"I took those photos and made a cut paper collage to lay out the mural design," says Velma. "I then handed it over to Kurt Grannan, Associate Professor of Graphic Design, who I team [co] teach the Art Guild course with. He spent hours turning the concept into a highly detailed digital design that could be printed and then painted by our students. All of our Art Guild students this semester jumped in with great enthusiasm to paint this mural. They spent hours each week during the month of September to bring this beautiful work to completion."
MSJ Arts Renaissance: Renewal of the Collective Arts on Campus
According to Dailey, the renaissance is a "rebirth" and "renewal" of the collective arts, including visual art/design, music, theatre, writing, and film at the Mount.  She shares a reflection on the historical artistic contributions on campus that continue to serve significance today, and the importance of continuing these endeavors to be seen on campus and within the community:
"I think it's most appropriate that now in the beginning of our next 100 years as an institution, we support and celebrate these artistic endeavors. The Mount was founded with the arts playing a pivotal role in both academics and in appreciation. The prime example of this significance is the Mater Dei Chapel and Bell Tower, which are our most identifiable icons of campus, throughout our history. The Chapel was created by current students at that time. How remarkable is that?! The students we serve and work alongside each day are so capable of doing really incredible things! We must continue to create opportunities to let our students shine. We must work with our students to create a lasting legacy that decades from now can tangibly be seen on our campus and in our communities. This is the continued legacy of Elizabeth Ann Seton and the Sisters of Charity."
Gallery Hours:
Monday – Friday, 10 a.m. – 5 p.m.
Saturday – Sunday, 1 – 5 p.m.
*Masks are required when inside the gallery. Admission is free, and parking is free in unreserved spaces. 
For more information on MSJ art programs, visit the Department of Art & Design to learn more.