Mount St. Joseph University graduate Kristina Sattler was one of just 11 students nationwide selected for NASA's prestigious Space Life Sciences Training Program (SLSTP).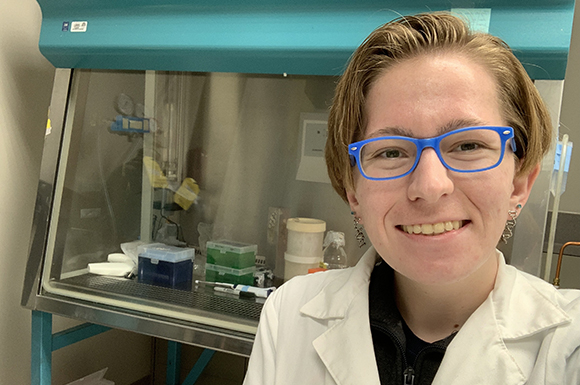 CINCINNATI – A Mount St. Joseph University graduate was one of just 11 students nationwide selected for NASA's prestigious Space Life Sciences Training Program (SLSTP), where she virtually studied and performed research with scientists at NASA's Ames Research Center in California's Silicon Valley.
Kristina Sattler, a Delhi native who graduated summa cum laude from the Mount this year with a degree in biology and is now pursuing a Doctor of Philosophy in Molecular, Cellular and Developmental Biology at The Ohio State University, worked over the summer as a NASA intern studying the effects of spaceflight and radiation on the central nervous system.
"When I was offered a place in the selective NASA program, I was beyond ecstatic," Sattler said. "I think at some point every kid dreams of working with NASA, so it was definitely a dream come true. Speaking to friends at other schools, the amazing experience I had at the Mount is unheard of anywhere else."
Sattler was among students from Cornell, Tufts, UCLA, Clemson, Embry-Riddle Aeronautical University and other universities selected for the internship. Originally planning on studying pre-physical therapy at the Mount, Sattler found her passion for research while working in the lab of Dr. Kelly Crowe, Assistant Professor of Biology at the Mount.
"Kristie is a remarkable student," Dr. Crowe said. "In addition to being academically gifted, she is hardworking, scientifically curious, and passionate about biomedical research. During her time in my lab, she has earned authorship on scientific manuscripts, written and received research grants, and presented at both local and national conferences, all while being a departmental lab assistant, an academic tutor, and president of our biology honor society. She is certainly not afraid to take on new challenges."
The objective of the NASA program is to produce technically skilled scientists and engineers with the potential to become leaders in the U.S. space program by providing a glimpse into the many disciplines that are required to conduct biological research in space.
Sattler's first exposure to research was in working with Dr. Crowe, who had received a grant to work on finding a therapeutic biomarker - which is a method of assessing treatment efficacy - for the rare muscle disease GNE Myopathy.
"I worked with Dr. Crowe for over two years, and having that experience has allowed me to more comprehensively understand the world of biomedical research, not only in the lab, but in the classroom as well," Sattler said. "Between learning new research techniques and gaining a deeper understanding of biology, I absolutely fell in love with the work that we were doing. I loved the way that this area of science challenged my critical thinking, problem solving, and communication skills in a way that I had never been challenged before."
Sattler gives the Mount credit for her academic success and for providing the opportunities for the education and career path she is now taking.
"I grew up a grand total of three minutes down the road from The Mount, and my whole life I envisioned myself coming to the Mount," she said. "I was interested in biomedical science from a young age but didn't know which specific area I wanted to go into. As I went through my entire school career, I learned about many of the incredible career opportunities that were available in the field of biology. I wanted to find something in which I could combine my interests in human biology and my love of learning new things, and I feel I have found that in biomedical research."
Dr. Crowe said that the small size of the Mount allows for individual mentorship of students that can truly accelerate their growth as scholars and prepare them for top-tier, external opportunities such as the NASA research program.
"The Mount may be a small school, but our students have access to tremendous opportunities outside of the classroom," Dr. Crowe said. "We have many exciting research programs at the Mount, and our faculty are passionate about involving undergraduate students in our projects."
Sattler agrees that the Mount's size can be a distinct advantage for students.
"I don't feel that I would be able to refine my interviewing skills, research skills, and scientific communication skills if I hadn't worked so closely with a professor," she said. "The Mount has given me the opportunity to personalize my education to my desired career path, which has been fantastic."
What advice would Sattler have for incoming or current students?
"Don't be afraid to try something new," she said. "Take that chance. Get involved with something, even if it isn't something you're very interested in pursuing as a career. When doing so, you may find the thing that ignites a passion that you never would have been able to discover without taking that chance."
About the Mount St. Joseph University
As a Catholic institution rooted in the values of the Sisters of Charity, Mount St. Joseph University excels at serving the common good. Undergraduate, graduate, and doctoral students at the Mount are inspired to think beyond the classroom and redraw the bounds of what's possible for their futures. This is accomplished through individualized educational experiences, a safe, secure campus environment, and an all-in commitment from faculty and staff to seeing students reach their highest potential. The Mount fosters life-long learners who serve, care, and contribute to the world beyond their front doors. To find out more visit: www.msj.edu
###