This year, Charlie Wrublewski was acknowledged and celebrated for his 40 years of hard-work and faithful service to Mount St. Joseph University.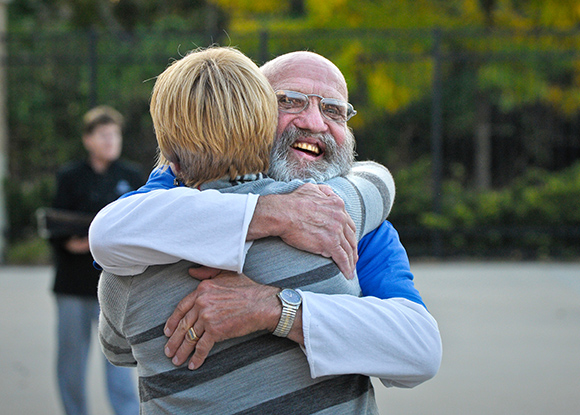 Greeting many who walk through the Mount's entrance doors with a genuine smile and hello, it's easy to spot campus treasure, Charlie Wrublewski, Set-Up Leader in Auxiliary Services who makes a difference in the lives of the people he serves every day.
Hired in 1980, the Mount celebrates Charlie's integral part of the Mount's history for 40 years.
Serving under four different University presidents, Charlie was hired to work at The College of Mount St. Joseph on the Ohio, which changed to College of Mount St. Joseph, and finally, to Mount St. Joseph University. His genuine care for people is what connects him with current students, alumni, faculty, and staff.
"One memory I can share about Charlie is that early in my career, I can remember him collecting pop cans (aluminum) and using the money to buy additional chairs and tables for events," says Peggy Minnich, Dean of Admission. "Charlie has been a part of the Mount's history as we have grown and evolved from being a women's college to becoming co-ed. Charlie is also known to be a campus ambassador, finding guests that are lost and helping them find the correct office or event."
Whether it's helping guests navigate to the correct campus spot with a warm smile, or managing setting up for an event, Charlie surely takes great pride in getting jobs done correctly, and engaging in friendly banter with anyone in his presence. In 2016, he received the Champion Award at the Athletic Hall of Fame for his impact in the Athletics Department, setting up for events and attending games to support student athletes. He has acted as an ambassador and liaison with visiting teams for locker room assignments, and any other needs within the department.
"Charlie is oriented toward getting the job done and not the time it takes to complete," says Steve Radcliffe, recent MSJ retiree as the Director of Athletics. "If you called him about a need and he was at home, he would promptly come to campus even if it could be worked out another way. He takes great pride in his quality of work."
According to Radcliffe, spending time with Charlie during athletic events was always special. He is a supportive fan who lives out the MSJ mission through his concern for others and lending an ear for anyone who needs it. "Charlie is a true servant, and revels in providing service," says Radcliffe. "He lives the mission every day, and is very respectful of everyone. I don't think you could find anyone at the Mount who doesn't respect Charlie for his work ethic, service, attitude, and concern for everyone over himself."
Thank you, Charlie, for your service at Mount St. Joseph University for 40 years!