Through her diligence, values, and commitment to the nursing community, Lee Ann Ernst demonstrated a Heart of a Lion in the face of hardship and of victory during COVID-19.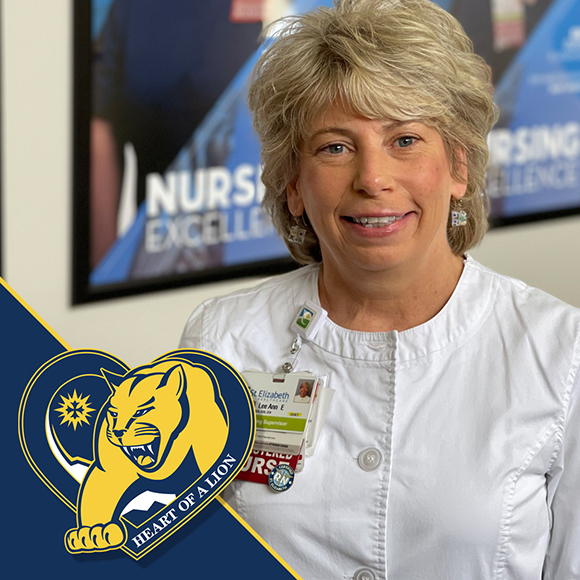 Lee Ann Ernst knew since grade school that she wanted to work within the medical profession, but was still discovering her calling. Growing up in a large family, Lee Ann learned that it felt natural to care for her family, and to minister to the needs of others.  Throughout her childhood, other relatives had illnesses and hardships as well as celebrations and joys. Each event was shared as a "family." The roots of caring grew deep.
Graduating from Northern Kentucky University as an RN in 1982, Lee Ann's journey had only begun for a lifetime of rewarding and fulfilling service to patients and their families.  After receiving tenure at St Elizabeth Healthcare, Lee Ann received an opportunity to participate in a cohort group and return to school for a Bachelor of Science in Nursing degree at Mount St. Joseph University.
"The value of this opportunity is immeasurable," says Lee Ann. "Being at MSJ felt so right. The curriculum was perfectly designed to further my ability to work in other areas and opened doors for enhanced growth in my career. The environment at MSJ was amazing and solidified the difference between right and wrong during an age where things can become cloudy. The modeling by the faculty that lived the lives they were teaching was reassuring that the best road is not always the easiest."
Furthermore, Lee Ann has been blessed with many opportunities since beginning her career, including facilitation of the Parish Nurse program at St. Agnes, delivering presentations at Baptist Hospital in Louisville and The Christ Hospital in Cincinnati, as well as teaching CPR classes to many community groups.  Lee Ann currently serves on the board at Care Net Pregnancy Services of Northern Kentucky, where mothers and fathers of unplanned pregnancies are given support to choose life.
Most recently in her career, Lee Ann faced a tough challenge at hand, as she was granted the opportunity to lead the Infectious Disease Response Team (IDRT) throughout the 2020 COVID-19 Pandemic.  The IDRT was born in 2015 during the Ebola threat. The team has staff from all areas including nurses, respiratory therapists, radiology members, environmental services, lab personnel and doctors. The team had been meeting five times every year to stay trained in the ability to care for a Highly Infectious Disease (HID) patient whether it be Ebola, COVID, or anything else.
Once the pandemic broke out in early March, the team was called in and started caring for some of the first COVID-19 patients in the tristate.  They worked long and tiring shifts for weeks and months on end. The team and all members grew together like a family sharing in all the joys and trials of each day and yearned for an end. 
Through diligence, values, and commitment to the community, Lee Ann and her team demonstrated a Heart of a Lion in the both the face of hardship and victory.
"The team is a wonderful group of dedicated professionals and supported by the entire St Elizabeth Healthcare organization," says Lee Ann. "We had many victories taking care of the COVID patients. We had several losses too. We grew from the original team to be able to care for the large numbers of patients that we had.  Eventually other employees were taught the IDRT skills and were able to take over for the team enabling the original members to go back to their families and full-time positions."
Since graduating, Lee Ann reflects on the value of her Catholic education throughout her life and at the Mount. "I learned how to study, write, and how to assess situations.  I learned about loving and perseverance.  All these values and more are part of me that were fostered at MSJ and have sustained me throughout my life voyage."
To view more of Mount St. Joseph University's Heart of a Lion stories, visit Heart of a Lion to read personal accounts of overcoming, defending, and of daring to risk a caring response.