Thousands around the nation have heard her compelling story. Today, Mount St. Joseph University celebrates the life and legacy of Lauren Hill, a remarkable young woman who made a lasting impact on Mount St. Joseph University, and the world.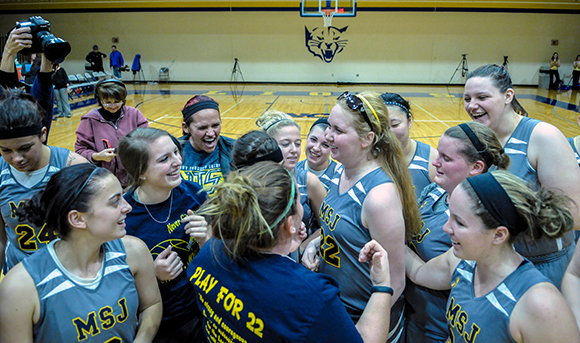 As we remember Lauren today, we remember her courage, strength, and determination. Through her efforts to raise funds and awareness six years ago for pediatric cancer combined with a passion to play her heart out in basketball with only a few months left to live, Lauren became a basketball hero.
Though she appeared in just a handful of games, Lauren's determination to keep fighting for her cause made a lasting impact during her brief time as member of the MSJ Lions before passing away in April of 2015 from Diffuse Intrinsic Pontine Glioma (DIPG), a rare and fatal pediatric brain tumor. She was only 19 years old.
With little research completed on the disease, Lauren believed her purpose in this world was to give a voice to those with DIPG who cannot speak for themselves of their experiences. She raised over $1.7 million for The Cure Starts Now, and to date, over $2.5 million has been raised in her honor.
Honoring Lauren Hill's Legacy
In honor of Lauren Hill, the Forever 22 Scholarship fund was established for Mount St. Joseph University students in 2015. This scholarship fund awards students who exemplify the spirit of Lauren and the accomplishments of her life.
Senior Anna Schoster received the Forever 22 Scholarship this year. "Receiving the scholarship is extremely meaningful," says Schoster. "These last few months have been difficult with my dad's passing.  Fortunately, we have an amazing support system that has helped us out tremendously.  The support I have received from the Mount has been no different. Students and staff have all been kind, understanding, and respectful. Receiving the scholarship on top of all the love and support is overwhelming. I cannot begin to truly express how grateful I am for the MSJ community and the scholarship."
If you would like to give to the Forever 22 Scholarship Fund, choose "Forever 22 Scholarship - Lauren Hill Memorial" in the designation. Mount St. Joseph University extends gratitude and thanks for your contribution.