Mount St. Joseph University has formally unveiled the Centennial Field House & Austin E. Knowlton Fitness Center.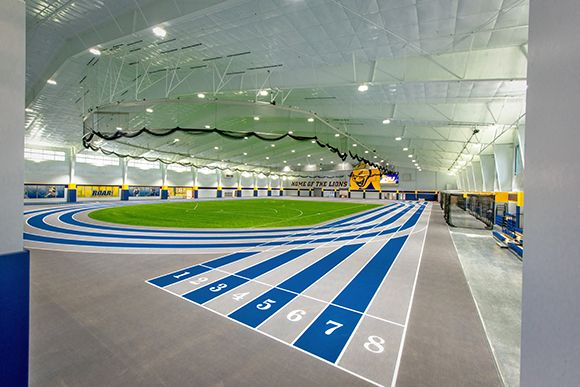 MOUNT ST. JOSEPH UNIVERSITY
FOR IMMEDIATE RELEASE
Contact:
Greg Greene
Communications, Mount St. Joseph University
ggreene@strategicadvisersllc.com
859-380-8303
CINCINNATI - Mount St. Joseph University has formally unveiled the Centennial Field House & Austin E. Knowlton Fitness Center, an $18 million state-of-the-art facility that will provide indoor practice space and a wide range of recreation and fitness opportunities for the entire student population.
"This spectacular field house is about more than just a new building or simply expanding the Mount's campus," said Mount President H. James Williams, Ph.D. "It is a distinct example of how the Mount always focuses on students first, the student experience and creating a vibrant campus environment."
"The whole notion of this facility is to ensure that students have what they need so they can continue to develop themselves, not just mentally and spiritually, but also physically," he said.
In addition to featuring a 200-meter, six-lane running track that is the only indoor NCAA regulation track in the region, the two-level, 86,000-square-foot facility includes:
Free-spanning indoor exercise and training space to accommodate all intercollegiate athletics.
The latest in workout and exercise equipment, including treadmills, stair climbers, stationary bicycles, and elliptical and rowing machines.
Spacious locker rooms for the Mount baseball team and separate locker rooms for the men's and women's track and field teams.
Batting cages.
A full tennis court.
An indoor turf field.
A multi-purpose area for fitness activities including yoga, cross-training, and dance.
Sustainability and energy-efficient features, including a rooftop photovoltaic panel system, low-flow plumbing fixtures, large windows that incorporate natural light and an electric-vehicle charging station.
It was during a 2017 visioning session that involved students, faculty, staff, leadership, alumni, trustees and community representatives that a recreation and fitness center to serve all students - as well as a means to grow enrollment and institutional identity - was identified as a critical need.
"Today, 60 percent of freshman express an interest in athletics and 44 percent of students stay involved in one of the Mount's 21 NCAA Division III sports teams, and that's not including those who participate in club and intramural sports," Dr. Williams said. "When prospective students and student athletes visit our Field House, they will know the Mount is on the rise and dedicated to delivering a world-class education in state-of-the-art, on-campus facilities."
Mount Athletic Director Melanee Wagener said the Field House will be a major boost for athletics.
"The Centennial Field House will play an important role in Mount St. Joseph athletics by helping us recruit student athletes and through providing state-of-the-art facilities and equipment for training and practice," Wagener said.
The last two major campus construction projects at the Mount - The Sr. Jean Patrick Harrington Student Center in 1998 and the outdoor sports complex in 2004 - each led to significant enrollment increases and enhanced the vibrancy of the campus environment, Dr. Williams said.
The Field House is the first bold step of the University's Transformation 2025 plan, a long-term strategy that is designed to embrace, augment, and amplify the Mount student experience, boost enrollment and fundraising, and improve the University's outcomes to ensure that graduates are well-prepared for the 21st century careers and leadership opportunities.
"Transformation 2025 lies at the heart of who we are and everything we do here at the Mount," Dr. Williams said. "The ultimate goal of this strategic vision is to provide unprecedented student learning experiences that in turn prepare our graduates to make meaningful impacts on the world."
About Mount St. Joseph University
As a Catholic institution rooted in the values of the Sisters of Charity, Mount St. Joseph University excels at serving the common good. Undergraduate, graduate, and doctoral students at the Mount are inspired to think beyond the classroom and redraw the bounds of what's possible for their futures. This is accomplished through individualized educational experiences, a safe, secure campus environment, and an all-in commitment from faculty and staff to seeing students reach their highest potential. The Mount fosters life-long learners who serve, care, and contribute to the world beyond their front doors. To find out more visit: www.msj.edu.
 ###
To view the feature on Local 12, click here: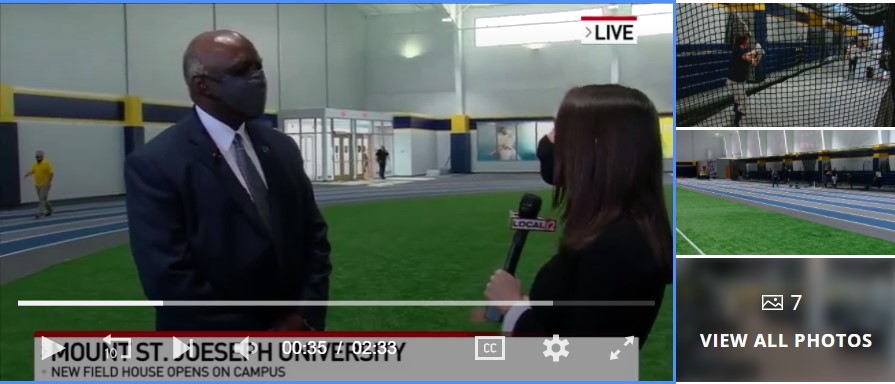 To view the feature on Cincinnati Business Courier, click here: