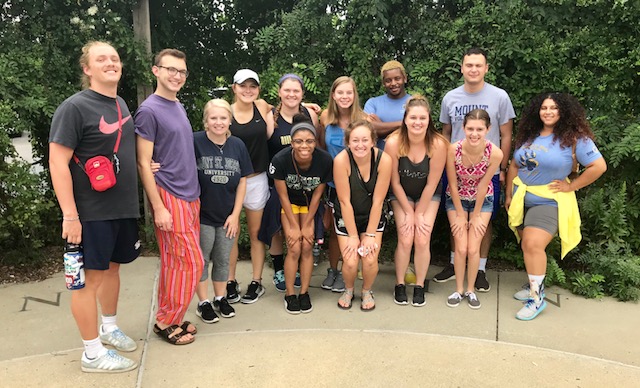 By living on campus, students benefit from everything university life has to offer. From being within walking distance of classes and academic resources to making life-long friends, students living in the residence hall get the true college experience.


Research shows college students that live on campus experience the following in comparison to those that live off campus:
Higher rates of retention, persistence, bachelor's degree attainment and graduate school entry.
Higher grade point averages.
Higher levels of participation in co-curricular activities, promoting their professional development and marketability to employers.
Higher levels of interaction with faculty and peers.
Higher degree of satisfaction with the college experience.


Seton Residence Hall has the capacity to house over 500 students in rooms that range from single and double rooms in traditional corridor-style hallways to suites for two, three, or four residents. All full-time undergraduate and graduate students are eligible to live in the Seton Residence Hall. 


Students living on campus can get involved by participating in floor events, becoming a member of Residence Hall Council or becoming a Resident Assistant among many other opportunities. 


Move-In Days
Move-In Days are an exciting time to get comfortable in your new home at Mount. St. Joseph University. Information coming soon!
Housing Application
First year (freshmen) and transfer students must apply for housing through their admission application portal. RETURNING STUDENTS - INFORMATION COMING SOON to your MSJ email! 


What to Bring
Are you ready to go off to college? Find out what to bring to your residence hall room at Mount. St. Joseph University.


Renters Insurance
We highly encourage our residents to have renters insurance. Our partner NSSI/Worth Ave. Group provides affordable rates to students at https://www.worthavegroup.com/email-marketing/CPStudents-EmailHost/LIVE/index.html.


Requesting a Housing Accommodation
Students requesting a housing accommodation should share what specific needs they have in the residence hall. All housing accommodations will be reviewed by the Office of Residential Life and be on a case-by-case basis in order to meet the needs of each student. Please email residence.life@msj.edu with your housing accommodation requests. 


Disability Information 
If you have a disability that requires a special room assignment, you must be registered each year with the Director of Learning Center and Disability Services, located in The Learning Center, SET 156. Please contact the Director at 513-244-4524.