Graduate student Rachael Bauer '25 thanks God and Mount faculty for getting into the MPAS program after three hard-fought attempts.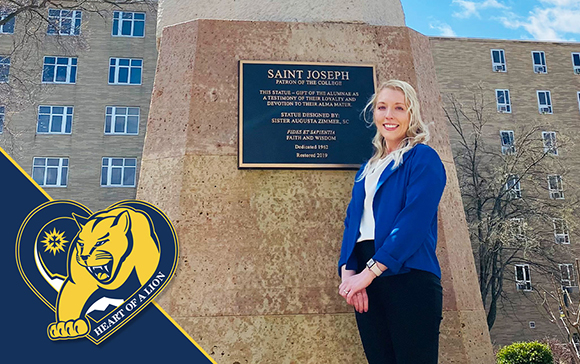 Rachael has had a passion for science for as long as she can remember and, on top of that, has always felt compelled to take care of others. This is why she decided to go to the Mount to pursue higher education. The mix of quality education and moral values is mainly what drew her.
"I initially chose the Mount for its mission and vision—specifically the quality and emphasis on bringing out the compassion and empathy in the students," says Rachael. "In health care, this is an important expectation for me."
The question at this point for Rachael was which part of the healthcare field she wanted to enter. Where she ultimately received direction in this regard could not have been more unexpected.
In her black-belt Tae Kwon Do class, she expressed to one of her peers, who happened to be a pediatrician, her interest in the medical field. Her friend mentioned that she wished she had become a physician assistant, or a PA, instead because it would have made her life easier. Since then, Rachael committed to the idea of becoming a PA, where she could actualize her goal to help people without getting bogged down or burnt out by clinical tasks.
Rachael then decided to apply for the Master of Physician Assistant Studies (MPAS) program at the Mount. However, the first time she applied, she was rejected.
"My experience that lead me to The Mount has been nothing short of insurMOUNTable," quips Rachael. "Being a first-generation college student is the commencement of my journey. This adversity provided me with what I personally think is one of the most important opportunities: failure. But being a physician assistant is my personal calling from God."
Believing that she was meant to become a PA, Rachael applied a second time and was rejected again. But each time she faced these rejections, she grew wiser and more determined to get into the program. By the third time she applied, she was finally accepted, but she doesn't credit herself.
Having prayed to St. Joseph, Rachael also asked God each time why she was denied, knowing that there was a predestined plan for her life. Her prayers finally paid off when she began her higher education at the university she knew she was supposed to be attending.
"The only school I could have ever imagined attending to receive my education as a PA was here at MSJ," says Rachael. "I didn't lose hope or stay discouraged too long because when I reached out to the MSJ faculty for support and guidance, they went above and beyond to help me. I mean it when I say every single person you run into at this university wants you to succeed."
Rachael benefited enormously from the Mount's faculty, internalizing every bit of advice and guidance she was given. Through constructive criticism from her mentors, she felt that she began tapping into her full potential not only as a qualified PA but as a devoted and sincere scholar as well.
Professor Patrick Cafferty was instrumental in helping Rachael remain tenacious about getting into graduate school with a single, sage piece of advice: "If you fail, you learn something; when you learn, you become more confident." For Rachael, this idea became true the more she reassured herself that failure is a learning experience—and that it made her stronger. Each of her mentors, including Cafferty, bolstered this self-confidence.
"They are all immaculate," Rachael praises the MPAS faculty. "Every single one of them. I know them all by name, (they also know all of our names) and each one of them has helped me learn more than they could ever imagine."
Now officially a part of the MPAS program, and on the road to earning her Master's degree, Rachael hopes to potentially work at the Mount one day to inspire others to be bold and refuse to give up. For her, cultivating that gritty, unshakable quality can lead people to the most important opportunities of their lives.
Rachael's status as a first-generation college student only adds to the impressiveness of her journey. By demonstrating how far one can progress in his or her educational voyage, even for the first time in one's family, Rachael gives others hope that they can accomplish anything—especially through passion, prayer, and a relationship with God.
​"I defer to one of my favorite quotes from Mother Teresa," Rachael says about God's role in her life. "'I am a little pencil in God's hands. He does the thinking. He does the writing. He does everything and sometimes it is really hard because it is a broken pencil and He has to sharpen it a little more.'" What better way to sharpen God's purpose/plan for me than to earn an education and ultimately utilize it to serve others in need on a deeper level than I could ever imagine?"
______________________________________________________________________________

About our MPAS program
The MPAS program is a 27-month graduate program with 12 months of classroom training including anatomy, physiology, pharmacology, clinical medicine, genetics, diagnostic lab, EKG, physical exam, and clinical skills.
The Class of 2022 had a 100% graduation rate!
Interested in learning more? Check out our MPAS program page here!