Mount St. Joseph University (Mount) is thrilled to announce that it has been recognized as a "Great College to Work For" for the fourth consecutive year by the prestigious Chronicle of Higher Education's 2023 survey.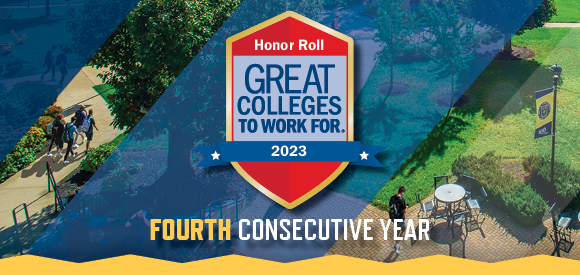 CINCINNATI, Oh. - This accolade acknowledges the Mount's commitment to a high-performance and inclusive workplace that values the contributions of each employee and fosters professional and personal growth.
"We are incredibly proud to receive this recognition as a 'Great College to Work For' for the fourth year in a row,'" said President of Mount St. Joseph University, H. James Williams, Ph.D. "At the Mount, we recognize the vital role of our talented and dedicated faculty and staff in the success of our institution. This award is the result of our success in creating a work environment where all employees thrive, develop, and achieve personal and professional goals."
The Chronicle of Higher Education's "Great Colleges to Work For" program is one of the most respected and comprehensive workplace recognition programs in the nation. It recognizes institutions that excel in various aspects of workplace culture and highlights the best practices and policies that make them exceptional. In 2023, the Mount was named in the top tier of the program's categories.
"We take pride in our culture that values diversity and innovation, and provides numerous internal and external opportunities for our workforce to enhance their talents," said Teri Compton, the Mount's Chief Human Resources Officer. "This award reflects the contributions and creativity of our entire Mount Community."
Chief Mission Officer, Sister Karen Elliott, C.PP.S. added "DEI is literally, in Latin, the word for God. The mission of the Mount calls us, in fact, compels us, to honor the dignity of every person. By living our mission, we create a culture of belonging among our faculty and staff that differentiates the Mount experience from other workplaces."
This recognition is based on the results of a comprehensive survey conducted by ModernThink LLC, an independent research and consulting firm. The Mount has demonstrated excellence in nine categories:
Job Satisfaction & Support

Professional Development

Mission & Pride

Supervisor/Department Chair Effectiveness

Confidence in Senior Leadership

Faculty & Staff Well-being

Shared Governance

Faculty Experience

Diversity, Inclusion & Belonging
About the Mount
As a Catholic institution rooted in the values of the Sisters of Charity, Mount St. Joseph University excels at serving the common good. Undergraduate, graduate, and doctoral students at the Mount are inspired to think beyond the classroom and redraw the bounds of what's possible for their futures. This is accomplished through individualized educational experiences, a safe, secure campus environment, and an all-in commitment from faculty and staff to inspire students to reach their highest potential. The Mount fosters life-long learners who serve, care, and contribute to the world beyond their front doors. 
###