As Communications Coordinator for the nonprofit organization Price Hill Will, Charniqa Stephens Davis bridges the gap between individuals in need and life-saving resources.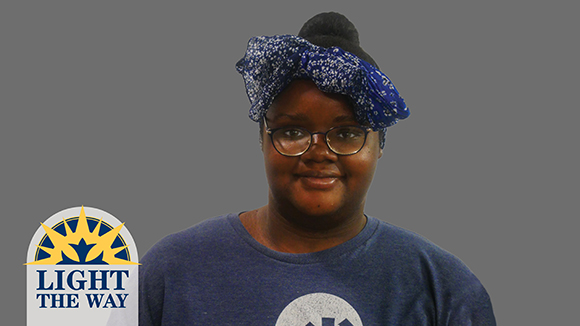 Charniqa Stephens Davis spent the entirety of her childhood living in the neighborhood of Price Hill—about a ten-minute drive from the campus of Mount St. Joseph University.
After the primary school she was attending closed in her fifth year, she transferred to the private Catholic school, Resurrection of our Lord, for her final years of grade school. It was here that Charniqa received the life-altering gift of a scholarship to Seton High School, a prestigious institution that she never thought she would have the means to attend.
"What's really cool about Seton is the dedication to community service, volunteering, and bonding," said Charniqa, who quickly grew to love her new environment.
After suffering a loss in her family, Charniqa's support system at Seton was there for her. "Not too long after the school started, Seton held a big sister event where students could bond with one another. We shared so many personal stories, and I was able to pour out all the pain I was feeling about the loss of my dad with strangers that I became close to at that moment."
"There were so many opportunities for us to venture outside of the classroom, take the lead on things, and take up space in places where women are viewed as small. This is so important."
After finishing out her high school education at Seton, Charniqa enrolled at Mount St. Joseph University as a Communications major. In 2019, she was offered an internship position with the nonprofit organization, Price Hill Will. As a result of the skills she practiced during her education, this internship would eventually blossom into a full-time position after graduating in 2021.
Bridging the Gap
Price Hill Will is a nonprofit organization that focuses on overall community development within Lower, East, and West Price Hill. They help to provide affordable housing to families, as well as engagement opportunities with the arts and education. Both of these aspects of the nonprofit blend together to enhance the quality of life for Price Hill residents.
Charniqa's role as Communications Coordinator for the organization helps to not only spread all the impressive work they are doing, but also finding even more residents they can provide resources to.
"There are so many opportunities to meet new people and work with our community partners to make a difference," Charniqa expressed. "It's very rewarding!"
To concentrate their efforts, Price Hill Will has several dedicated programs within the organization. For example, the Homesteading Program provides safe and affordable housing to Price Hill residents and has currently impacted twenty families. Instead of forcing low-income residents to figure everything out on their own, Price Hill Will acts as a helping hand in every aspect of housing.
In terms of community development, the MYCincinnati music education program excels. Their mission is to use ensemble structured music as a vehicle for growth and engagement, specifically targeted to the youth in Price Hill. The program provides free and high-quality music education to over a hundred students currently, which will continue to set them up for success.
Charniqa works to promote these programs to help Price Hill residents, in addition to coordinating fun, arts-focused events for the community. "We recently held our 8th annual Price Hill Music Festival," explained Charniqa.
The past festival welcomed over sixty professional musicians and over 300 guests—an impressive turnout for any festival in suburban Cincinnati.
"My feet hurt from running around taking photos, setting up and tearing down chairs, but seeing so many people experience music with each other—singing, dancing, and just enjoying each other's company was so rewarding," she said. "It's crazy to think that our staff of less than twenty people executed such a big event."
"All of these events require teamwork and when they're over, it always feels good to say, 'We did that!'"
Practicing Positive Self-Talk
Charniqa firmly believes that if it were not for the people she has met along the way, she would not be the person she is today.
"Lisa Crews [Communications & New Media Studies chairperson and professor] and Tifani Winkfield, Venue & Marketing Director at Price Hill Will, always encouraged me to think and speak better of myself," said Charniqa, "to understand my flaws and have confidence in my abilities to grow without holding them back."
These two individuals, along with many others, propelled Charniqa into success in her role at Price Hill Will. Through loving and believing in herself, she has in turn been able to teach others to believe in themselves as well.
"All tasks, no matter how big or small, make a difference and there are so many people who rely on what we do. So, I always do my best because I have a team who relies on me and they have people who rely on them!"
---
Our Communications & New Media Studies major offers a vast range of courses and opportunities—all aiding in gaining experience in speaking, writing, and collaborating to prepare them for success in careers, communities, and personal lives.
To learn more, please visit our department page here.