Alyssa Baker had a hard time adjusting during her freshman year—until she found a special cause to dedicate her efforts towards.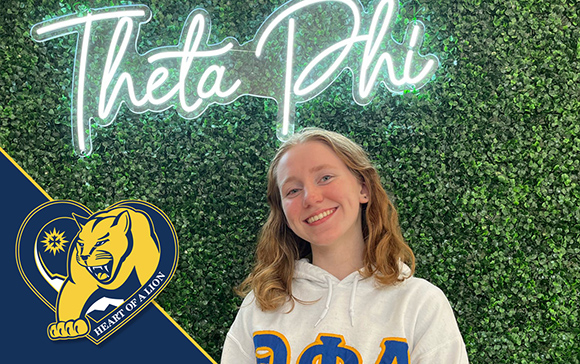 Entering her sophomore year in Criminal/Forensic Psychology, Alyssa had an endless fascination with helping and understanding others, especially within the criminal realm.
"At the age when little kids pretend to be things like doctors or a chef, I would set up a table and a sign that said 'psychiatrist,' and made my family schedule therapy appointments with me," Alyssa reminisces. "I've just always known I wanted to do something to help others, and one of the things that really interests me with criminal psychology is the stigma of mental illnesses within the criminal population."
Passionate and ready to expand her learning within the field, Alyssa entered the Mount last year to pursue her degree in Criminal/Forensic Psychology—But, she didn't feel a sense of home right away as she had hoped, especially as a commuter student. Building connections was difficult, and as a result, she felt isolated.
"I had a hard time adjusting to college and feeling like I was a part of the community, when the only thing I was ever on campus for was classes," she says.
One day, Alyssa remembered talking to an MSJ acquaintance from her high school who was also a student in the MSJ sorority—Theta Phi Alpha. Alyssa decided to reach out, and she instantly clicked with the chapter upon meeting them.  Before long, she was initiated the following November. 
"That sense of belonging was important, and it was relieving to find a group that made the Mount feel like home. Before that, I was really conflicted about where I should be and what I should be doing, and all of that settled once I joined Theta Phi."
Uplifted Spirits in Theta Phi Alpha
From here on out, Alyssa began to find comfort in her college experience. Theta Phi Alpha embraces six values: Justice, Wisdom, Honor, Faith, Loyalty and Truth.
As Alyssa assimilated to the chapter, she found each member strongly exhibits these values, all in unique ways—especially loyalty which runs high based on each other's steadfast support. Some of her favorite past times bonding with the chapter took place in New Member Education.
New Member Education is a 5-6 week timeframe before students become officially initiated as a 'New Member,' where they learn the inner workings and expectations of the chapter in-depth. Alyssa specifically recalls a memory within her first semester where she felt completely at home with the group.
"One week, multiple people weren't doing too well and it was also starting to get a little cooler out since it was October, so our now-President (who was a member of my initiation class) wanted to make hot chocolate for everyone. So, the two of us left during New Member Education, went to the dorms to get everything for the hot chocolate, and then tried to make some. We weren't able to find any way to make hot water, so we ended up just trying to microwave cups of water. It was a fun night, and we cheered everyone up by having what we now refer to as our 'Lukewarm Chocolate.'"
The ability to live in the moment and have fun with caring people while tending to necessary duties and expanding her leadership skillset made all of the difference for Alyssa in advancing the mission of Theta Phi Alpha.
"It was one of the times I really knew that, while Theta Phi is technically a business and we have responsibilities and tasks to accomplish, we can do those things while still having a good time and lifting each other up," says Alyssa. "Being in the group truly is like the kinds of relationships and memories you would have with actual siblings."
All within her first year, she not only found a group that helped her feel a sense of belonging at the Mount, but her dedication led her to take on multiple leadership positions. In April of 2023, Alyssa was elected as both the Vice President and the Hospitality Chair of Theta Phi Alpha, and has also recently been elected as the new PR Chair.
"After I joined, I had a lot of ideas of things I could help implement and improve, to continue growing our chapter," she says.
De-stigmatizing Sororities at the Mount
One of the larger initiatives Alyssa and the Theta Phi President has worked on is combating stereotypes and misconceptions about sororities and the individuals who join them. This February, they ran a small social media campaign titled, 'Myth or Fact' regarding sorority misconceptions.
It all began when the chapter noticed at a tabling event during freshman orientation that students were hesitant to consider joining.
"I understand that, especially as someone who never thought I would join a sorority myself," Alyssa reassures. "So I just really want to help make it as welcoming as possible, and clear the air about the difference between our group and the types of things you see about sororities in the media." It is with great hope that they can break the misconceptions to guide students toward a bonded college community.
Currently, Alyssa is working on new ideas for their Standards program, which are inspired by other chapters she spoke to at an Officer Leadership Training in Maryland. The Standards Board encompasses the reward system within the sorority, and handles the majority of any internal affairs in regards to individuals who aren't handling their responsibilities, or anyone who is exhibiting 'model' behavior. It is Alyssa's job as the Vice President to mediate some of those circumstances, facilitate conflict resolution, and provide public speaking during her Officer Leadership Training.
With her chosen major being psychology, she believes strengthening her conflict resolution and public speaking skills will benefit her career.
"Attending Officer Leadership Training and meeting new people from across the country, and going to freshman orientation and interacting with potential new members, are all experiences that are really helping me come out of my shell."
The Golden Ticket to Finding Community & Belonging
In addition, Alyssa is also a member of the Psychology Club, which is being reintroduced after having been inactive for a few years now. Once the club is fully running again, she will hold the position of Secretary for the 2023-24 academic year. As for her future, Alyssa's main goal is to make it into graduate school to earn her Ph.D. to work on further destigmatizing mental illness.
When asked what her biggest piece of advice is for first-years looking for community at the Mount, Alyssa suggests students seek out atleast one extracurricular to join. With so many options for students to pursue, an MSJ academic advisor or admission counselor can help guide pathways for students.
"Seeking out a group like that really is a great way to connect with people who have similar interests and values to you, and [to] even meet some people who share different interests as well," she recommends.
As she looks toward the future, Alyssa is eager and hopeful to increase visibility of Theta Phi Alpha to recruit future students. She hopes to provide community for new students as the chapter has done for her.
"I really hope to further grow Theta Phi's presence on campus at MSJ, especially as the PR chair. It's important that people even know we're on campus, so holding more events and spreading more awareness of our chapter will be incredibly helpful to our recruitment efforts."
_____________________________________________________________________________
Psychology Program: Learn More
Are you interested in understanding people's behavior and mental processes? Psychology may be a strong career choice for you! Bachelor's-degree careers of our graduates include mental health specialists, therapeutic service providers, HR, and more.
Plus, our general psychology major allows you to specialize in a specific area of psychology with our psychology advising tracks. A survey of our recent psychology graduates showed that 100% of them had either obtained full-time employment or were pursuing graduate study. Visit the Mount's Psychology page here to check out these offerings!