Service work, especially over Spring Break, can be undeniably taxing, but also has the potential to be deeply and unforgettably enriching, as Camp AJ shows.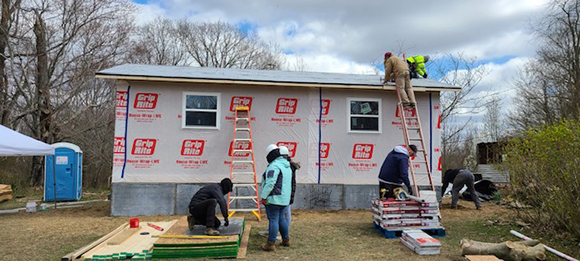 Camp AJ is enveloped in a mountainous backdrop, with young, pencil-thin trees hiking up and down its serrated ridge. Upon venturing onto these premises, I realized that their expectations for us were twofold. We would labor at construction sites for eight hours at a time, and maintain a steady undercurrent of youth pastor energy upon returning to our lodging at Camp AJ. When an organizer shouted "Can I get a Workfest?!" invariably, "Workfest!" reverberated from a hundred voices. Segmented into teams, christened by color, soon each of us had our own individual project awaiting us.
My seven-man band was known as the yellow group, and we sought out to divide and conquer. One half built the room for Kevin's sons, while my half cleared out the rot on the other side of the trailer. Lying in the mud, we drilled support beams into the rotted floor — rattling a steady stream of sawdust directly into our faces. Emerging for breath was marked by spittles, sniffles, and sneezes. I'm inclined to say our work was less elegant.
Cold, cold, cold, those first few days. Those holler winds cut through my clothes. I wielded ten unruly freezer pops in place of my fingers, and I was expected to operate a drill with them. It was there I experienced the novelty of willing my body into movement. Of looking down at my hands and going, "Look, guys. There's people counting on you, get your act together!" To my intermittent relief, we would gather around Kevin's wood stove, and I leaned into its precious heat — searing my tattered coat on the exhaust pipe twice over.
Remember that youth pastor energy? I found it was roll call and evening prayer would beckon our respective groups at the end of the day, and when one of the organizers shouted "Yellow group, where you at?" my rugged lungs were able to muster a bellow:
"Right here right here!"
I was assimilating to this new, exhausting lifestyle, however short-lived it would be. The cacophony of barking dogs and my conversations with Kevin were two relative constants. He showed us his lake, his collections of fossils and morels. He was there watching us work, well before the weather warmed up. By that point, all that remained of my struggle were my chapped lips.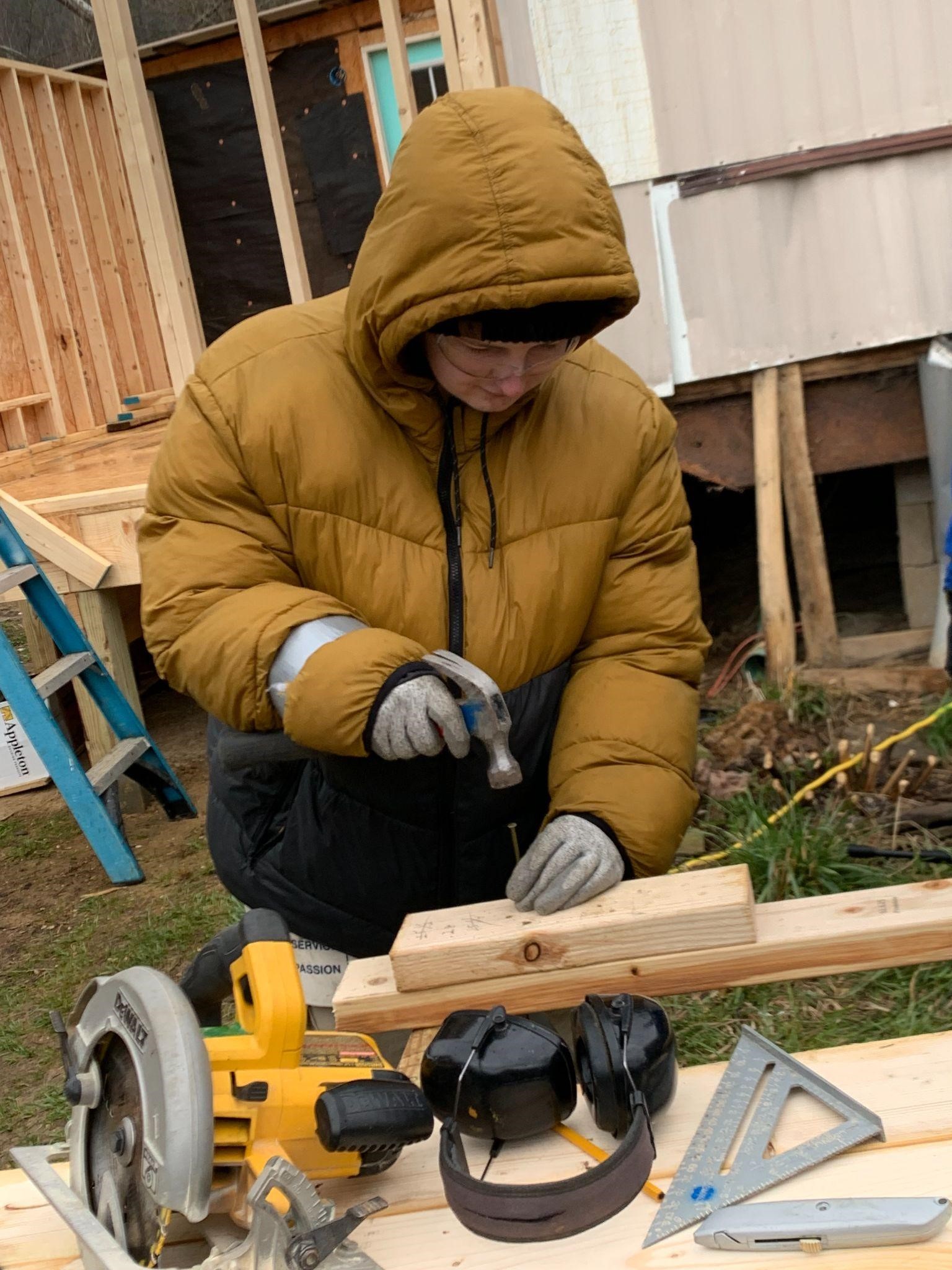 In Photo: V. Robinson volunteering at Workfest
On the final evening, I ran into James "Jimbo" Williamson, a native of Salt Lick Kentucky and a self-described service addict. He wore a wide brim hat, had a missing front tooth and spoke in a yarning drawl. In his hand was a copy of his book "Go & Serve: You Won't Regret It." All it took was my expressed interest for him to offer me this book, signed and noted.
There's a passage I'd like to pluck out of his book: "Anytime we interface with anyone we should be able to learn from them. If we don't it is because we are not listening. The point is to learn and to build on that. One of the things I hope you learned is that things can be fixed. You don't always have to go out and buy a new thing. Your old thing may be functional. Hopefully, you have learned that happiness is not judged by how much money you make. It is judged by following your heart."
No longer than an hour into this trip, and I was beginning to lose count of how many times we were told "in giving to others, you'll give something to yourself." These words resonate much more now than they did then — I find myself leaving the Christian Appalachian Project with more than I had before. As depicted, I've mastered the art of hammering. But there's an intangible sense of self I've garnered from this trip.
I was the inadvertent star of open mic night. One lady told me I reminded her of Drew Barrymore — in my books, a compliment of the purest caliber. Two of my peers said I should do stand up, but I was floored when one of the volunteers, Jeff, said I had a gift and "I think you could use it to spread the love of Jesus."
I looked down sheepishly at my lap for an instant, enough to gather myself and peer up with a grateful smile. "Oh. Well…thank you very much."
I hammered some nails and drove some screws in Rockcastle County. It's a little blip of an impact, over a hundred miles away, but I carry it with me as if it were tangible. It's a permanent lens of mine. Something I can hold to my eye, peer through when I'm feeling down. See myself, and the world with it, in a new, positive light.