Tora Coleman '23 makes plans for graduate school as she reinforces what it means to be a civic agent.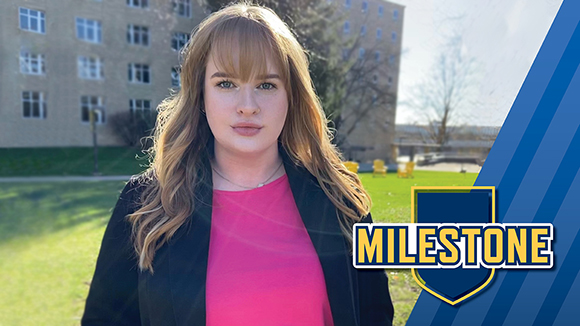 "Unlocking potential and igniting passions, that's what drives me as a Mount St. Joseph University senior on the cusp of a new chapter in my educational journey," says Criminology major Tora Coleman.
Reaching the pinnacle of her undergraduate studies, Tora has made enormous strides in building a community at the Mount and serving that community for as long as she has attended. This firm social structure she upheld was the very reason she experienced an initial attraction to the campus.
"I chose to attend the Mount," says Tora, "because of the close-knit community and the student-to-faculty ratio for my classes. I enjoy having professors that know my personality and involvement within the community."
For Tora, this closeness facilitated her growth as a leader, as well as a fully-fledged academic. Despite feeling intimidated by the collegiate experience at first as a first-generation college student, she eventually entered a space where she could begin encouraging other students to find that communitarian aspect that she benefited from and continues to contribute to.
It is really no surprise then that Tora, for her undergraduate studies, was drawn to Criminology as a field of study. Through such a discipline, she could learn about the reasons why crime is such a mainstay in society and the prevention measures already in place so as to refine them more. With a wide range of opportunities available through this program, Tora has the potential and the qualifications to begin making substantial and lasting changes to the community.
The Exemplary Civic Spirit
One of the first steps Tora took to reach a place of self-edification and communal responsibility was joining the Student Government Association (SGA) as the Organization Relations Coordinator.
"...I took the first, yet scary, step by joining our university's Student Government Association at our campus activities fair," says Tora. "The rest of my involvement seemed to flourish from there. Numerous opportunities at the Mount have provided me the latitude to encourage other students to find their bigger purpose."
The SGA, which is tailored specifically for the student community at the Mount, provides the opportunity for the students' voices to be heard, for students to understand their rights, privileges, and responsibilities on campus, and for making meaningful change within the university.
For Tora, her role in the organization transcends a demonstration of her leadership capabilities. As Organization Relations Coordinator, for instance, she does much more than lead the student body and defend its interests; she unifies the campus and the students in a very unique way. Coordinating with campus organizations and the SGA, Tora stimulates university-wide communication and bridges their goals into a collective undertaking.
Through these accomplishments, Tora helped to identify the needs of students through these organizations and maximize their ability to fulfill those needs with the resources of the SGA.
"Serving as Organization Relations Coordinator has been an incredibly rewarding experience," Tora emphasizes, "providing me with a unique opportunity to connect with various student organizations and to support their efforts in making a positive impact on campus. Working with students of varying backgrounds, academic levels, and learning styles has allowed me to tailor my approach to everyone's needs and to connect with them in a way that's meaningful and impactful."
Beyond her contributions to the SGA, Tora also brings together the student body through her service learning in the Career and Experiential Education Center. During this internship over the summer, she helped create civic engagement initiatives such as the annual Welcome Week Service Day for the beginning of the 2023 fall semester. Through this program, Tora developed her professional skills while giving students the opportunity to live out the Mount's mission to serve the community, strengthening that very togetherness.
In tandem with the practical changes she's making, Tora promotes a communal unity through school spirit. As a member of the Lions First program, a club for first-generation college students, and an RA, she encourages her peers to draw inspiration from her pursuits to bolster intercampus relationships. Hosting events like Exam Jam, Powderpuff Football, and Welcome Week, among many others, she implements school pride.
Community-Building Post-Graduation
Despite the fact that she is graduating this year, Tora doesn't plan to slow down any time soon in her humanitarian objectives. While her Criminology major provided invaluable insight into the mechanics of communal functions, she really found her passion in inspiring students. Having just learned about higher education programs right before her senior year, Tora realized last minute where her journey ought to continue.
"My undergraduate experience has revealed that a career in higher education is the next route for me," Tora explains. "Involvement on my campus has been my passion…allowing me to find my bigger purpose within my community and leading me down this future career path. My goal in my future career is to inspire the students I encounter with the same enthusiasm I possess for campus engagement and community."
Finding a community she knew she could develop further, Tora is leaving the Mount even more robust and livelier than she found it. But the campus itself didn't fail to leave its own impacts on her. A place where she could finally explore her voice and life's purpose, the Mount and its faculty, staff, and students altogether imbued in Tora a sense of identity and direction.
"Their guidance," Tora notes, "has given me the confidence to pursue my passions and to make a positive impact on campus and beyond."
Having learned about herself, and more about making a difference, Tora plans to branch out and spread her talents for creating communal solidarity. She's been accepted to three different colleges for a Master's program in Higher Education and Student Affairs, but she plans to attend Miami University in the fall. While the future is yet to be explored, and many things are uncertain, her sureness arises out of the acknowledgment that she will implement positive change wherever she operates.
______________________________________________________________________________
About our Criminology Program
Criminology strives to understand the nature of crime and the efforts to combat it in society. This major has two concentrations: Justice Studies and Victimology. Students can also minor in victim studies, psychology, legal studies, sociology, and/or forensic science.
100% of 2021 graduates were employed, enrolled in graduate studies, or volunteering within six months of graduation!
Interested in learning more? Check out our
Criminology program page here
!