Whenever a project seemed formidable—or even impossible—Mary Ellen Cashman Ivers '71 would lean over to her friends and, with a twinkle in her eye, say: "The Sisters are whispering to me: Keep going."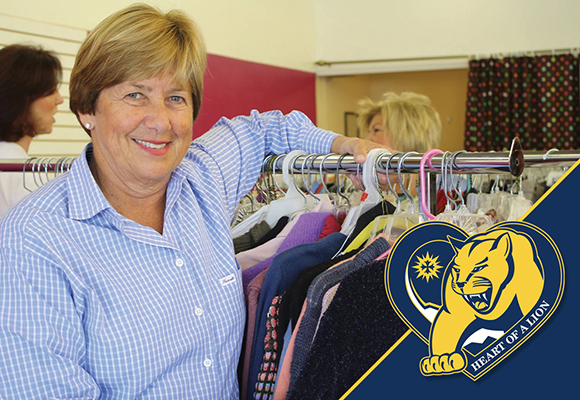 "Mary would tell me, 'When you volunteer to support an organization, there are things that are easy to do and others that can be challenging,'" recalls Jennifer Damiano, a friend who served with Ivers on the Mount's Board of Trustees. "She really felt the gravitas of the Sisters' legacy in believing that they had more work to do, and it was up to us to carry it forward."
This tenacious persistence extended to Ivers's other endeavors as well, including the founding of the Cincinnati chapter of Dress for Success in 1999. Ivers took the mission of her alma mater seriously and dedicated her life to building up others, especially women, and creating opportunities for success and well-being.
Although Ivers passed away in February at the age of 72, she planted seeds both at the Mount and in the city of Cincinnati that continue to bear fruit.
"Mary believed completely in the mission of the Mount, and she dedicated her life to finding out what the community needed and discovering ways to help prepare students to meet their needs and be successful," says longtime friend Janet Castellini, who also served with Ivers on the MSJ Board of Trustees. "Once Mary had a cause, she really sank her teeth into it."
When the Pandemic struck, Ivers organized a food pantry for students. She was instrumental in developing programs at the Mount for first-time college students who might need support. And in the early years of Dress for Success, she drove around town, picking up donated shoes, clothes and handbags. In the 23 years since Ivers founded Dress for Success, the organization has served 20,000 women in the Queen City.
Mary Ivers, founder of the Dress for Success nonprofit foundation, lends a hand with other volunteers in getting the group's 4th Street Boutique College Hill ready to open Sept. 8, 2011.
Mary Ivers, founder of the Dress for Success nonprofit foundation, lends a hand with other volunteers in getting the group's 4th Street Boutique College Hill ready to open Sept. 8, 2011.
"There are so many people who are grateful that she brought this amazing resource and support for women to Cincinnati," says Lisa Nolan, executive director of Cincinnati's Dress for Success chapter. "We've continued to build and grow from her original vision, and we are honored to be able to carry forward her legacy through Dress for Success."
Among Ivers's many gifts was an uncanny, savvy ability to make connections, tapping into people's passions and extending opportunities to give to the community. That fed into another of her personality traits: No one could say no to Mary, Damiano says.
"She had this way of inviting people in," Damiano says. "She would say, 'Join me in this work together.' And you couldn't say no. It would be like telling the Blessed Mother no. She was that kind of person."
Part of what made Ivers's invitations so irresistible was that she was deep in the trenches doing the work too. She never asked someone to do something that she wouldn't do, Castellini says.
"Whether it was the casserole at the kitchen door or serving as the head of a committee or founder of an organization, Mary went into everything with the same care and enthusiasm," Castellini says. "More than just serving as chair of events, she was the force behind it, doing the work and coming up with ideas."
Several years ago, Ivers recruited her daughter, Carrie Ivers Reeuwijk, to participate in an annual fundraiser and fashion show. Carrie recalled walking the runway in a bathing suit and giant inner tube.
"We didn't all have to walk down the aisle of a fashion show with an inner tube, but Mom was always able to get others involved in her passion for generosity and giving," Reeuwijk says. "She was the connector. She didn't have to be in the center of things, but she was able to successfully engage all kinds of people in the community to chip in and contribute—their finances, time, resources, even coming in to stuff envelopes."
Ivers's hospitality was legendary. A gourmet cook, she frequently opened her home for parties and fundraisers.
"She would gladly host any gathering, large or small," Damiano says. "Mary loved to feed people and to welcome them. She remembered everyone's name and made you feel like you were her sister or her daughter… Nobody makes you feel the way that she did. She wasn't tall, but she was like a beam of light in the room."
Deanna Hoskins is a former Dress for Success client who knew Ivers personally. Before encountering Ivers at Dress for Success, Hoskins says she was a single mom struggling with drug addiction and the criminal justice system. She says Ivers was one of the first people who saw her as a human being and not as a person who was coming from a correctional facility.
"I knew I wanted a different way of life, but I didn't know how I was going to get there," Hoskins says. "No matter what your situation was, Mary saw the human dignity in you."
Sandy Schnur, another former Dress for Success client agrees. "[Mary] left a legacy of lifting women up, giving them a safe place where they could regain their dignity," Schnur says. "I've regained… my sense of self and of knowing that I'm valued and am valuable. It was nice having someone who believed in me."
As committed as Ivers was to the community, her family always came first.
"The amount she gave to the Mount pales in comparison to what she gave to her family," Reeuwijk says. "I can never imagine filling her shoes, not even a tenth… She supported me through every wild adventure. I would come up with these crazy ideas, and she always had my back. I couldn't have done anything in my life without her support."
The Mount has always played a central role in Reeuwijk's life, from those runway days to hanging out at the library while her mom was volunteering. Her parents got married in the Mount's chapel and over the years, her mother served several terms as a trustee and led numerous initiatives, particularly in development and fundraising. She also received an honorary doctorate from the University and served as a commencement speaker.
"My mom was very committed to the underlying philosophy of the school," Reeuwijk says. "She believed greatly in the power of education to change lives."
Reeuwijk takes comfort in her mother's vast and profound contributions to the community at large and to the Mount Community that she held close to her heart.
"Students should take incredible pride in graduating with a degree from the Mount," Reeuwijk says. "I know my mom did. She went on to change the world and did incredible things. I want them to know that as a graduate of Mount St. Joe, they have the same opportunity to go out and change the world."