Due to the tireless efforts of Caroline Meyer and the CEEC, the Mount has rekindled civic spirit and achieved voter participation for 2023-2024.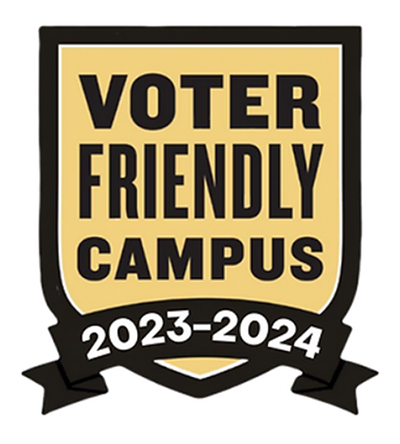 On March 28th, the Mount was officially named a Voter Friendly Campus, one of 258 campuses in 38 states and the District of Columbia by the Fair Elections Center's Campus Vote Project and NASPA, or Student Affairs Administrators in Higher Education. This designation recognizes the Mount as an institution that has put into practice initiatives that encourage and facilitate students to register and vote in the 2022 elections and the coming years.
Caroline Meyer, the service learning & engagement coordinator in the Career & Experiential Education Center (CEEC), spearheaded the Mount's campaign to boost civic engagement from students. In a time of political nuance and carefulness, Caroline successfully propelled the campus into a space where students could make their voices heard, which not only secured the Mount's designation as a "Voter Friendly Campus," but united the student body and the university as well.
"Since beginning our democracy program in 2015," says Caroline. "The Mount has seen a significant increase in our student voter registration and our student voting rates on campus. By continuing to strengthen our democracy program, students will be more likely to develop across the engaged citizenship continuum, moving from personally responsible citizenship to participatory citizenship and then to transformative citizenship. Because of our success with turning students into student voters, NASPA has designated Mount St. Joseph University as a Voter Friendly Campus."
The democracy program provides resources and information regarding where and how students can register to vote, cast ballots, and learn about who and what will be on those ballots. With a series of events and informational materials, like town halls, voting guides, and engagement reports, this program and CEEC as a whole served as the foundation for the Mount's achievements in garnering community participation and commitment.
This aligns with the mission of the 2023 Voter Friendly Campus designation, which is to bolster colleges' and universities' efforts to help students overcome barriers to participating in the political process—every year, not just during years featuring federal elections. The Mount, with respect to this mission, was evaluated based on a written plan for how to register, educate, and turn out student voters in 2022, how voter engagement was facilitated on campus, and a final analysis of those efforts, which reflected above-and-beyond and innovative proactivity.
Caroline Meyer, as well as the CEEC and several of the Mount's faculty and staff, contributed to this profound and strategic planning, coordination, evaluation, and implementation of civic and electoral initiatives, which underpins the designation program's mission to prepare students to be active social agents in our democracy. While the designation will be valid until December 2024, the Mount will continue to uphold the democratic ideals upon which this nation was founded for as long as that undying communal spirit lives.
______________________________________________________________________________
The institutions designated as Voter Friendly Campuses represent a wide range of two-year, four-year, public, private, rural, and urban campuses, collectively serving over 3.5 million students. Notably, the list of designated institutions includes 49 Minority Serving Institutions and 13 Historically Black Colleges and Universities, as well as 41 Community Colleges.
NASPA is the leading association for the advancement, health, and sustainability of the student affairs profession. Our work provides high-quality professional development, advocacy, and research for 15,000 members in all 50 states, 25 countries, and 8 U.S. territories.
Fair Elections Center is a national, nonpartisan voting rights and legal support organization that works to eliminate barriers to voting and improve election administration across the United States. Fair Elections Center's Campus Vote Project works with universities, community colleges, faculty, students, and election officials to reduce barriers to student voting and helps campuses institutionalize reforms that empower students with the information they need to register and vote.