International MSJ alumnus, Juan Imeroni is the humble owner of 13 local Cincinnati establishments where he engages the community in unique experiences while treating his customers like family.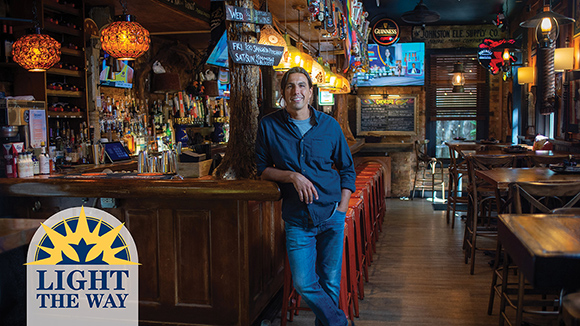 Established in 1892, O'Malley's in the Alley proudly holds the title of the "second oldest bar in Cincinnati." For Juan Imeroni '96, though, who purchased O'Malley's in 2012, it holds the title as the "first bar he ever owned"—the one that inspired Imeroni to start Ignite Entertainment, a parent company that houses specialized entertainment destinations throughout the diverse communities of the Queen City.
"When [the opportunity to purchase] O'Malley's came along, I thought, Why not? I can do this! I worked in a nightclub as a young man—how hard could it be?" Imeroni laughs.
Before the purchase of O'Malley's and many other wellknown establishments to come, Imeroni moved from Argentina to Cincinnati in 1991 to attend the Mount as an international student.
"I came to the Mount because of their art programs and because Cincinnati sounded like a cool place that was doing some really cool stuff," he says. "Coming to school in America was a dream come true. I have always had a passion for the arts and being creative and working with my hands. It was such an amazing experience to come here and learn about the culture, while also becoming educated as an artist. I apply what I learned then to what I do now, every day. I'm very particular about the way our [establishments] look and feel, and I constantly reference my education in my decision-making process." His path to success was not a linear one, nor was it always easy. "Raising my daughter, Sophia, as a single father was a challenge," Imeroni says. "But she is my greatest joy and accomplishment in life."
When Sophia was young, Imeroni lost their home in a devastating fire that left them with nothing. At the time, Imeroni was also hand-crafting large, ornate rugs. Then, when the recession hit in 2008, luxurious and high-priced items like his rugs took a nosedive. "I had to rethink my business plan and transform it into something else," he says.
Imeroni began purchasing properties, revitalizing them, and selling or renting the spaces. When the opportunity to purchase O'Malley's came along, he says he couldn't pass it up.
Today, he's the owner of 13 establishments, including The Blind Pig, Lola's Coffee + Bar, The View at Shires' Garden, Pampas (which pays homage to the Pampas region of Argentina), and Dog Haus, located just down the street from the Mount, on Pedretti Ave.
Honoring his cultural roots, Imeroni also got into the restaurant business with his former business partner and fellow Argentinian, Alfio Gulisano. In 2016 they opened Ché OTR, featuring specialty empanadas, and Butcher and Barrel in 2017—a more upscale destination "featuring what Argentina is known and loved for—steak," Imeroni says.
As the humble leader of these restaurants, Imeroni emphasizes that "Ignite is more than just a bunch of businesses—we're a family."
In 2020, when COVID-19 hit, the industry changed completely.
"We've had to learn how to do business in different ways to be able to survive, but with the help of my team we worked together to be resourceful in navigating the circumstances," he says. "We've been creative, authentic, and strong, and we have been united in how we managed the challenges. The future is five minutes from now and 10 years from now, and it changes every second along the way—I just want to continue to do what we do—foster the community through engaging experiences in unique destinations, to offer great food and drinks, and friendly, professional service that makes you feel like family too."