Noah Douglas '24 explores the boundless expanse of fiction with compelling action and memorable characters in his six latest original novels.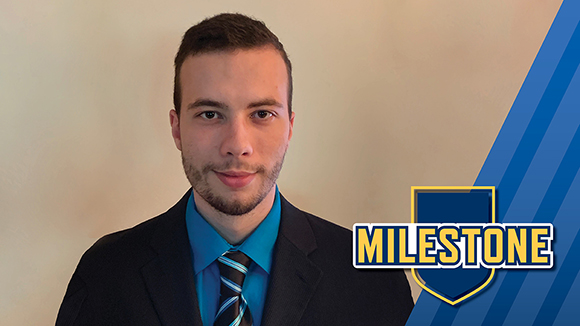 A double-major in the Mount's cITe program in Liberal Arts and Social Computing with a minor in creative writing, junior Noah Douglas '24 has leveraged his writing talents in accessible ways for others to delight in through his original website, featuring creative works from other writers, as well. Drawing powerful inspiration from Tolkien's "The Lord of the Rings" fantasy to Jack Campbell's "Lost Fleet" sci-fi series, Noah's culmination of six books featuring enthralling planetary dystopian universes and magical kingdoms marks a turning point in his MSJ college career.
He thoughtfully recalls his father, Stephen Douglas, who wrote a book while Noah was in high school titled, "The Great Pyramid Mystery" and began a new fiction novel, Rescue Mission, around that time. Noah, influenced by his father's creative pursuits, began writing halfway through his high school career.
"I think this is what got me into writing to some degree," he claims. "I also had a great AP English teacher at my high school. So, I wanted to start my own story."
Like many authors in his field, Noah's genre of choice continues to serve as an escape to another realm, becoming inspired to tell compelling tales of an expanded universe, human corruption, and supernatural elements.
"I think what drew me into sci-fi and fantasy is the fact that those genres are what I surrounded myself with," Noah recalls. "I would always be reading sci-fi and fantasy books and watching sci-fi and fantasy movies, so, that was clearly where my interest lay. I think of it as an escape—I get to tell my stories my way and see what happens from there."
Alas, "Amora: A Tale of Two Brothers," "Broken Empire, Volumes I-IV," and "The Ring: Season 1," were born.
The White Sanctum Online Platform
Noah's website, The White Sanctum, a namesake repository of knowledge from his books, is easily one of his greatest milestones since enrolling at the Mount. All of his books are featured at an affordable price. What's more, is that he gives other writers a voice to publish through his platform fostering a collaborative and supportive environment. All writers publishing through The White Sanctum, who have fulfilled a contract, receive a stipend that is based on the length of their work.
Loyal sci-fi and fantasy readers alike delving into Noah's originals are sure to be swept away on a magical journey brimming with interesting characters, mystery, and morality.
According to Noah, "Amora: A Tale of Two Brothers" depicts two brother princes who take the stage in the defense of their kingdom against a mysterious foreign onslaught. The mysteries unravel as the story progresses into the next installation, "Amora: The Regent and the Ranger," now premiering on Kindle Vella.
The next series, "Broken Empire, Volumes I-IV" centers on the subtle development of a dystopian universe. "The main idea here is human corruption and how it spreads pretty much everywhere," tells Noah. "I say dystopian, but that's not really the point. The point is that no human system is perfect and all of them are bound to be [corrupted] in some way by those with the means to do so. Consequently, the United Alliance of Planets, the 'good guys,' who always go on about freedom, happen to be no better than the slaving despots of the Conglomerate of Corporate Authorities or the "bad guys."
Finally, Noah expands his horizons with an experimentally-written sci-fi adventure story, "The Ring: Season 1" depicting a skill-less teen who has found himself alone in the zombie apocalypse on a ringworld. Out of all of his originals, Amora is arguably a treasured favorite of his thus far. "The story is good enough that it started to write itself as I went along, which was an amazing feeling," he adds.
MSJ Curriculum Cultivates a Well-Rounded Perspective
Mount St. Joseph University's highly interdisciplinary liberal arts curriculum challenges students to think outside of their major, and connect diverse subject matter.
Currently, Noah is working with an international writer who wishes to create a fantasy-romance story. He credits his MSJ Liberal Arts professors for their profound impact on strengthening his vision.
"I would certainly have to give a lot of credit to Professor Jeff Hillard," Noah recognizes. "He really guided my publishing and led me to vastly increase my serial publication output. I have a number of projects on Kindle Vella that I started as a result of Jeff's encouragement. Dr. Barkley has also certainly been a motivator and I even tried to write a play after taking her Take Me to the Theatre class."
Professor Jennifer Morris' history courses have sharpened Noah's ability to look into building fictional worlds, helping refine the development of these fictional states more thoroughly. "Of course, I think Professor Spoor's Ethics/Philosophy classes have piqued my interest in the dystopian and considering what is 'right' and 'wrong' within the confines of these fictional worlds," Noah adds.
The cITe program's Social Computing major merged with a Liberal Arts major has come a long way in helping Noah to understand how to market his work using various forms of technology, as he asserts that marketing such books is often the most difficult task. "However, apart from my writing, I've used both technical along with written communication skills in the workplace and wouldn't be able to do it half as well if not for the mixed education I have received," he adds. "I'm now working at the Mount for cITe Inc and we are really making strides in that department. I think my skills are extremely useful and I hope I can continue to contribute from here on and really make a difference at the Mount."
As most writers recognize, writing the story is half the enjoyment—the true reward comes from others enjoying it and finding unique interpretations. Noah recounts a cherished memory of one of these moments:
"I remember speaking with my old high school English teacher about my book not too long after I published Amora. He had gotten a copy and I could tell that he had truly read it because he was pointing out all of these directions that the story could go as a result of the foundation I had laid down in the first novel. [Also,] reviews on Amazon are very hard to get despite the fact that they only take a minute to write, so it also really warms my heart when I get to read those and see how someone enjoyed the book," Noah exclaims with enthusiasm.
With compelling vision, determination, and genuine passion for his craft, Noah is sure to produce a variety of entertaining works in the coming years for men and women to appreciate.
The White Sanctum: Visit Noah's Website
Interested in checking out Noah's books? Readers can get the first Broken Empire novella on his website--completely free!
Check out Noah Douglas' website here!
__________________________________________________________________________________________________
Interested in Combining Social Computing with a Major of your Choosing?
Our cITe Scholars Program may be a strong fit for you.
Students in cITe double major in their content area of interest combined with a major in Social Computing. This interdisciplinary curriculum works to connect students' interests to technology innovation. Students are also eligible to to apply to the cITe Scholarship up to $8,000 per year: the Choose Ohio First cITe Scholarship.
To learn about Noah's program, visit our cITe Scholars page for program highlights.