Through the support of her golf coach and teammates, golf taught Taylor to become persistent and patient with herself after dislocating her shoulder, turning small challenges into opportunity.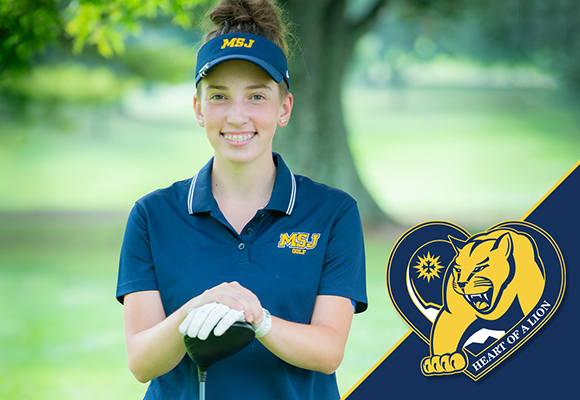 Taylor recalls sitting on her couch at a young age watching golf; her eyes drawn to the complexity behind the game on the screen. Although she didn't quite understand it yet, she was intrigued by the heavy stroke of the club hitting the ball cast several feet into the air, swiftly disappearing across the green course while the golfer's eyes stayed steadily glued to it to estimate its potential whereabouts in anticipation of the score.
When Taylor was in fifth grade, she took a junior camp with a group of friends at Majestic Springs Golf Course located in Wilmington, Ohio. Struck by its challenging and repetitive nature, it was in this moment that golf imprinted for Taylor a very special memory.
"They taught us the basics; of course, I didn't have a good swing, but it had felt like my world just opened up," Taylor nostalgically reflects. "Golf was a whole different world. A few days after, I had gotten my own beginner golf club set from Walmart."
The second she finally hit a nice, clean shot, Taylor couldn't wait to do it again.
A current sophomore at Mount St. Joseph University, Health & Exercise Science major Taylor Anderson '25 found strength through the support of the MSJ golf team in overcoming physical challenges to play the sport she fell in love with.  
A Revived Spirit, and Reborn Hope
At a young age, Taylor was diagnosed with a genetic condition called Ehlers-Danlos Syndrome (EDS) that affects connective tissue, primarily the skin, joints, and blood vessel walls. Because of this, Taylor dislocated her shoulder twice the summer before her freshman year of high school while playing golf. It took a whole year of physical therapy before she could return to the sport she dearly missed and loved.
"I remember that I hated having to start over again. I had worked so hard to be ready for my first varsity season, only for it to be taken away. Even though I was upset, I still continued to go to practice until I found out I needed surgery. For the longest time, I would putt with one arm just to be included with the team. I wanted to get back on the course so badly—I knew what I had to offer to the team and wanted to prove myself, so I never gave up."
After the year had passed, her physical therapist told Taylor she was ready to play golf in high school, leaving her ecstatic and overjoyed. "I could jump up and down, I was so happy. I was ready to get back to my training with my swing coach to get back on the course."
Discovering a Wealth of Joy on Kindhearted MSJ Golf Team
Taylor knew her senior year she wanted to continue playing golf in college, and was even inspired to pursue a career in physical therapy. Since her time in the program, she reflects fondly on her physical therapist who was welcoming and supportive, playing a pivotal role in Taylor's decision to choose her career pathway. "She helped me get through that rough time," she affirms. "I knew I wanted to do the same thing and help someone else get back to the sport they love."
She applied to the Mount to pursue the Health & Exercise Science program with a pathway designed to prepare students for a Doctor of Physical Therapy program. After her acceptance, she was offered a spot on the MSJ golf team and couldn't wait to start playing.
However, Taylor still endured challenges. She reflects on a specific time last spring season when her golf team and trainers supported her after her shoulder had become inflamed.
"My teammates checked up on me constantly, offering to drive me to a doctor's appointment during this time. Every time I contacted [my] trainer, she was very understanding and helped decrease the pain when I left. She has supplied me with exercises to help strengthen my muscles and has shown me some new ways to reduce the tension in my shoulder after golf matches. Even our strength trainer, Coach Webb, has also been very understanding. She constantly lets us know if we feel any sort of pain, to let her know and she will substitute the exercise."
Additionally, Head Golf Coach, Phil Gilmore helped Taylor realize this issue was not a setback, always keeping his door open to talk to her and provide advice to overcome these challenges with the Heart of a Lion.
"Coach Gilmore has helped me tremendously during this time with my mindset by focusing on the task at hand instead of the pain from the injury," she says. "It meant a lot to me to know that there were so many people here at the Mount who I could look up to and trust; and how understanding they were to make it a pace for me. It is very comforting to know that I can go to all these people and they will listen."
Taylor's goal for golf in the next year is to achieve lower scores while continuing to improve her strength. In the end, this sport helped Taylor to become patient with herself, and to find opportunity to grow stronger in the face of hardship—all while pursuing an inspiring career to give back to others, too.
"All my hard work paid off. Being able to play golf at the Mount while pursuing my goal of becoming a physical therapist was a dream come true."
_____________________________________________________________________________
About our Health & Exercise Science Major: Learn More!
Interested in promoting wellness, enhancing quality of life, and increasing physical activity across the lifespan? With four different concentrations to choose from, our program prepares students to enter careers in the health, fitness, or wellness industries and post-graduate studies in the health sciences.
Check out our Health & Exercise Science page to find which concentration may be a strong fit for you!