Stephanie Peter '24 of the Doctor of Physical Therapy program makes an impact at the Pro Bono Physical Therapy Clinic.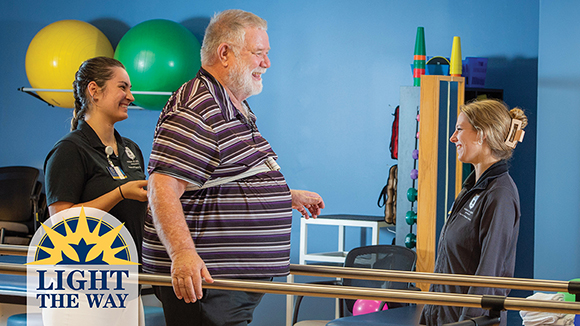 Stephanie Peter has always had an affinity for the medical sciences in general before finding her calling in physical therapy. "I knew I wanted to pursue a career in the healthcare realm since I was young," she says, "but never knew exactly where I wanted to put my focus." This focus eventually presented itself in her educational pursuits and willingness to put the well-being of others at the forefront of her attention.
Stephanie's introduction to the field of physical therapy, however, was a tragic but powerful one. While she was in eighth grade, her grandmother underwent a massive stroke, and hours had transpired before she was found and hospitalized. But by that time, her grandmother had already sustained substantial physical and psychological trauma.
After witnessing the long and arduous healing process of her grandmother's physical therapy, Stephanie was inspired to pursue training and gain experience related to that field. "After that," she says, "I knew this was the career I wanted to pursue."
Since then, Stephanie went on to attain a Bachelor's degree in Exercise Science in Canton, Ohio where she began studying under a pre-physical therapy track. She eventually became part of the Doctor of Physical Therapy (DPT) program at the Mount in the summer of 2021—directly following her graduation from Walsh that spring.
Translating Lessons to Real-World Skills
Fully preparing to become a practitioner in the field, Stephanie, as well as her classmates in the DPT program, studied extensively through hands-on coursework. After being taught how to medically examine injuries, provide treatment, and cater to patient-specific needs, the students were were ready to apply the skills they learned in class to real-life patients. 
After their first clinical rotation in May, it was later that year that Stephanie began accumulating experience as a physical therapist making a real-world impact. The DPT program at the Mount officially opened the doors of the Pro Bono Physical Therapy Clinic in Fall of 2022, providing free services administered by students of the DPT program to anyone from the local community who require physical therapy. 
Intended for those who cannot afford physical therapy, this clinic sees individuals whose insurance is unable to pay for the entirety of their treatment as well as older adults who wish to retain their strength, mobility, and independence.
"We had several patients come weekly over the course of the semester," Stephanie says, "and being able to watch their progress has been amazing."
Making a Difference Through Healing
Stephanie began personally witnessing the profound impact of her and her peers' service within the clinic through the progress of several patients. One was an older gentleman whose multiple falls became cause for concern to his family, who feared he would lose all independence. However, after several weeks worth of physical therapy at the clinic, the patient's daughter made it clear that she was much more at ease and confident that her father could function alone.
Another patient of Stephanie's class with a spinal cord injury sought supplemental treatment at their clinic alongside his usual physical therapy regimen. With the intention to be able to walk again, the patient was placed into a harness and was aided onto a treadmill, which he began walking on successfully. The patient's wife hugged him while he stood in his harness, and Stephanie noted how emotional of a moment this was for them. She eventually learned it was because the couple had not embraced standing up for several months, so this event was monumental for them, as well as the clinical team, whose contribution to the patient's rehabilitation shouldn't go unrecognized.
"That was an amazing moment to be a part of," Stephanie mentions. "With physical therapy school being very demanding and challenging, and with therapists in the field experiencing significant amounts of burnout, this was a good reminder to the students that were working the clinic that day of why we chose this profession."
Stephanie, already a pinnacle of selflessness and a guidepost for those seeking physical betterment and well-being, looks to the future. There are more clinical rotations ahead, and she looks forward to them in helping her identify which exact setting she plans to find employment. With inpatient rehabilitation and travel physical therapy as potentialities on the horizon, Stephanie is excited to change even more lives and continue in her mission to help those in need.
"It feels very rewarding to see how proud a patient is once they are able to get back to the things they want to after experiencing an adverse medical event," Stephanie notes. "I am thrilled to be going into such a meaningful and fulfilling profession where I will have the privilege of treating so many individuals."

Stephanie's career and altruism appear far from over, and she can only be looked up to and lauded as a shining example for how devotion ought to be directed—in the service of others.
___________________________________________________________________________________
About our DPT program
Students develop the necessary knowledge and skills to be professional and proficient physical therapists. The more clinical skills are built, the more they are put into practice. 100% of surveyed DPT graduates found employment within six months of graduation.
Interested in learning more? Check out our DPT program page here.