In light of the "I Have a Dream" week-long events, MSJ alumnus Ralph Allen shares his story.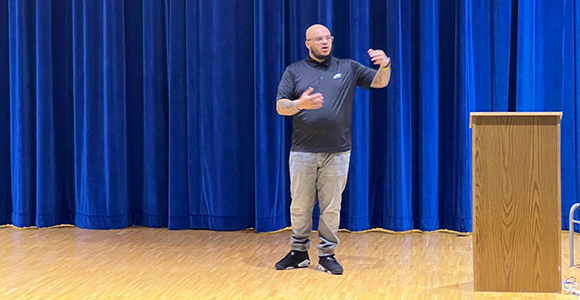 On February 8, 2023 in the Recital Hall, the Office of Diversity & Inclusion, Mission Integration, and Student Affairs hosted MSJ alumnus Ralph Allen as part of the "I Have a Dream Week" events, where he shared his personal story on overcoming personal obstacles to find his definition of success.
Ralph's primary goals were to leave his hometown in Dayton, Ohio, pursue a degree, and find success--however he chose to define it. He desired to attend the Mount, because he wanted to study at a college where he felt a sense of belonging. Beginning his freshmen year in the education program, Allen felt called to other plans.
"I struggled sophomore year in the education program—I needed a 3.0. I wanted to become a math teacher as I wanted to work with kids. But my wonderful advisor helped me through this and suggested social work, which is what I do to this day."
Balancing his academics and spot on the MSJ football team as a starter, Ralph worked diligently on the field and in his coursework, until junior year took a turn in events as he learned he was going to become a father. He took an extra semester at the Mount, while completing field work at Red Cross where he helped people who had been affected by natural disasters.
Finally, Ralph had reached his dream.
At his 2014 December Commencement, he proudly and humbly walked across the stage to receive his bachelor's degree in social work. "My last name was Allen, so I was the first to walk," he grins.
He is currently a supervisor at Hamilton County Family Services, where he shares his knowledge and experience to Light the Way for others to become successful case workers.
"I've serviced others my whole life emotionally, so social work was a perfect fit for me. I do it because I have saved hundreds of kids' lives, which is the most rewarding to me aside from being married and having children of my own."
"The main thing is, I am happy," Allen smiles. "Imagination is everything. It is the preview of life's coming attractions. I had to imagine myself getting out of Dayton, graduating, and becoming successful."
Ralph found himself on his way to success. He just had to have faith.