After a freshmen Common Ground class solidified her interest in helping others daily, Erin Kallmeyer '22 is taking the Mount's devotion to serving the common good with her to improve children's lives.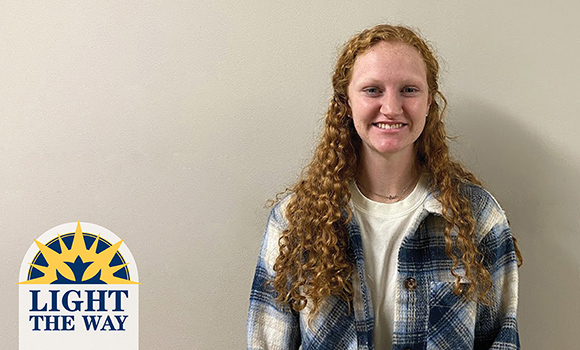 Since she was in elementary school, Erin had her sights set on becoming a physical therapist (PT); however, after carrying out her observation hours for PT in her first year of college at Mount St. Joseph University, Erin was introduced to the field of occupational therapy, and she was immediately hooked ever since.
Occupational therapists treat injured, ill, or disabled patients through the therapeutic use of everyday activities, and Erin wanted to enable people of all ages to live fulfilling lives through various techniques and technology.
"One of the main reasons occupational therapy stuck out to me was because I like learning new things and the multiple settings I have observed, which granted me a more vital understanding of the occupational therapy field."
Resulting from her steady interest, Erin observed in school, pediatric, and inpatient settings, but one particular internship readily stood out. The Mount's Career Fair connected her with a summer internship at Camp Possible for Talbert house, an eight-week therapeutic camp for children ages 6-12 who struggle with behavioral/mental health issues.
Erin just graduated in December 2022 with a bachelor's in Psychology with natural sciences courses, which helped her complete a pre-professional studies program in Occupational Therapy to pursue an advanced degree. She is ready to reach new heights in her occupational therapy career trajectory, but she reflects on one of her meaningful experiences so far Lighting the Way for children facing emotional and physical challenges.
Communicating, Collaborating, and Creating a Safe Space
At Camp Possible, Erin worked as a therapeutic camp counselor with a group of 11-year-olds, where she promoted physical and mental growth. These children are in need of a safe, stable, and structured environment, and Erin was eager to make a difference.  
Through the use of both traditional and non-traditional group therapy sessions, the patients were able to learn and practice skills such as interacting with others, creating peer relationships, building self-esteem, anger management, and taking direction.
As part of her duties, Erin developed person-centered relationships with the group of children by building rapport and effectively communicating and collaborating.
"I feel as though I made an impact on their lives by allowing them to express their emotions safely and appropriately while also giving them someone to confide in," says Erin.
There was one particular patient who had attended camp in previous years, and Erin was given notice before camp started that the patient was more distant, and found it more difficult to make connections with others.
"Right away, I made it a point to create a deeper relationship with this patient in particular and we quickly connected," says Erin. "This enabled better physical and mental growth in the patient and I often got compliments from other camp staff for how much the patient opened up throughout the course of the summer."
At the end of the summer, this camper's progress and the feedback Erin received from other camp staff felt incredibly rewarding to her.
A Freshmen Core Class Ignites an Interest in Service
While Erin firmly believes that her family and several faculty members from the Mount all contributed to helping her become the person she is today, Erin often thinks back to her Honor's Common Ground class freshman year with Professor of English and Department Chair of Liberal Arts, Dr. Elizabeth Barkley, Ph.D.
This class made her love for Mount St. Joseph University grow as she learned about its deep roots in service and devotion to the community, inspiring her to live the Mount's mission in her day-to-day life.
"I truly believe this class helped me realize that in my occupation I wanted to be helping others on a daily basis. While applying to Graduate school I sought to find the same connection to other universities' values and goals. I recently got accepted into the University of Indianapolis's Doctorate of Occupational Therapy program which not only values its student's engagement in learning, leadership, and service but will help me dedicate my life to helping the common good."
Where There is Vision, There is Hope
Erin believes that her experience and coursework at the Mount have pushed her to be the best version of herself by providing the necessary skills and tools for success. Her internship experience furthered her appreciation for the values of Mount St. Joseph University, as they pushed her to help serve those in her community, allowing her to grow with her patients over the summer.
"Developing connections with faculty and staff and the resources available allowed me to effectively communicate and collaborate with those I am working with, and helped to secure my internship at Talbert house."
She was recently accepted into the University of Indianapolis's Occupational Therapy Doctoral program, a three-year program she will attend for nine semesters.
It's no surprise after a meaningful summer internship that she plans to pursue her future work in a pediatric setting.
"After finishing the program, I hope that I find a place in a pediatric therapy office where I can continue working with children in hopes of doing as much as possible to improve the patients' lives."
​__________________________________________________________________________________________________
Pre-Professional Studies Occupational Therapy Track: Learn More
Pre-professional studies at Mount St. Joseph University are courses of study prepared by expert faculty members that supplement your existing major and better prepare you for a career as a health professional.
The psychology major, with some additional courses in the natural sciences, is an excellent choice for students who plan to pursue graduate study in the following health professions:
Physical Therapy
Occupational Therapy
Public Health
Visit our Pre-Occupational Therapist page to learn more about this offering to prepare you for graduate school!