Watch a heartfelt Christmas message from President H. James Williams and First Lady Carole C. Williams unto the MSJ community.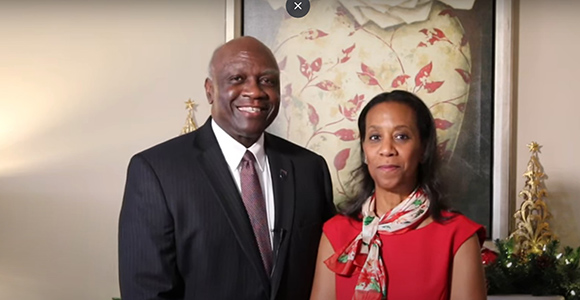 Carole and I want to take a few moments to express our holiday greetings to you - our Mount St. Joseph University Family.
This year has been a true blessing to our Community.  We have been able to be together in person on our beautiful campus, we have reconnected with each other and built new relationships, and we have accomplished so much academically and beyond.   
We opened our brand new Center for Reading Science; 
Our Physician Assistant Program received full accreditation
We established a new Speech, Language, and Hearing Sciences Department; 
The Band, Art Guild, and Theatre Arts marched in the nationally recognized BLINK parade;
Our Department of Music hosted Mastery Gunnery Sgt. John Mula, Clarinetist for the President's own Marine Band; 
The Mount participated in the Red's Opening Day Parade for the first time;  
Mount athletics had its first National Champion crowned in any sport as Cornell Beecham won the NCAA Division III wrestling title; 
The Softball team won the HCAC Championship and advanced to its first appearance in the NCAA super regionals; and,  
The Football team won the HCAC Championship and swept the conference awards for Coach of the year and offensive and defensive players of the year. 
Most importantly, in 2022, the Mount welcomed more than 500 graduates into our Alumni family!  Indeed, 2022 has been exceptional!     
The Mount is about so much more than academics and extracurricular activities. It is about love, through the meaningful, life-long relationships we develop, and the respect and concern that we share for one another each and every day.  This differentiates the Mount, and makes it so incredibly special. 
As each of you settle into the holiday season, Carole and I would like to leave you with this prayer:
As we celebrate Christmas, Hanukah, Kwanza, as well as many religious and cultural customs, let us remember the announcement of the angel, "I am bringing you good news of great joy for all the people."  We pray that God will grant each of us the courage to continue to work for the common good and to "light the way" for all.
To our wonderful MSJ family and friends - Merry Christmas!