Dateline writer, Will C. Sack provides a thoughtful reflection on Sister Mary Ann Flannery's acceptance of the 2022 St. Elizabeth Ann Seton Medal award in the Mater Dei Chapel.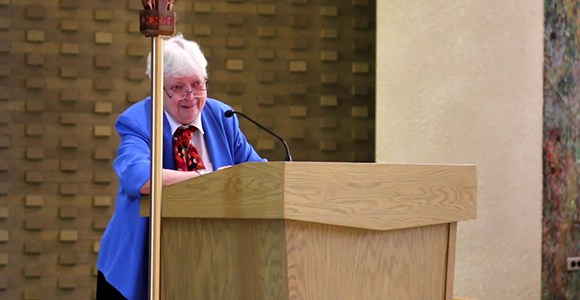 There is a particular presence and light in the air when Sister Mary Ann Flannery embraces the President of Mount St. Joseph University and the President of the Sisters of Charity. As she is awarded the 2022 St. Elizabeth Ann Seton Medal, the crowd applauds, and the stained glass of the Mater Dei Chapel casts a golden, ethereal glow across the altar.
When Flannery approaches the podium, she solidifies her worthiness of the award by denying that worthiness, giving all credit to the Sisters of Charity as a whole. What better way could one justify the receipt of a humanitarian award?
Even beyond her humility, it is fitting Flannery is awarded the St. Elizabeth Ann Seton Medal because she embodies and carries out the legacy of Seton herself. As Flannery mentioned in her address, Seton represents radical transformation initiated by or toward a positive force, despite the social pressures that hinder change. Transitioning, for instance, from wealth to poverty and from Episcopalian to Catholic, Seton is the quintessential role model. She devoted her life to justice and fighting prejudice, becoming the "conscience of our country."
This is the essence of an influential life, as reflected by Flannery herself. She, for instance, became the first female director of the Jesuit Retreat House in Parma, Ohio, and engaged in social justice causes to help refugees around the world—a fact which only scratches the surface of her impact.
But Flannery also calls us to live with responsibility, just as Seton and she herself has. St. Elizabeth Ann Seton, she maintains, epitomizes the spiritual role not only women ought to replicate in life, but also that of men.
The moral obligations of each of us are made clear by Seton, and we can only hope—in an attempt to symbolically imitate the Cleveland Guardians who Flannery so admires—to be half as effective protectors of righteousness and purveyors of God's will and justice as she and Seton. Such role models could truly make guardians of us all.
The golden light burns on indefinitely, all throughout and beyond the standing ovation for Flannery as her speech concludes.