Reflections of a new nursing faculty member…Dr. Lindsey Stewart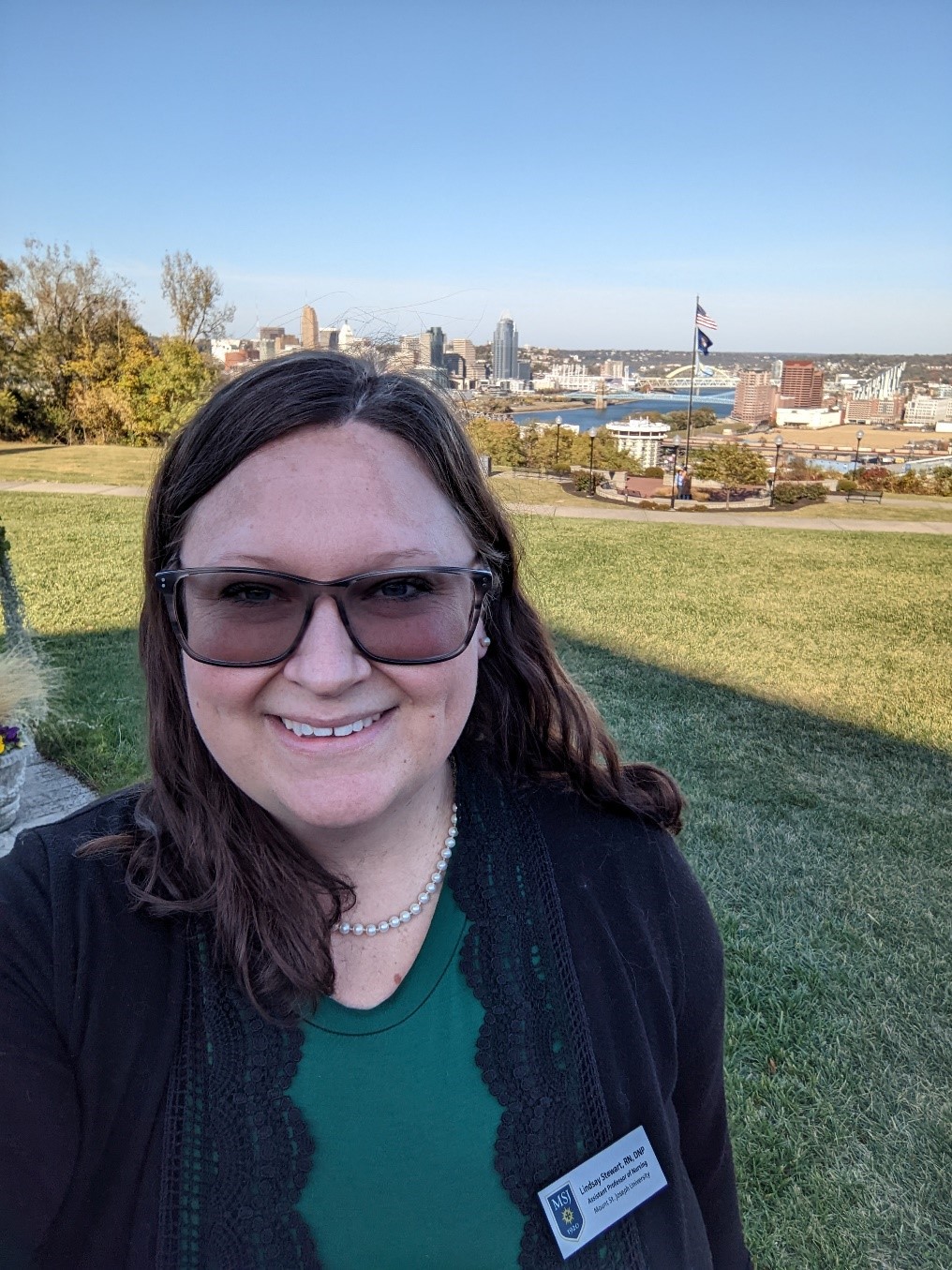 The semester started at the faculty convocation, reflecting on ways to engage students in the "post-pandemic" times and how faculty can "Be the Light" for students and guide them through this changing academic landscape.  Frankly, I was apprehensive since I am new to the nursing faculty at Mount St. Joseph University and was only just beginning to learn all about what the Mount has to offer.  I felt unsure about whether I would be able to rise up to the challenges presented to me.  However, this wavering feeling thankfully was fleeting due to the overwhelming warmth of welcome and support I have felt.  Every person I have interacted with has specifically welcomed me to the Mount and demonstrated that I have made the right choice in my decision to work here.
When I say everyone, I literally mean everyone!  Whether it is my user error IT issues or asking all kinds of questions to the food services staff about their offerings, I have been treated with such kindness which can only be described as genuine.  President Williams and his wife, Carole Williams, graciously invited all of the new faculty and staff to their home and they left me in awe of their generosity and hospitality.  The faculty at the Mount and in the nursing programs have been strong role models by not just telling me what it means to have the heart of a lion but by showing me!  I am grateful to have been matched with a wonderful and knowledgeable mentor, Professor Kerri Getz.  Not only does she continually help me navigate the policies of the nursing programs/courses, but she also provides great insight into the challenges the nursing students and graduates face.  The students at the Mount have been so enjoyable with their eagerness to learn about the world of nursing and rise up to the challenge of balancing their life commitments with their academia.  All of these interactions have shown me that I am in good company with individuals who share the same passions of academic excellence and service to others in our actions.
Upon walking onto campus for the first time and seeing the iconic yellow chairs and beautifully maintained grounds, my heart filled with joy and enthusiasm.  I imagine I felt the same wonderment that others have felt when first coming to the Mount; the collegiate energy is invigorating!  I hope my reflections gave you the chance to reminisce about your first time at the Mount.  How did it make you feel? Did you know what it meant to have the Heart of a Lion?  Has it been too long ago that you cannot remember?  If there is one thing I have learned so far, it is that you are ALWAYS welcomed her at MSJ (plus, there might be a free t-shirt)!