Mount St. Joseph University announces the September "Pride of the Lions" are Physical Therapy faculty members, Dr. Karen Holtgrefe and Dr. Lisa Dehner!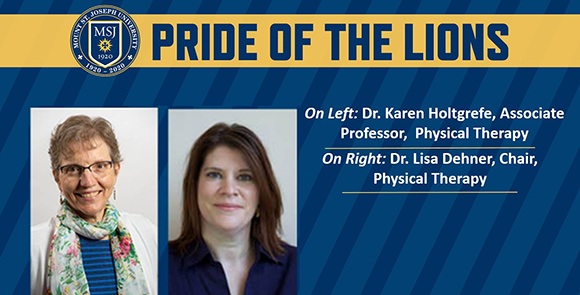 Vision, Passion, and Persistence.
These qualities have been demonstrated in abundance by Dr. Karen Holtgrefe and Dr. Lisa Dehner, in development of the MSJ Physical Therapy Pro Bono Clinic.
Karen has had a vision for the clinic for many years. Lisa joined the quest to make it a reality and it was approved to begin in September, 2022. The clinic will serve community members whose insurance benefits lack sufficient coverage or those without the financial resources to cover co-payments, providing the Delhi community with much needed healthcare services.
The clinic is student-run; thus, it will provide DPT students with business and leadership experience. The clinic already has a full slate of patients for the Fall semester who are very grateful for this service. What a wonderful example of being a "Beacon to the Region!"
Please join me in congratulating Karen and Lisa--and in celebrating the opening of the Physical Therapy Pro Bono Clinic!
Sincerely,
H. James Williams, Ph.D.
President