In Fall 2023, Mount St. Joseph University launches its new Management & Leadership program offered in face-to-face and online formats.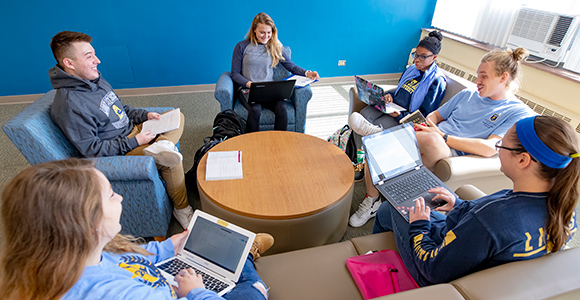 Students enrolled in this flexible major will learn and apply the latest insights from business theory and practice, assess and develop their management and leadership skills, and chart the next steps in their leadership journey. Throughout the curriculum, values-based leadership is emphasized.
"Majoring in Management & Leadership not only prepares you to manage people, processes, and projects, it's a platform for building your leadership skills," says Dean of Business Sharon Wagner, Ph.D. "We've designed the degree to be flexible: you can take courses online or on our campus, and we'll help you build a path to degree completion that includes your transfer credits."
Students enter the program as traditional (face to face) or online (asynchronous) students. The entire degree is available in both formats. Traditional students may take online courses and online students may take face-to-face courses on a space-available basis.
4+1 MBA Program Pathway
Management & Leadership majors interested in pursuing an MBA may enroll in the 4+1 MBA program during their senior year. This option enables students to graduate with two degrees in five years: a Bachelor of Science in Management & Leadership degree, and a Master of Business Administration.
Ready to take the next step? We invite you to move forward with us. Visit the Management & Leadership program page to get started today.