Founders' Day at Mount St. Joseph University celebrates the rich legacy with which it has been gifted by the Sisters of Charity of Cincinnati.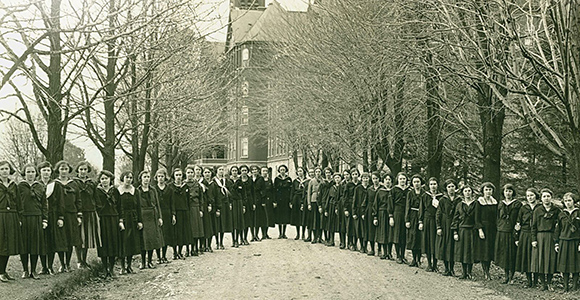 Time to wear your MSJ Spirit Wear, and head to the Mater Dei Chapel.
This Wednesday, September 14, 2022 at noon, the Mount commemorates its legacy with a Founders' Day Mass in the Mater Dei Chapel. All are invited to attend.
Established by the Sisters of Charity of Cincinnati 102 years ago on September 14, 1920, the Mount opened its doors to the first 20 students in 1920 as the first Catholic university for women in Southwestern Ohio. Today, the University serves a diverse coeducational student population of undergraduate and graduate students.
"Without their vision and faith 102 years ago, this institution that we cherish would not be here," says Assistant Director of Mission Integration, Michelle Arnold. "By celebrating Founders' Day, we lean into that legacy—our shared legacy—and celebrate the gift that we have been given by the Sisters, and the gift that Mount St. Joseph University continues to be for the Mount community, for the Greater Cincinnati region, and everywhere that we Light the Way!"
Check out the Mater Dei Chapel page, the spiritual and communal centerpiece of our campus to learn more about the Mater Dei Chapel's unique artistry and history.