Ten-year-old Payton Obert, a young girl with a big heart is on a mission to raise money for children facing medical hardships through her growing business, Payton's Lemonade Stand, LLC.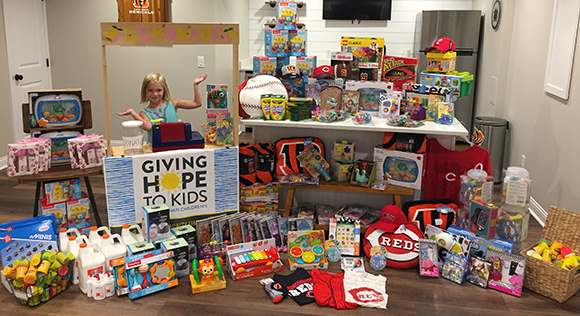 A few years ago, Payton Obert, daughter of MSJ Assistant Professor Mike Obert in DPT, began a lemonade stand to raise money to buy toys for children at Cincinnati Children's Hospital Medical Center (CCHMC). The next few years were impactful and allowed them to expand to nine stands in 2020, through which Payton's philanthropic efforts raised over $35,000. Due to this immense support, they have turned her lemonade stand into an official non-profit in 2021, with the mission tagline of, "Kids serving Kids."
The idea was born after Payton spent time in the hospital at CCHMC. "She received this special bear, [and] she wanted to give back to kids in hospitals who were in the same situation," Payton's mother, Jess Obert tells ABC News.
According to her website, Payton received this teddy bear when she was a patient there at a very young age, and that bear has slept with her in bed every night since. Now that she's older, she would like to give back and provide other kids in need with their own special toy.
In the summer of 2021, the 4th Annual Payton's Lemonade Stand added even more stands. With the help of over 100 kids at 30 stands across the Tri-State, they raised $60,000. Finally, this past weekend, the family had 50 lemonade stands in three states, raising $85,000.
"We had four fire departments host this year—we had soccer teams, baseball teams, [and] dance teams," says Jess Obert.
To watch the news video that brings Payton's story to life, visit this link: ABC News: Young Girl Starts Lemonade Stand for Charity