Mount St. Joseph University announces the May "Pride of the Lions" is Director of Library Services, Scott Lloyd!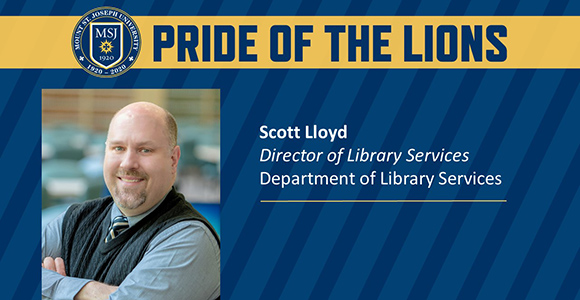 Scott Lloyd has served as the Mount's Director of Library Services for more than five years. During that time, he has demonstrated outstanding leadership for the community. As part of the institution's affordable textbook initiative, Scott oversaw the University's transition to eCampus, which provides students and faculty members access to a more seamless process for securing textbooks--and more competitive pricing.
Scott works tirelessly to improve library resources and services. He also provides information for the faculty about open educational resources. Scott served as the Chairperson of the Faculty Assembly for the 2020-2021 Academic Year, fulfilling his duties with a great level of care, skill, and humor. Moreover, he has distinguished himself as one of the University's most knowledgeable persons regarding search committees for new employees; indeed, he has Chaired some critically important Administration searches (including for a Cabinet position).
Please join me in applauding Scott's positive attitude and impacts felt across the entire campus; we are grateful for his service to the Mount. He is certainly this month's "Pride of the Lions!"
Sincerely,
H. James Williams, Ph.D.
President