On May 4, Mount St. Joseph University unveiled its iconic lion sculpture, Catamount St. Joseph.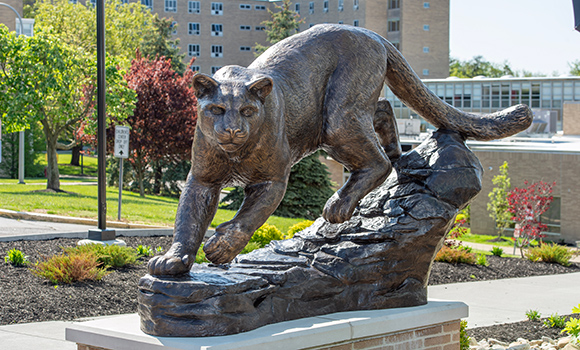 DELHI - Mount St. Joseph University made history Wednesday with the unveiling of Catamount St. Joseph, a female mountain lion sculpture that pays tribute to the Mount's founders while providing an on-campus point of pride and inspiration for generations to come.
Created by famed Cincinnati sculptor Tom Tsuchiya, co-sculptor Gina Erardi, and John Cline at Casting Arts and Technology of Cincinnati, Catamount St. Joseph is a bronze statue that is more than twice the size of a mountain lion and is located near Eileen Ennis Mechley Plaza, the entrance to Centennial Field House. The Mount intentionally chose a female lion in homage to the University's foundresses, the Sisters of Charity of Cincinnati, and its legacy as the first Catholic college for women in the region.
"Catamount St. Joseph reflects the DNA of our students, many who are first generation college students who must overcome challenges to climb higher on their journey to graduate," said Mount St. Joseph University President H. James Williams, Ph.D. "As we say at the Mount, everything we do, we do with the heart of a lion."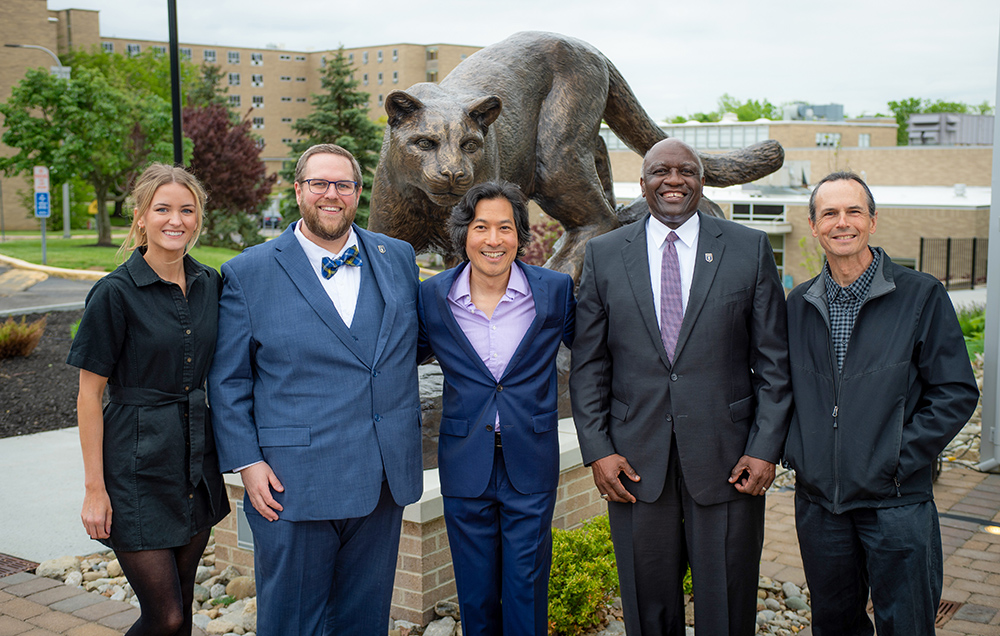 In photo from left to right: Gina Erardi, Greg Goldschmidt, Tom Tsuchiya, President H. James Williams, Ph.D., and John Cline.
Tsuchiya, a nationally renowned artist who created the bronze figures of Cincinnati Reds greats on the plaza at Great American Ball Park and the Cheetah Angel at The Cincinnati Zoo, specializes in realism and motion.
Tsuchiya's creation of Catamount St. Joseph showcases the nature of a mountain lion, moving downward from a higher place, her body filled with tension and power that could be unleashed at any moment, a posture that complements the athletic nature of Centennial Field House. She is eight feet tall at the highest point and 12 feet long from head to tail.
"I always feel very honored and privileged to create something that is going to last a lifetime," Tsuchiya said. "Because the mountain lion is created out of bronze, theoretically, it could last thousands of years and will become a very important part of Mount St. Joseph's history."
Catamount St. Joseph also tells the natural history of the Mount, where mountain lions once roamed before Delhi was settled. The sculpture also features realistic fossils from the Ordovician Strata and several Brood X cicadas, both of which Greater Cincinnati is famous for.
"We are always seeking to tell the Mount's story in new and exciting ways," said Greg Goldschmidt, the Mount's creative director. "This sculpture tells the story of our heritage, our natural history, and showcases the strength and courage found among our alumni, students, faculty, and staff—the heart of a lion."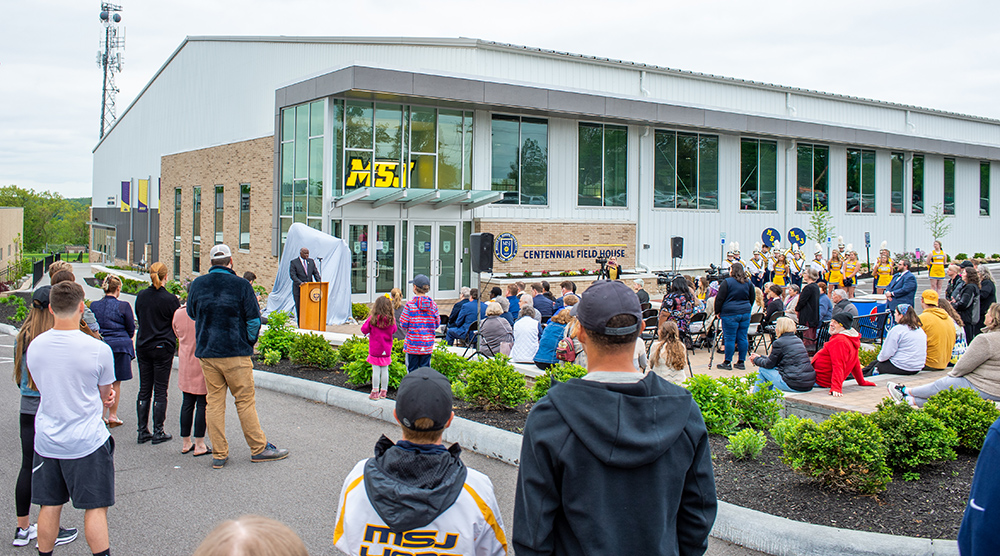 Momentum began to build for the sculpture as MSJ leaders discussed the restoration of the St. Joseph statue. They began talking about locating more public art on campus.
"Other affinity pieces at other schools create a sense of school spirit, and they evolve into landmarks," said MSJ Chief Financial Officer Jeffrey Briggs. "We wanted that for our campus. We initially started looking at some statues that we could have purchased, but they really didn't reflect the Mount."
Tsuchiya was assisted on the project by his co-sculptor, Northern Kentucky artist Gina Erardi, who began apprenticing with Tsuchiya in 2018. For Catamount St. Joseph, she provided significant work and insight into the realistic fur, stone, and fossil textures.
In addition to painting a flood wall mural in the City of Newport, Erardi also worked with Tsuchiya as co-sculptor on the statue of Cincinnati civil rights icon Marian Spencer. 
MSJ Art Guild Students also participated in the production of Catamount St. Joseph. Tsuchiya created several workshops for the students, who helped prepare a foam base structure to hold clay, coated the foam lion with clay, and sculpted fossils for the statue's rocks.
"An on-campus statue is giving our students something to rally around while showing our school spirit," said MSJ Athletic Director Melanee Wagner. "It was definitely needed."
MEDIA NOTE
To view the Rise of the Lion video, click Part 1, Something is Missing", Part 2, "Meet the Artist", and Part 3, "Excitement is Building."
Click here to view "The Lion is Coming" video montage of the creation of the sculpture.
About Mount St. Joseph University
As a Catholic institution rooted in the values of the Sisters of Charity, Mount St. Joseph University excels at serving the common good. Undergraduate, graduate, and doctoral students at the Mount are inspired to think beyond the classroom and redraw the bounds of what's possible for their futures. This is accomplished through individualized educational experiences, a safe, secure campus environment, and an all-in commitment from faculty and staff to seeing students reach their highest potential. The Mount fosters life-long learners who serve, care, and contribute to the world beyond their front doors. To find out more visit: www.msj.edu
 ###